Found April 26, 2012 on Fox Sports:
PLAYERS:
Brian Cashman
,
Michael Pineda
,
Phil Hughes
,
Andy Pettitte
,
Hiroki Kuroda
,
AJ Burnett
,
Bartolo Colon
,
Jesus Montero
,
Ivan Nova
,
Dellin Betances
,
Manny Banuelos
,
CC Sabathia
,
Robinson Cano
,
Curtis Granderson
,
Freddy Garcia
TEAMS:
New York Yankees
,
Pittsburgh Pirates
,
Oakland Athletics
,
Seattle Mariners
The worst day of Brian Cashman's professional life -- or at least one that felt like it -- began with a phone call from Dr. Christopher Ahmad, the Yankees' team physician who was awaiting the results of Michael Pineda's dye-contrast MRI. All morning, the club's hierarchy had been hoping for to avoid a worst-case scenario with their 23-year-old right-hander. Maybe, the Yankees hoped, Pineda's shoulder was merely strained or inflamed, nothing that additional rest wouldn't fix. But Cashman's heart sank at Ahmad's first words: "I'm afraid I have bad news." It only got worse. By the time the GM went to bed Wednesday night, he'd lost Pineda for the season with a tear of his anterior labrum and learned Phil Hughes, the living, breathing enigma, got knocked out in the third inning by the Rangers. And to complete the trifecta, Andy Pettitte candidly admitted he's not ready for major league hitters after an 84-pitch outing at Class-AA Trenton. So where does that leave the Yankees? Even as the AL East's top run-scoring team, they're shaken. After all, this was supposed to be the year of elite-caliber pitching -- arguably the best of the last decade. That's how highly the Yankees thought of Pineda and Hiroki Kuroda, who replaced A.J. Burnett and Bartolo Colon. Pineda, in particular, was a general manager's dream: young (23), with extraordinary velocity (95-mph and better on the radar gun) and under contract control for another five seasons. The Yankees felt the pain of having to trade Jesus Montero to the Mariners to acquire Pineda, but as Cashman said Wednesday night, "I wouldn't have done anything differently. I would make that same trade today, no questions asked." The plan was for Pineda to join Hughes, Ivan Nova and Dellin Betances and/or Manny Banuelos as the rotation of the future. Anchored by CC Sabathia, the Yankees would be blessed with young, affordable pitching, allowing them to retain Robinson Cano and Curtis Granderson when they're eligible for free agency in 2014. That's the year the Yankees hope to shave payroll to $189 million. Even though that plan is still theoretically intact -- the team is hopeful Pineda will return next season -- it's clear they'll need a Plan B in the meantime. Enter Pettitte, whose decision to come out of retirement may just be the difference-maker in 2011. The irony is that the Yankees actually had no room for the 39-year-old when he decided to start pitching again. Space was created merely out of respect for Pettitte's legacy. Never in their wildest dreams did team officials know how much they'd end up relying on a pitcher who hadn't taken the mound since 2010. And therein lies the Yankees' challenge in shepherding Pettitte out of a 16-month layoff. He took the mound for the Trenton Thunder for five-plus innings on Wednesday, and while he was largely effective, it would be fiction to say he dominated. The veteran lefthander, who holds the all-time record for postseason victories, allowed four runs (three earned) on seven hits, striking out three -- none after the second inning. Pettitte averaged only 86 mph, which meant he pitched to contact. Class-AA defense didn't help him, but he was more concerned about a lack of velocity and an inability to work the corners. "I don't feel the strength is there when I need to hump up and get more on my fastball," Pettitte said after the game. "I got away with a lot of pitches that were mistakes." Neither Pettitte nor Cashman would say how many more starts he'll need before joining the Yankees. But don't hold your breath -- it could be mid-May before Pettitte is able to synthesize his fastball with precise control within the strike zone. Until then, the Yankees are forced to be patient, despite the dire circumstances. Cashman, who drove down to Trenton to watch Pettitte, said, "even if I lost all five pitchers in the rotation, Andy wouldn't be coming to New York." The last thing the Bombers need is to suffer another injury to a starter. The one to Pineda was traumatic enough, especially since it appeared so suddenly and without any discernible cause. The Yankees moved quickly to absolve the Mariners, who they insisted didn't send Pineda to New York as damaged goods. To the contrary, he was given a clean bill of health after undergoing an extensive post-trade examination. Cashman there was nothing to indicate trouble was brewing when camp opened in February, although team officials noted with some concern that Pineda was 10 pounds overweight. He seemed shy and overwhelmed by the attention the Yankees paid to detail -- down to the last pound they expect their players to weigh. The Bombers were sympathetic to Pineda's culture shock, however, putting his locker next to Sabathia's in hopes that he'd blossom from the friendship. But then came the spring's first radar gun readings, and there was no denying the troubling verdict: Pineda's fastball had lost 4-5 mph from its previous year's best in Seattle. Was it the extra weight around the middle? Was Pineda simply trying too hard to impress his new bosses? Or was there already an injury he was hiding? "We'll never know exactly," is what Cashman said, only that Pineda ultimately failed to regain the life on the four-seamer. He tried desperately, however, and one team official acknowledged it's possible Pineda's over-throwing worsened the micro-tears in his labrum every time he took the mound. Finally, in a bullpen session last Saturday, Pineda experienced a "sharp" pain in his shoulder, one which the Yankees ultimately learned will end his season. Cashman called the setback "devastating." He meant for the Yankees' pitching plans, but he could've just as easily been talking about himself. The GM knows the gamble of trading Montero had just crashed horribly -- it was obvious from the look in Cashman's eyes he'd just taken a massive corporate hit. There's no recourse for him, other than to cross the fingers and hope. Hope for more runs, better starts from Hughes and Freddy Garcia, and an accelerated comeback by one Andrew Eugene Pettitte, who the Yankees will admit, can't get to the Bronx fast enough.
Original Story:
http://msn.foxsports.com/mlb/story/Mi...
THE BACKYARD
BEST OF MAXIM
RELATED ARTICLES
<a href="http://NYYUniverse.com/wp-content/plugins/wordpress-feed-statistics/feed-statistics.php?url=aHR0cDovL05ZWVVuaXZlcnNlLmNvbS9waXRjaGluZy1zdGFmZi9taWNoYWVsLXBpbmVkYS1zdWZmZXJzLXNldGJhY2svYXR0YWNobWVudC9uZXcteW9yay15YW5rZWVzLXBob3RvLWRheS8=" rel=\"attachment wp-att-4779\">Jon Heyman of CBS has just announced on Twitter that Yankees starting pitcher...
Yankees pitcher Michael Pineda needs surgery on his right shoulder and will miss the rest of the season, the team announced Wednesday. Doctors diagnosed the 23-year-old right-hander with a torn labrum and he will undergo surgery Tuesday. He is expected to be out of action for at least a year. General manager Brian Cashman said Pineda felt a "sharp pain" in his shoulder...
I was in Whole Foods yesterday when Squawker Jon called me to tell me that Michael Pineda had a torn labrum, and would be out for the year. Needless to say, my reaction didn't exactly fit the peace-and-love vibe of the store! And I am still positively irate, over 12 hours later. Best case scenario is that Pineda comes back some time early next summer. Meanwhile, Jesus Montero...
John Paul Morosi just wrote a piece breaking down the Jesus Montero for Michael Pineda trade . Now we are certain the Seattle Mariners are ahead in the deal, at least for 2012. Pineda's second opinion on his bum shoulder discovered the need for surgery to repair an anterior laberal tear. Ouch. He'll go under the knife on May 1 and is done for the season. It's a tough...
                                                                               Photo Credit: New York Daily NewsMichael Pineda is done for the year. He tore his labrum during a rehab session on Tuesday and underwent surgery yesterday in order to repair it. The surgery takes 12 months for pitchers to fully recover from, meaning the earliest...
New York Yankees newest toy Michael Pineda was supposed to be slated at the number two or three pitcher in their rotation. However, before the season started he was put on the shelf with shoulder inflammation. He was throwing long toss and was about to make his first start in the minors before it was
Andy Pettitte started for the New York Yankees Double-A affiliate Trenton Thunder in his march to the Bronx. Pettitte went five innings giving up three runs on seven hits striking out three and walking one. Pettitte threw 81 pitches which 58 were thrown for strikes. The Yankees would like to get Andy up to 100 pitches before having him come to the Bronx. Today's news regarding...
Former Mariner Michael Pineda is done for the season with an anterior labrum tear in his right shoulder. Pineda injured his shoulder just 15 pitches into a rehab start in Tampa on Saturday. Pineda is scheduled for surgery on Tuesday in Manhattan by New York Mets' team physician Dr. David Altchek. The recovery time is expected to be a minimum of 12 months if everything goes well...
During the offseason, the New York Yankees were involved in one of the biggest trades of the year when they traded away highly touted catcher/DH Jesus Montero to the Seattle Mariners for pitcher Michael Pineda. Reviews were mixed as to which team won the deal at the time. The season opened with Pineda on the DL with soreness in his right shoulder as he experienced diminished velocity...
Michael Pineda Shoulder Injury: Were the Yankees Hoodwinked? | Bleacher Report.
Michael Pineda (credits below) A friend and I were once discussing the best way to make money by pushing a child to excel in a professional sport. We'd brainstorm different,  Earl Woods-esque ways, you could push them to excel. His best idea was to turn his future son into a lefty knuckleballer. Genius idea, a true testament to American ingenuity. Identify the best potential...
On Wednesday, the Yankees revealed that Michael Pineda had suffered a torn labrum, a devastating turn of events both for the 23-year-old righty and for the team that acquired him from the Mariners for top prospect Jesus Montero back in January. Pineda will miss the entire season and part of 2013, thinning the Yankees' surplus of starting pitching—and underscoring the fact...
MLB News

Delivered to your inbox

You'll also receive Yardbarker's daily Top 10, featuring the best sports stories from around the web. Customize your newsletter to get articles on your favorite sports and teams. And the best part? It's free!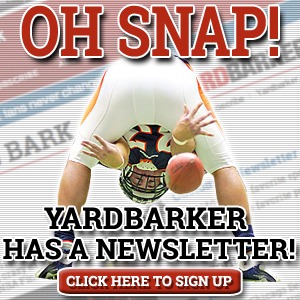 Latest Rumors
The Backyard

Today's Best Stuff

For Bloggers

Join the Yardbarker Network for more promotion, traffic, and money.

Company Info

Help

What is Yardbarker?

Yardbarker is the largest network of sports blogs and pro athlete blogs on the web. This site is the hub of the Yardbarker Network, where our editors and algorithms curate the best sports content from our network and beyond.