New York Mets infielder Amed Rosario talks to SNY's Steve Gelbs about his motivation this season as he enters Spring Training as the starting shortstop.
Here's a compilation of pics and videos from today's Mets workout at First Data Field in Port St. Lucie. Most of the photos were shot by our photographer Ed Delany who has taken some really great shots as you will see. Today we learned that Adrian Gonzalez was all set to re-sign with the Los Angeles Dodgers in a part time role, but then the Mets came knocking with a full-time opportunity...
With all the talk this offseason about signings and trades the Mets should and shouldn't make, a name that seems to have somewhat surprisingly been lost in the fold is their shortstop of the future, Amed Rosario. While there has been a lot of debate over who should be playing the other positions on the field, it has been pretty much assumed all along that Rosario will be playing...
It's no secret how fond Jose Reyes is of Amed Rosario and vice versa. Even before the latter was with the big club, the two reportedly talked everyday. Now that Reyes is back with the Mets, the team that he has been vocal about having an affinity for, he will look to mentor the young shortstop and help him be the best that he can. "I know that I have a great relationship with Rosario...
SNY.tv captures the sights and sounds of Friday's New York Mets workout in Port St. Lucie, with up-close looks at Amed Rosario, Dom Smith, and Adrian Gonzalez.
On SNY's Baseball Night in New York, the panel discusses New York Mets manager Mickey Callaway's comparison of shortstop Amed Rosario to Cleveland Indians All-Star shortstop Francisco Lindor.
PORT ST. LUCIE — This is baseball's Golden Age if you're a fan of home runs, analytics, whiny player representatives or shortstops. For Amed Rosario, that means he could enjoy a fruitful first full major-league season … and still rank nowhere near the top at his position. The Mets think that Rosario carries the potential...
New York Mets shortstop Amed Rosario talks about his preparation for his first full season in the majors and centerfielder Juan Lagares discusses his offseason work to change the mechanics of his swing.
We're going to kick off our annual projection series with Amed Rosario. This marks the sixth year that we've done projections here at Mets360. The idea has always been to see if the wisdom of the crowd of (mostly) Mets fans could do as good a job, or better, than the computer projection models. The hardest guys to project, for both the computers and the humans, are guys with...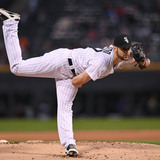 Expanded rosters change Major League Baseball in a big way in the month of September. The ability to carry up to 40 players on the big-league team gives clubs the opportunity to do much more than when they are limited to 25 players. They can load their bullpen with every conceivable matchup; pile up potential pinch hitters; and for clubs out of contention — and even a few teams still...
MORE STORIES >>
Mets News

Delivered to your inbox

You'll also receive Yardbarker's daily Top 10, featuring the best sports stories from around the web. Customize your newsletter to get articles on your favorite sports and teams. And the best part? It's free!