I expect no one to watch this post, since it is about Texas playing St. Louis in the 2011 World Series, starting tonight. If you're still here: I am not promising lots of stats, and you are lucky in that I only have one old story involving a player or coach participating. It happens to be Nelson Cruz, who is not only the chin-tuftiest headline-friendliest player in the series, he is officially your greatest postseason Rangers No. 7 hitter. I don't like Tony La Russa (TLR), and neither do you, except arkbadger. So there's one human storyline in a series that seriously needs some. I mean, as far as we know Josh Hamilton and Ron Washington are still safely on their respective wagons, thus, yawn. Michael Young is an awesome hit…zzzzzzzzzzzzzzz. Adrian Beltre is um, uh….and C.J. Wilson has filled the void (not nicely lately) as the Rangers ace despite a controversy last year about him taking leave of the team to be with his wife, who was having a baby. The Rangers repeated as AL champs without Cliff Lee, so that's all you need to know about Lee's value to a team. Or something. Texas has been mashing, and so have the Cardinals, led by Albert Pujols, who is a nice guy in the community and watches his home runs too long sometimes and in my opinion is smug as hell and I'd rather have Prince Fielder just to joke about his being a fat vegetarian because Pujols has zero sizzle. The inclination is to say the games will be high-scoring, as both lineups are locked in and the starting pitching is anonymous. When some are calling this a Battle of the Bullpens, then the rest are saying "Great, I'll tune in in the 7th, but not with my kids because they'll be asleep by the 4th." Media drool will include lots of slow motion looks of disappointment from the 2010 World Series as Texas strives to Erase the Pain of losing to the Giants; reminders of Hamilton and Washington's past demons; TLR's genius (but not DUIs, or his face disease, or hypocritical defending of his players and strategies and Mark McGwire);…..let's see, well, Pujols is a free agent, and oh, what's it like to be named Elvis? and hmmmm, oh yeah, St. Louis is the best baseball town, and Lance Berkman has had a nice comeback year, and Matt Holliday could tag along with Young and Pujols on a Boys Night Out at the Dry Toast Lounge, and god damnit I wish the Brewers had won. I'm no Brewers fan but Nyjer! And Jerry Hairston Jr.'s baseball family story could get national play, and Fielder and paperboy Greinke and his wife in the stands, nicknames like K-Rod and Hebrew Hammer, the mascot who slides into beer and the sausages who race, and a town starved for attention, I mean a champion, and Nyjer! **** Yeah, **** Yeah! Sorry, that's what you get when you put a keyboard near me when I'm excited. Just think of all the old Brewers highlights we could glimpse as we are reminded of a colorful past: the old white guy who managed them in the 80s, Harvey Korman or something; Robin Yount's biker stache; cool logo that looks like a mitt, Paul Molitor's steely gaze and dreamy five-o'clock shadow; Hank Aaron….Rob Deer and Gorman Thomas and Rollie ************* Fingers!!!! But they didn't win, the Cardinals did, and only the fans of the teams and purest fans of the sport will watch. Still, FOOTBALL!!!!!
Original Story:
http://www.thevictoryformation.com/20...
MORE FROM YARDBARKER
MLB News

Delivered to your inbox

You'll also receive Yardbarker's daily Top 10, featuring the best sports stories from around the web. Customize your newsletter to get articles on your favorite sports and teams. And the best part? It's free!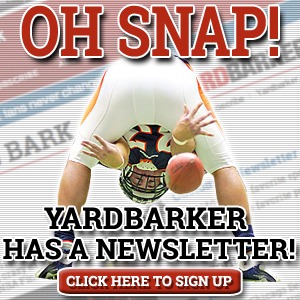 Latest Rumors
Best of Yardbarker

Today's Best Stuff

For Bloggers

Join the Yardbarker Network for more promotion, traffic, and money.

Company Info

Help

What is Yardbarker?

Yardbarker is the largest network of sports blogs and pro athlete blogs on the web. This site is the hub of the Yardbarker Network, where our editors and algorithms curate the best sports content from our network and beyond.