Found February 11, 2012 on Mets Fever:
A few days ago, I laid out the
idea
that the Mets could potentially continue to lower than payroll over the next few seasons.  Such a trend could see the team flirt with a payroll in the $70 million dollar range heading into the 2014 season.  Today I'm here to tell you that such a team might actually be better than the group the Mets will trot out this season.
The fact of the matter is that the Mets are only one contract away from having a $70 million dollar payroll.  Following the end of the 2013 season, the expiration of Johan Santana's $25 million dollar annual salary by itself will see the team's payroll (provided it doesn't rise in the meantime) fall well below that $70 million dollar level.  Keep in mind though that Santana's won't be the only deal to expire between now and then.
As it stands today, the most expensive players on the team happen to be the most expendable.  The next two seasons could see the promotion of at least three major pitching prospects.  With all their talent, Matt Harvey, Jeurys Familia and eventually Zack Wheeler will also bring major league minimum salaries with them.  While there is no telling if or to what level each of these youngsters succeed, how much of a drop off could there be from an aging (injured) Johan Santana and the underachieving Mike Pelfrey?  For what its worth, that would replace more than $30 million in payroll for roughly $1.5 million a year.
When it comes to the lineup, unless he experiences several healthy seasons between now and then the close of the 2013 season will also bring with it the end of the Jason Bay era.  His departure would free up an additional $16 million dollars for the Mets front office.  By that time, its reasonable to think Kirk Nieuwenhuis will be the everyday center fielder. Lurking behind him could be Matt Den Dekker and at some point Brandon Nimmo if all plays out as planned.  If neither pan out, the Mets should be able to replace Bay production, provided it doesn't spike by way of the new Citi Field dimensions, for no more than half of his salary.
If your keeping track, even if they're forced to reinvest half of Bay's salary the Mets will have shed an estimated $38 million dollars headed into 2014.  From where they stand today, the Mets would theoretically enter the year with a payroll of $52 million dollars.  As a result, the Mets would not only have the funds to resign David Wright at that point, but could also cover the cost of whatever raise Ike Davis would be in line for at that time.
Under this projection, the 2014 roster would undoubtedly be a young one, but at those numbers is the roster any worse than that which will take the field this spring?  Should things play out as such, the Mets would have a team that could mature together while led by veterans, David Wright and Ike Davis.  The franchise would even be in a position to keep the group together, as a then $70 million dollar payroll would leave the financial room to pay the younger players when each becomes arbitration eligible.  Would the 2014 Mets be a contender for the NL pennant under these circumstances, probably not.  However, again I ask if they would be any worse than the team this season?  And more importantly, would the franchise be better off in the long run?
Follow me on twitter
@RobPatterson83
.
Original Story:
http://www.metsfever.com/2012/02/woul...
THE BACKYARD
BEST OF MAXIM
RELATED ARTICLES
Mets fans are a diverse lot. However, there is an awful lot regarding the team with which the vast majority of us can agree. We all want owners who will fund a payroll in line with what other large market clubs do, we all love R.A. Dickey and we all want to see Ike Davis play in 150 games this year. Because so many issues on the team are cut and dried, the ones where the fan...
Andy Martino of the Daily News, spoke with Jason Bay and over the weekend and the Mets' $66 million left-fielder sees a return to his 30-homer seasons despite his struggles the last two years. Now 33, Bay believes his troubles are not related to age or mechanics and attributes the problems to overthinking. "All those years I did well, I never worried about what I was doing...
David Lennon reports in Newsday, that Josh Thole has worked intensely with Mets catching coordinator Bob Natal this offseason in an effort to prevent a recurrence of the defensive issues that plagued him in 2011. "I'm getting to a point where we're not in a trial-and-error period anymore," Thole said. "It is what it is. If I don't catch well over the course of this...
Check out the new cap and jersey the Mets will be wearing on St. Patrick's Day (March 17) when they play the Braves at Digital Domain Park: Simple, but kind of cool.  Poor Keith Hernandez has seen his uniform number handed out to a motley crew of players over the years, but I'm sure he'd have no problem lending his No. 17 to St. Patrick. The cap and jersey look like...
Thanks to our reader Hank Johnson who sent us the link this post by Joe Lucia of The Outside Corner, who calls himself a dreamer and articulates the Mets' path to the World Series in 2012. You wanted optimism, right? It's all part of a series he's doing for all 30 teams – you see, Joe's actually a Braves fan which makes this story all the more interesting…. Going into...
New York Mets catcher Charles "Dock" Doyle and pitcher Scott Moviel have been suspended 50 games each under baseball's minor league drug program. Both were penalized Monday for second violations involving a drug of abuse. Doyle, 25, hit .296 with two homers and 11 RBIs last year for the Class A St. Lucie Mets. He was a fifth-round draft pick from Coastal Carolina in 2008 and...
METS SINGLE GAME TICKETS GO ON SALE MONDAY, MARCH 5 ORDER AT METS.COM OR BY PHONE (718) 507-TIXX The New York Mets today announced single game tickets for the 2012 season at Citi Field will go on sale Monday, March 5 at 10:00 a.m. online at Mets.com and by phone at (718) 507-TIXX. The exclusive pre-sale for Mets Season Ticket Holders starts Monday, February 27 at 10:00 a.m. at Mets...
Mets GM Sandy Alderson has now joined twitter. You can follow him at @MetsGM. The 64-year old has nearly 10,000 followers overnight after only posting two tweets. He now joins the likes of Justin Turner, Johan Santana and R.A. Dickey as Mets who are on twitter. I personally think this is great. Now fans can directly contact Alderson and voice their opinion. Chances are he won't...
It's Jason Bay Day on MMO. Okay, just kidding, but check out this video from MLB Network's Clubhouse Confidential. Host Brian Kenny does a nice job pointing out some revealing stats on Bay. From 2004-2009, Bay posted a .280/.375/.519 slash. From 2010-2011, Bay posted a .251/.337/.386 slash. Look at that drop in slugging percentage! His ground-ball rate has risen from...
"I had a good year in 2010 (when he was 15-9 with a 3.66 ERA) and I wanted to take that next step in 2011 and obviously I wasn't able to do that, by any means. "So this year becomes even more important. I'm a firm believer that you get out of it what you put into it and I've worked my tail off, cleared my head and analyzed. I feel like I'm throwing the ball great right...
Soon after the Nationals snatched up left-handed hitting outfielder Rick Ankiel, the Mets pulled the plug on their quest to land a left-handed bat for the team. Ankiel had been high on their list and some reports even circulated that Sandy Alderson may have offered the one-time pitching phenom a minor league deal. Anyway, that was then and this now, and it's looking more and more...
Mets News

Delivered to your inbox

You'll also receive Yardbarker's daily Top 10, featuring the best sports stories from around the web. Customize your newsletter to get articles on your favorite sports and teams. And the best part? It's free!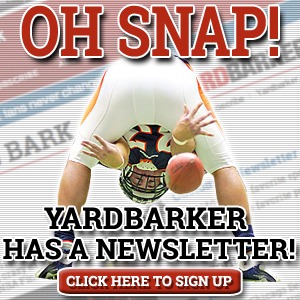 Latest Rumors
The Backyard

Today's Best Stuff

For Bloggers

Join the Yardbarker Network for more promotion, traffic, and money.

Company Info

Help

What is Yardbarker?

Yardbarker is the largest network of sports blogs and pro athlete blogs on the web. This site is the hub of the Yardbarker Network, where our editors and algorithms curate the best sports content from our network and beyond.