Found February 28, 2013 on Fox Sports Florida:
PLAYERS:
Jamey Wright
,
Wil Myers
,
Don Mattingly
,
Joe Maddon
TEAMS:
Tampa Bay Rays
,
Colorado Rockies
,
Milwaukee Brewers
,
Texas Rangers
,
Cleveland Indians
,
Seattle Mariners
,
Los Angeles Dodgers
,
St. Louis Cardinals
,
Kansas City Royals
,
San Francisco Giants
PORT CHARLOTTE, Fla. Jamey Wright paused to consider the vision, one that inspires him to this day. Almost 20 years have passed since the Colorado Rockies drafted the Oklahoma City native in the first round, the first of his nine major-league stops, and his tireless chase shows no sign of slowing soon. Wrights quest makes his resume read like a run-on sentence: The Rockies (from 1996 to 1999 and 2004 to 05), Milwaukee Brewers ('00 to 02), St. Louis Cardinals (02), Kansas City Royals (03 and 09), San Francisco Giants (06), Texas Rangers (07 to 08), Cleveland Indians (2010), Seattle Mariners (10 to 11) and Los Angeles Dodgers (12). For the past seven springs, the 38-year-old reliever has made an MLB roster as a non-roster invitee. He has beaten both odds and time. But theres a hole within this showcase of stamina, a void Wright hopes is filled with the Tampa Bay Rays clinching a playoff berth later this fall. Despite all his destinationsthrough the hours spent shuffling between both leagues and four time zoneshe has never made the postseason. Wright has dreamed about his first champagne shower, the sweet sensation of suds splashing into his eyes. If it happens, hell want the experience to last. I wont be wearing goggles, said Wright, a right-hander, smiling. Ill want it to burn. Ill want to feel it forever. Usually, spring is a time for young dreamers. Its for watching potential stars like outfield prospect Wil Myers, 22, and right-hander Jake Odorizzi, 22, work during lazy afternoons when the pressure is low and possibility high. Its for wondering where all their drive and desire will lead if their play meets their promise in the coming years. Yes, spring is a time for the young, but these weeks also offer hope for men in the twilight of their careers. Much like he did last spring with the Dodgers, Wright walks through the Rays clubhouse on mornings like Thursday, glances at faces filtering through an entrance nearby and thinks, Man, this is going to be it. If we just put it together He thought it would come together for him in 2012. Wright came to the Dodgers a season removed from their 82-win campaign, a product of fresh vision from manager Don Mattingly. They ended last summer on a tear, winning nine of their last 12 games to finish 86-76. But they were eliminated from wild-card contention in a race with the Cardinals on the second-to-last day of the season after a loss to the Giants. Wright called the experience devastating. A decade earlier, he lived another near miss. Wright made four appearances for the Cardinals, earning a 4.80 ERA in 15 innings. He was signed as a late-season stopgap for injured pitchers, though, and wasnt named to the postseason roster. Eventually, St. Louis lost in five games to the Giants in the NL Championship Series. I wouldnt trade any of it for the world, Wright said. But Im at the point now where thats something I want to experience. Ive wanted that (a playoff berth) for the last four or five years. Im pitching to where, hopefully, I do well enough that Ill get an opportunity from a team of this caliber. Its such a long season, and it proves that every game does count. The wins in April matter in September. The fact that Wright has extended his career this long is a credit to his focus. Colorado selected him as the 28th overall pick in the 1993 draft, and after fighting through a stressful rookie season that taught him nothing in his game is a given, he worked to survive. He has a 4.89 ERA in 1,896.1 innings, and he has struck out 1,070 batters. His record stands at 90-124, though he last started a game in 2007. A drive was formed early. When Wright was young, his father would sometimes see him lounging in front of the television and say, You think those other guys are sitting on their butt? That spark still pushes Wrightthe knowledge that hes in a race against time. Each year, a new crop of dreamers arrives. Each year, he must be ready. Each year, there's competition for a job. His quest to make his eighth consecutive major-league roster as a minor-league invitee brought him to Tampa Bay in January. Hes prepared for whatever happens here, though hes serious about making the postseason. He's serious about earning an elusive World Series ring. This guy is sincerely one of the nicest people youve ever met in this game, Rays manager Joe Maddon said. Extremely professional regarding his craft. Very motivated to get to the playoffs, because he has not done that to this point. I think hes going to be a great influence among other guys. Youve got Fernando (Rodney), (Joel) Peralta, (Kyle) Farnsworth and him out in that same bullpen. Thats some really good influence. Of course, Wrights chase will end sometime. It has endured thoughts of quitting twice once five years ago, after his second season with the Rangers, and in 2003, when he pitched 25.1 innings in four starts with the Royals. He gives a vague answer when asked how much more he has left, saying hell continue to play however long his wife, Marnie, allows. He still has passion. He says he has approached the last three years as a process: Learn, improve and master his craft, all to keep himself driven. His arm feels as strong as ever. Other positive signs, like appearing in at least 60 games in four of the past five seasons, encourage him. Ive pitched as well as Ive ever pitched, said Wright, who had a 3.72 ERA in 67.2 innings last season. That motivates you to keep going. I want to play for as long as I can. Hopefully, when its all said and done, Ill have a nice little ring to show for it. Even if he never does, Wright's presence will be felt. On Tuesday, he lingered around a bullpen to watch Odorizzi and right-hander Chris Archer, 24, throw a session. The veteran didnt say a word, instead taking mental inventory of how his younger teammates look at their peak so he may help later. Hes already establishing that hes a leader, that he wants to help, Archer said. He wants to give his knowledge back to us young guys. Thats really refreshing to see. His resume speaks for itself. He doesnt have to say or do anything, because he has already done it, and hes already said it. In this game, you respect what people have done and what they can possibly do in the future. Added Odorizzi: Every time I see him, hes always working. Hes always in the weight room. Hes always doing his stuff. I never see him taking a break. Hes got a great work ethic. Ive noticed it, and it makes me want to work hard too. Its unknown where Wrights work will lead. The postseason? Another near miss? But as he stood near his locker amid the bustle of another morning, his vision was as clear as ever. A 20-year journey has led him to another stop, another chance for that champagne shower. In his mind, it will be a beautiful burn. Ive had dreams about it, he said. Hopefully, it comes true. You can follow Andrew Astleford on Twitter @aastleford or email him at aastleford@gmail.com.
Original Story:
http://www.foxsportsflorida.com/02/28...
THE BACKYARD
BEST OF MAXIM
RELATED ARTICLES
It is good to be Evan Longoria. He is 27 years old and knows that he will make millions of dollars a season until the year 2023. That has to be a pretty darned good feeling. Not only that, he plays for a team that has been competitive and in the the thick of things for every season he has been in the majors. Then again, there might be a correlation between those two facts in the...
PORT CHARLOTTE, Fla. Each will slip on their country's colors, enjoy the sensation that comes with the experience and live it as a memory to be saved forever. Three Tampa Bay Rays players will participate in the World Baseball Classic, to be held March 2-19, and all are proud in the final days before leaving for the once-every-four-years event. It's really a dream to be...
Joe Maddon may be the loosest manager in the majors, but he has parlayed his laid back rules into a tightness with his youthful Tampa Bay Rays players. Who even knew the 59-year-old Maddon had the singer Pink on his playlist? Maddon tweeted his fellow transplanted Pennsylvanian regrets at not being able to make Pink's show while it makes a stop in Tampa but invited the singer...
BRADENTON, Fla. (AP) -- Kelly Johnson had a new vantage point for the Tampa Bay Rays' 8-2 victory Wednesday over the Pittsburgh Pirates. Johnson started in left field for the Rays, his first game in the outfield since he was a rookie in 2005 with Atlanta. He didn't get to catch any flyballs, although he had to chase down a double by Pedro Alvarez that flew over his head...
Next up in our AL East preview series...the Tampa Bay Rays. The Rays made some Rays-like moves this winter, and are primed for contention once again in the AL East, but you knew that already. Yesterday was Blue Jays day here at TOC, and here's your recap. Blue Jays on TOC End of Season Postmortem Hope for the Hopeless 2013 Season Preview You May Say I'm a...
After winning 90 games in 2012, it's pretty clear that the Tampa Bay Rays have established themselves as perennial playoff contenders, even if they didn't make the playoffs last year. But with teams battling age and injury (New York) and teams expected to take a step back in 2013 (Baltimore), the field is a bit less crowded to grab a spot. But without B.J. Upton and James...
The Rays are a franchise that thrives on x-factor type players. Who would have expected that Fernando Rodney would set the record for the lowest single season ERA of all-time in 2012? Who would have expected that a career bench player in Jeff Keppinger would get significant playing time in 2012, and have the best season of his career at age 32? And by the same token, who would have...
Rays have won their fifth game of the spring after beating the Pittsburgh Pirates 8-2 in Grapefruit League action. Tampa Bay got on board in the second inning to a 4-0 lead which featured RBI from Luke Scott and James Loney, via a ground out. Scott went 2-for-3 including a run scored. Rays' second baseman Tim Beckham had a good day going 2-for-2 with a run scored. Pittsburghâ...
You know David Price wouldn't be as salty if he had to buy a breast pump for Eva Longoria. *******, I'll just handle that myself." Alas he's stuck with the bill for Evan instead of Eva. Evan Longoria and his girlfriend had their first child and as we all know that means it's time for friends and family to rush to the baby registry before all the cheap gifts are claimed...
Evan Longoria had two hits in his second spring game in the Tampa Bay Rays' 11-2 loss to the Detroit Tigers on Thursday. Longoria improved to 4 for 5 at the plate this spring after getting off to a late start following offseason back surgery. Austin Jackson hit a two-run homer, Nick Castellanos had three hits with an RBI and Anibal Sanchez pitched three scoreless innings in...
Luke Scott hit an RBI double and a single Wednesday and the Tampa Bay Rays beat A.J. Burnett and the sloppy Pittsburgh Pirates 8-2. Jose Molina also had two of the Rays' 12 hits. The Pirates made three errors in the first two innings, which led to three unearned runs. Right fielder Brad Hawpe let a bloop hit bounce past him, third baseman Pedro Alvarez flubbed a high popup...
MLB News

Delivered to your inbox

You'll also receive Yardbarker's daily Top 10, featuring the best sports stories from around the web. Customize your newsletter to get articles on your favorite sports and teams. And the best part? It's free!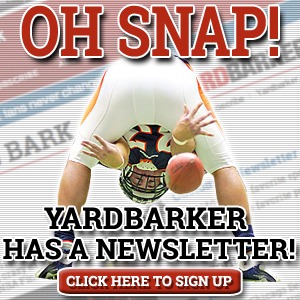 Latest Rumors
The Backyard

Today's Best Stuff

For Bloggers

Join the Yardbarker Network for more promotion, traffic, and money.

Company Info

Help

What is Yardbarker?

Yardbarker is the largest network of sports blogs and pro athlete blogs on the web. This site is the hub of the Yardbarker Network, where our editors and algorithms curate the best sports content from our network and beyond.