Found September 25, 2012 on Bronx Pinstripes:
PLAYERS:
Boone Logan
,
Phil Hughes
,
Joe Mauer
,
Chris Parmelee
,
Raul Ibanez
,
Derek Jeter
,
Pedro Florimon
,
Denard Span
,
Clay Rapada
,
Esmerling Vasquez
,
Robinson Cano
,
Nick Swisher
,
Casey Fien
,
Russell Martin
,
Glen Perkins
,
Andruw Jones
,
Jayson Nix
TEAMS:
Minnesota Twins
,
New York Yankees
New York Yankees 4 — Minnesota Twins 5
Boone Logan can't end the 7th before losing lead in tonight's 5-4 loss to the Minnesota Twins.
Phil Hughes started tonight and was outstanding. His first difficult inning came in the 4th inning when catcher Joe Mauer led off with a single. Outfielder Chris Parmelee got to Hughes with a double to left field that Raul Ibanez had some difficulty fielding, allowing Mauer to score from 1st base. This would be a run scored following the top half of the inning when the Yankees scored. He would finish the inning and would cruise until his final inning of work in the 7th. A single and a walk raised red flags and the bullpen got stirring in the 7th inning. Hughes would get another out before the bases would be loaded on a diving stop by Derek Jeter to keep the hit in the infield. Phil Hughes would strikeout shortstop Pedro Florimon with his 99th pitch of the game and it would be the end of his night. While in the game, Hughes allowed just 1 run in 6.2 innings of work but he left with 3 runners on base and the game was put into the hands of Boone Logan. With 4 left-handed batters coming up, a left-handed pitcher seemed to be the best choice if Hughes had been showing signs of tiring. Unfortunately, Logan was not effective as he would allow 1 run to score on a wild pitch during Denard Span's at-bat. Denard Span would get a double into right center to bring in 2 more runs. A walk and a single by Joe Mauer would bring in the 4th run of the night before Logan could end the inning. Boone Logan could not get 3 of the 4 left-handed batters out and would add 3 more runs to the pitching line of Hughes. Looking back, Joe Girardi could have went in a number of directions in the 7th inning. He could have left Phil Hughes in to build on his strikeout or even turn to Clay Rapada.
Minnesota starter Esmerling Vasquez had 4 starts this season prior to tonight's game and looked impressive. He got through 6 innings and was only hurt by the long ball. In the 4th inning, Robinson Cano led off with a single and Nick Swisher put the Yankees ahead with a 2-run home run. In a rare occurrence, there were 2 double plays turned with a strikeout and a runner caught stealing 2nd, both ending innings. Vasquez gave up just the 2 runs in his 6 innings of work despite just having 4 starts under his belt. Reliever Casey Fien came in in the 7th inning and the first pitch he threw to Russell Martin was put into the bullpen in left field for a home run before Fien could even get settled. The Yankees attempt at a 9th inning comeback could only get 1 run. Against left-handed closer Glen Perkins, Andruw Jones was called on for a pinch-hitting opportunity in place of Raul Ibanez and he proceeded to take a hanging slider deep into left field for a solo home run. Jayson Nix would strikeout to end the game and give the Yankees the loss.
Win – Casey Fien (2-1)
Loss – Phil Hughes (16-13)
Save – Glen Perkins (15)
Notables
Yankees
*Nick Swisher – 1 for 4, R, 2-Run Home Run (24) in the 4th, 2 RBI (89)
*Russell Martin – 2 for 4, R, Solo Home Run (18) in the 7th, RBI (49)
Twins
*Denard Span – 1 for 4, R, 2B, 2 RBI (39)
*Chris Parmelee – 1 for 3, R, BB, 2B, RBI (20)
Current Yankees Record: 89-65
Original Story:
http://bronxpinstripes.com/game-day/y...
THE BACKYARD
BEST OF MAXIM
RELATED ARTICLES
From Mark Feinsand:Gardner was activated from the 60-day disabled list before Tuesday's game, giving the Yankees an experienced pinch-runner to use late in games during the final nine games - and potentially the postseason. "I'm excited; it's something I've been ready for for a little while," Gardner said. "I kind of understand what my role is; I...
While Derek Jeter was able to suit up at shortstop again last night, the New York Yankees are reportedly also close to getting two other players back from injury; first baseman Mark Teixeira and right-hander David Aardsma. Jeter played short for only the fourth time in 12 games since aggravating the bone bruise on his ankle.  While the injury hasn't noticeably...
Source: Jeff Zelevansky/Getty Images The Yankees will send Phil Hughes to the mound tonight in the middle game against the Minnesota Twins. In his last outing against the Toronto Blue Jays, Hughes lasted only five innings, allowing four runs on four hits while striking out nine for the win. Right-hander Esmerling Vasquez (6-4, 6.75 ERA) is on the mound for Minnesota. New York Yankees...
Source: Jason Szenes/Getty Andy Pettitte is on the hill for the Yankees tonight in game one of a three-game set against the Minnesota Twins. In his last outing against the Toronto Blue Jays, Pettitte worked five scoreless innings, allowing four hits while striking out three for the win. Right-hander Liam Hendriks (1-7, 5.88 ERA) is on the mound for the Twins. New York Yankees (88...
With the New York Yankees locked in a tight race for the AL East title, CC Sabathia finally gave them what they needed the last time he took the mound. Sabathia looks to put together back-to-back strong starts and earn his first win in a month Wednesday when New York and the Minnesota Twins play the finale of a three-game series. The Yankees (89-65) lead Baltimore by 1 12 games...
Brett Gardner has only played nine games this season. His injury was a big reason why the New York Yankees went out and acquired Ichiro Suzuki from the Seattle Mariners. The team thought that Gardner would be out for the entire season with his elbow issues, but New York activated him today. According to Jack Moore of CBS Sports, Brett Gardner will be available in tonight's...
New York Yankees third baseman Eric Chavez had an embarrassing gaffe during Wednesday's game at Target Field against the Minnesota Twins when he forgot the number of outs during the fifth inning, blowing a double play opportunity as a result. With one out in the bottom of the fifth inning, the Twins had runners on first and second. Twins batter Pedro Florimon grounded to...
I had just one small request yesterday for the Toronto Blue Jays: That they take one game in their doubleheader against the Orioles. Request granted. Had they not done that, and had the Yankees lost last night, the Orioles would be in sole possession of first place this morning. But the Yankees lead by 1.5 games, so all  is well in Yankees Universe right now.Right now. Things could...
The New York Yankees (89-64) beat the Minnesota Twins (64-90) 6-3, last night at Target Field from Minneapolis, MN. W - Andy Pettitte (5-3), L - Liam Hendriks (1-8) Game Stats; Andy Pettitte was great as he went six scoreless innings, allowed 7 hits and struck out 3 batters. He looks like he is ready to pitch in the playoffs. Nick Swisher hit a two-run HR (23) in the start of...
MINNEAPOLIS - The nights are definitely getting cooler. But the race for the AL East title isn't cooling off at all. The New York Yankees remained 1 1/2 games up on Baltimore on Tuesday, failing to take advantage of an Orioles loss by falling 5-4 to the Minnesota Twins. The Twins, who are seemingly enjoying the spoiler role, rallied from a 3-1 hole with a big seventh inning...
The New York Yankees (90-65) beat the Minnesota Twins (65-91) 8-2, yesterday afternoon at Target Field from Minneapolis, MN. W - CC Sabathia (14-6), L - Brian Duensing (4-11). Game Stats: CC Sabathia pitched a dominated game and showed why he is the ace of this ballclub. He pitched 8 innings, allowed 6 hits, gave up 2 runs, walked 1 and struck out 10 batters. Robinson Cano had...
MLB News

Delivered to your inbox

You'll also receive Yardbarker's daily Top 10, featuring the best sports stories from around the web. Customize your newsletter to get articles on your favorite sports and teams. And the best part? It's free!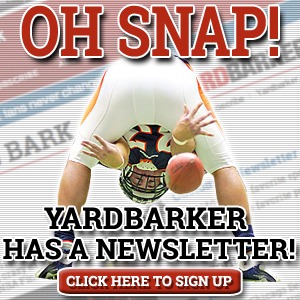 Latest Rumors
The Backyard

Today's Best Stuff

For Bloggers

Join the Yardbarker Network for more promotion, traffic, and money.

Company Info

Help

What is Yardbarker?

Yardbarker is the largest network of sports blogs and pro athlete blogs on the web. This site is the hub of the Yardbarker Network, where our editors and algorithms curate the best sports content from our network and beyond.