I've already speculated that, when Brian Cashman broke his ankle skydiving March 4, that maybe he also unknowingly hit his head, because some of his moves and intentions this spring have been, well, questionable, if not downright nuts.   After the Yankees general manager acquired Angels outfielder Vernon Wells on Monday, I'm almost sure Cashman must've hit his head.   The Yankees are without last year's American League home run champion Curtis Granderson for the first 10 weeks of the season after he suffered a broken forearm on the fifth pitch of his first at-bat in spring training.  It would appear they have at least of couple of viable replacements in camp, but apparently Cashman (and maybe manager Joe Girardi) went into full-blow panic mode and called the Angels about Wells.   It was the call Angels General Manager Jerry DiPoto thought would never happen – someone was actually inquiring about the most overpaid player in baseball. And not just anyone, but the Yankees.   DiPoto was all too happy to oblige. He may have even helped Wells pack and driven him to Sky Harbor Airport.   Here's what the Yanks are getting: a 34-year old outfielder who hit all of .222 with a combined 36 home runs and 95 RBI over the last two seasons since coming to the Angels. In his first 12 years with Toronto, Wells hit .280, and averaged 36 home runs and 95 RBI.   To be fair, Wells is having a tremendous spring, hitting .361 with 4 homers, 11 RBI and an OPS of 1.112. But because he's been the biggest bust in baseball since 2011, there's simply no room for him in the Angels outfield with Mike Trout, Josh Hamilton and Peter Bourjos.   So now his $21 million annual salary is Cashman's headache. Compounding the peculiarity of the move is that the Yankees seem to have one or two qualified candidates to play center field until Granderson returns.   Veteran outfielder Juan Rivera is hitting .316 this spring with 5 RBI. And Ronnie Mustelier , one of the organization's top prospects, is hitting .324 with 2 homers and 5 RBI in 34 at-bats. However, he has also struck out 8 times, which might be why the Yankees are hesitant to give him Granderson's job.   Still, Vernon Wells?   And what are they going to do with him once Granderson comes back? Are they really going to have a guy making that kind of scratch sitting on the bench?   Maybe Cashman should take two aspirin and call his doctor in the morning.This article has been read (23) times
Original Story:
http://thesuicidesqueeze.com/?p=1143
MORE FROM YARDBARKER
MLB News

Delivered to your inbox

You'll also receive Yardbarker's daily Top 10, featuring the best sports stories from around the web. Customize your newsletter to get articles on your favorite sports and teams. And the best part? It's free!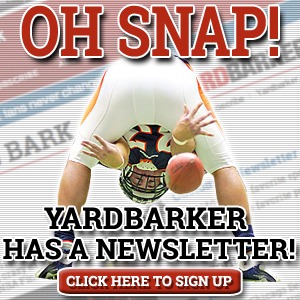 Latest Rumors
Best of Yardbarker

Today's Best Stuff

For Bloggers

Join the Yardbarker Network for more promotion, traffic, and money.

Company Info

Help

What is Yardbarker?

Yardbarker is the largest network of sports blogs and pro athlete blogs on the web. This site is the hub of the Yardbarker Network, where our editors and algorithms curate the best sports content from our network and beyond.