Found September 10, 2012 on IT IS HIGH, IT IS FAR, IT IS caught:
The regular season has ended in Joba-like fashion for former future Yankee Stephen Strasburg, who pitches for the Washington Nats, the NL's version of the Tampa Rays. (By that, I mean their success stems from finishing last for a decade and always draftng first. Eventually, you score some players.) Ten years ago, Yankee fans would watch each Strasburg pitch with a torrent of drool strong enough to douse a BP oil rig gas fire. We'd rejoice hearing that Washington is protecting our investment. In 2017, when Stasburg sheds his chains and becomes a free man, old George would snap him up like a pretzel - that is, if he hadn't already drained the system for him in a trade.Now, though, meh. When Strasburg reaches his Scott Boras moment, he'll probably wind up in Texas, the new Yankees. Or the Dodgers, the future new Yankees. Hell, by then, who knows - the Redsocks might have gone full loop and aim to be the new Yankees redeaux.What's happening? Why are other teams turni...
Original Story:
http://johnsterling.blogspot.com/2012...
THE BACKYARD
BEST OF MAXIM
RELATED ARTICLES
Below, video (via CSNWashington.com) of Stephen Strasburg discussing the shutdown. Feel awful for him, really. There's a full transcription of Strasburg's comments in the Washington Times. There's this quote: "I don't know if I'm ever going to accept it, to be honest with you. It's something that I'm not happy about at all. That's...
Nationals management has said all year that Stephen Strasburg wouldn't be pitching to the end of the season. But few expected him to be shut down so quickly. Washington manager Davey Johnson told Strasburg on Saturday morning that he wouldn't be pitching any more games, Adam Kilgore of the Washington Post reports. Davey Johnson informed Stephen Strasburg this morning his...
Washington Nationals manager Davey Johnson informed Stephen Strasburg that he will be shut down for the rest of the season on Saturday morning. Strasburg was scheduled to make his final start on Sept. 12, but Johnson made the decision to shut the young hurler down early, saying he believed the media distraction was taking a mental toll on him. It has been common knowledge since the...
KEEP IT TO YOURSELF
Ozzie Guillen offered his opinion on the controversial Stephen Strasburg shutdown in Washington, and as expected he used plenty of expletives to make his point.
After being shelled last night by the Miami Marlins in a 9-7 loss at Nationals Park, Washington flamethrower Stephen Strasburg admitted he's "not too happy" with the organization's asinine decision to immediately shelve him for the season. Strasburg (15-6, 3.16 … Continue reading →
By shutting down Stephen Strasburg after 159 1/3 innings, the Washington Nationals are clearly aiming to protect their investment. With the cautious approach comes repercussions, though, and the decision could ultimately be counterproductive. Not only are the Nats going to be without their ace as they head down the stretch and into the postseason, a scenario Washington fans aren...
((HT: CSN Washington)) Much to the chagrin of a lot of fantasy owners (and Nationals GM Mike Rizzo et al.) ace Stephen Strasburg has been shut down for the rest of the regular season according to Nats manager Davey Johnson. Strasburg was lifted after only 67 pitches in his last start (his home finale) which only went 3+ innings matching his shortest start of the year. Next...
So today is the day. After 28 starts, 159 1/3 innings pitched, the Washington Nationals have officially shut down Stephen Strasburg one start early. "He's had a great year. I know what he's going through for the past couple weeks. The media hype on this thing has been unbelievable. I feel it's hard for him -- as it would be [for] anybody...
Dear Mike Rizzo, I am so disgusted with the handling of Operation Shutdown.  As a baseball fan, Stephen Strasburg is one of the great reasons to watch the game.  His overpowering fastball, devastating slider, change-up, and wicked curveball make him a marvel to witness. The Nationals will not win the World Series without their ace right-hander. You have done an excellent job constructing...
Episode 239 FanGraphs managing editor Dave Cameron, as per usual, makes his weekly appearance on FanGraphs Audio and analyzes all baseball. Discussed: • Operation Shutdown Stephen Strasburg, the unknown unknowns concerning it. • The Yankees — what caused their slide, and whether those causes are still present. • Andrew Werner — former independent leaguer, present and capable...
The Stephen Strasburg shutdown plan looks more and more real every day. Scott Boras has no problem with that, but he's also quick to point out that he's not behind it. The biggest agent in the game -- who represents the Nationals pitcher -- is totally fine with the club's decision to shut Strasburg down after his Sept. 12 start. "Before players are under contract...
Stephen Strasburg gave up 6 hits and 5 ER versus Miami last night,  just when you needed him most. The Strasborg showed his human side and had a major malfunction in what should be his final home start, getting shelled by Giancarlo Stanton (2-for-5 with his 31st HR) and the Marlins. Ouch, the Stream-O-Nator really loved this start too. There are few players that get me more excited...
MLB News

Delivered to your inbox

You'll also receive Yardbarker's daily Top 10, featuring the best sports stories from around the web. Customize your newsletter to get articles on your favorite sports and teams. And the best part? It's free!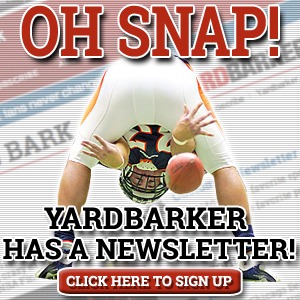 Latest Rumors
Best of Yardbarker

Today's Best Stuff

For Bloggers

Join the Yardbarker Network for more promotion, traffic, and money.

Company Info

Help

What is Yardbarker?

Yardbarker is the largest network of sports blogs and pro athlete blogs on the web. This site is the hub of the Yardbarker Network, where our editors and algorithms curate the best sports content from our network and beyond.