Found August 23, 2013 on Bay Sports Report:
CHECK OUT OUR NEW SOUTHERN CALIFORNIA SPORTS SITE WWW.SPORTSREPORTSOCAL.COM Yasiel Puig is a colorful, exciting, impactful player and has been ever since he joined the Los Angeles Dodgers.  But, not everyone enjoys his mannerisms.  If you go back and look at the commentary about a young Roberto Clemente or almost any other young Latin superstar in baseball history, you see a lot of the same things being said about them that are being said about Puig. The words are different, but the message is the same – hot-blooded and it seems most young Latin ballplayers are some breed of wild horse that needs to be tamed.  Most of this critism comes from the baseball purist who believe his mechanics are off and he should hit the cut-off man, not celebrate when he hits a home-run and of course speak to the media in the most politically correct way; I disagree and I love it! Take race out of the mix as the reason why someone may be critical of Puig.  Let's call it an aversion to his youthful brashness and perceived arrogance.  Bryce Harper had a lot of that said about him when he first hit the scene too; the cover of Sports Illustrated, the bold and unorthodox move to bypass the usual rites of passage in high school or college and the taunting of opposing pitchers in the minor leagues.  Harper is getting endorsements and kudos all the time now, but a couple of years ago he was spoken of as Everything That Is Wrong With Kids Today; again I loved what Harper was doing. Except we've seen a decided turn in the commentary about Harper since he burst on to the scene.  We've seen it because writers and observers have gotten to know Harper, his motivations and his back story; basically the person behind the image to which many had an initial aversion.  I think also the fact that his Dad pitched to him during the Home Run Derby soften a lot of the writers and media would were critical of Harper.  We have met his family and know some about his religion.  We've seen him interact with his teammates and elders in the game like Chipper Jones.  It has allowed us to change our perception about him. That entire process is much, much harder with Puig.  He doesn't speak our language nor do most of us speak his.  Because he's from Cuba, his background is much harder to know and what we do know of it is told more like a fantastical tale than just a story of a kid growing up.  We aren't as privy to his interactions with elders in the game because we can't necessarily understand his conversations.  There's an otherness to his experience and maturation in the game which makes it harder to know him. Maybe Puig is different, maybe he's a jerk who is arrogant and untamed and in need of a good lesson; which is totally possible.  No one is saying such things but this guy is an amazing person who attempted to get into this country six times on a boat and accepted to be brought into this country by drug lords.  He is not your normal player but nowadays is there really a normal player? Jimmy Rollins was fined for being late to the ballpark several years ago and I don't recall anyone writing deep thought pieces about how he needed to be benched.  Jeff Francoeur missed plenty of cutoff men when he played for the Braves due to the confidence he had in his arm and he was never pilloried for it.  Just recently, Adam Eaton slid into home when he hit a walkoff homerun and no one carried on about it like they have with Puig.  People didn't because it's easier to know those players and their motivations because they're easier to talk to after the game.  In contrast, it is so very difficult to really get to know Yasiel Puig to see what makes him tick.  For that reason people fall back on assumptions and generalities that are rotten with centuries of racial baggage, even if the people making the assumptions are totally unconscious that they're doing it. Before concluding that Puig is a major problem in need of solving, figure out whether he's a problem in the first place.  That may take a bit longer and may require some extra work and that, in turn, will keep you from writing a pithy column during a week when Puig is in the news but it may help stop this dumb cycle of misunderstanding Latin ballplayers for large parts of their career.   JA Dukes is a NFL writer for footballandfutbol.com and a sports writer for sportsreportsocal.com Follow me on Twitter @TheJADUKES https://twitter.com/TheJADUKES
Original Story:
http://www.baysportsreport.com/2013/0...
THE BACKYARD
BEST OF MAXIM
RELATED ARTICLES
Let me preface this by acknowledging my Dodger fandom plays into this opinion. Everyone needs to get off Yasiel Puig's back, and the media needs to be far less lazy. For some reason, two national writers decided to lambaste Puig in columns this week. The first was Jon Paul Morosi of Fox Sports. Here are some excerpts from his Tuesday column:  "But if I were a Dodgers...
A number of Dodgers veterans spoke with rookie Yasiel Puig this week, explaining that he needs to cut down on his mistakes. Dodgers utility man Jerry Hairston said players essentially told Puig, "Hey, that's enough," pointing out that such mistakes could prove decisive in important games down the stretch or in the playoffs. Puig has made a number of baserunning mistakes...
Can anyone explain what Yasiel is doing here? The young Dodgers' star looks to be entranced as he raises his finger to signal that there is one out in the inning. Weird, right? [MLB GIF's] Article found on: Next Impulse Sports
Los Angeles Dodgers rookie phenom Yasiel Puig is one of the most talented young players in professional sports, but his attitude and personality have become a concern. He has already earned a reputation among his fellow MLB players as someone who is arrogant and not all that likable. Puig also seems to struggle with dealing […]
With his first swing of the night, Yasiel Puig snapped a slump and silenced speculation he's in the doghouse. The rookie sensation came off the bench to hit a tiebreaking home run in the eighth inning and help the Los Angeles Dodgers beat the Miami Marlins 6-4 on Tuesday night. Puig was held out of the starting lineup after going hitless in his past 11 at-bats. He also drew...
After rookie superstar Yasiel Puig was punished by way of a fine from manager Don Mattingly for showing up late to the ballpark for Tuesday's road game against the Miami Marlins, the Los Angeles Dodgers organization had a little fun with the story. The Dodgers posted a photo to its Instagram page which shows the […]The post Dodgers post pic to Instagram to show Yasiel Puig made...
Clearly Yasiel Puig is not going to do anything in typical fashion. Not his throws not his baserunning and not being sent to the doghouse. Dramatics are the order of his day every day. Puig was benched prior to Tuesday's game with the Miami Marlins mostly Manager Don Mattingly said because he was in a three-for-24 slump. Then Puig showed up late to Marlins Park and was fined....
Lately, Yasiel Puig has been in one of his slumps. For really the first time in his professional career, he's been the target of a lot of criticism, some of it warranted and some of it over the top. Most significantly, he's had some struggles at the plate, with his aggressive approach backfiring. Thursday afternoon, […]
Yasiel Puig was dehydrated and received an IV last night for calf cramps, explaining why he was limping. — Ken Gurnick (@kengurnick) August 22, 2013   Lebron James and South Beach made an honest man out of Yasiel Puig the other night; a very hungover honest man. I always respected a guy who could go out until the wee hours of the night and abuse copious amounts of alcohol, only...
It's no secret that Manny Ramirez had the tendency to be a real pain in the neck during his time with the Red Sox. It eventually came to be too much for the Sox to handle, and they traded him away, but not after the slugger enjoyed a very successful stint in Boston. That time with the Red Sox was a balancing act for the club, particularly manager Terry Francona. Sure, Ramirez was...
Tuesday began with Dodgers manager Don Mattingly hoping to teach Yasiel Puig, his young, brash, agressive phenom, a lesson about being a professional. Judging by the way it ended, Mattingly either got his message across in record time, or may have a serious problem on his hands. After Puig showed up late to Marlins Park in Miami, the Dodgers skipper had a closed-door meeting with...
Let's get right to the trots! Your browser does not support iframes. Home Run of the Day: Yasiel Puig, Los Angeles Dodgers - 16.98 seconds [video] This pinch-hit home run is a thing of beauty. The only thing that could have made it better was if the ball slammed into the home run sculpture out there in center field, rather than landing on the stairwell next to it. Just...
Dodgers News

Delivered to your inbox

You'll also receive Yardbarker's daily Top 10, featuring the best sports stories from around the web. Customize your newsletter to get articles on your favorite sports and teams. And the best part? It's free!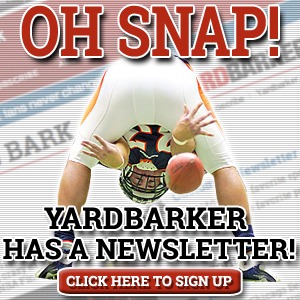 Latest Rumors
Best of Yardbarker

Today's Best Stuff

For Bloggers

Join the Yardbarker Network for more promotion, traffic, and money.

Company Info

Help

What is Yardbarker?

Yardbarker is the largest network of sports blogs and pro athlete blogs on the web. This site is the hub of the Yardbarker Network, where our editors and algorithms curate the best sports content from our network and beyond.