Found October 02, 2012 on Fox Sports Detroit:
PLAYERS:
Carl Yastrzemski
,
Miguel Cabrera
,
Harmon Killebrew
,
Josh Hamilton
,
Mike Trout
,
Ted Williams
,
Mickey Mantle
,
Bob Gibson
TEAMS:
Boston Red Sox
,
Detroit Tigers
,
Texas Rangers
,
Los Angeles Angels
DETROIT -- Two generations have passed since somebody last won baseballs Triple Crown. That 45-year absence since Carl Yastrzemski captured it with a long-shot champion Red Sox team has heightened the anticipation as Tigers third baseman Miguel Cabrera chases it. Yastrzemski clinched it on the same sunny Fenway Park afternoon in 1967 that his team beat the Twins to win the American League pennant -- although Yaz and his teammates had to wait at the ballpark after their triumph to see if the Tigers could force a one-game playoff by winning the second game of a doubleheader with the Angels. The Red Sox popped the champagne corks after hearing that Tigers second baseman Dick McAuliffe hit into a season-ending double play. As for the Triple Crown celebration, Yaz -- speaking at an All-Fenway Team celebration last week -- said that his personal title received so little attention that nobody asked him about it on the final day of the season. The one thing thats going to help (Cabrera) is, hes in a pennant race, Yastrzemski said. Plus, theres so much more publicity nowadays with people following him and everything else. I mean, you get a report every day and so forth. "But in 67, the Triple Crown wasnt even mentioned once. We were so involved in the pennant race, I didnt know I won the Triple Crown until the next day when we read it in the paper." Yaz, also a brilliant left fielder, easily won the batting title in '67, hitting .326 to runner-up Frank Robinsons .311. Tigers Hall of Famer Al Kaline finished third at .308. Yaz's 121 RBIs provided plenty of breathing room between him and the rest of the league, too. Twins first baseman Harmon Killebrew finished second with 113. The close race was in the home-run category, where he finished tied at 44 with Killebrew. Cabreras quest will also likely come down to the homers -- or as Tigers TV analyst Rod Allen refers to them, the big flies. Cabrera crushed No. 44 on Monday, helping the Tigers clinch the AL Central with a 6-3 victory at Kansas City and putting him one homer in front of Rangers center fielder Josh Hamilton with two games left. Cabrera's 137 RBIs are well ahead of Hamiltons 127, and Cabreras .329 average gives him the edge over Angels center fielder Mike Trout, who is second at .325. When asked what he knew about Yaz on the recent home stand, Cabrera smiled and said, A lot. He offered no nuggets of wisdom in that regard, but if Cabrera follows all the reporting this week, he'll learn much about the man whose feat he's trying to duplicate. Ive spoken with Yaz twice in the last 45 years, and both were memorable experiences. In the final weeks of that 67 pennant race, we went to Metro Airport to pick up a family member arriving on a flight from Boston. Word spread around the gate area that the Red Sox were aboard, and as a young baseball fan, I was thrilled. I didnt have anything to write on, but took the liberty of grabbing a Pan Am airline timetable for my autograph pursuits. First, I got Lonborg, the Cy Young Award winner that year, to sign. He smiled while making small talk about the Tigers. Yaz came off right behind him, a leather bag slung over one shoulder. I told him that we shared a Polish heritage. He seemed like that, but didnt smile much and wasnt as talkative as Lonborg. Yaz is stoic by nature. We met again in 1991, on Ted Williams Day at Fenway. I went into Boston manager Joe Morgans office when the clubhouse opened and was surprised to find Yaz sitting on the couch to the left. The Splendid Splinter himself was on the couch to the right. I sat on the same couch as Yaz, trying not to act completely flabbergasted by my great fortune. They allowed me to enter into their conversation about the game, and Yaz didnt say much again. We all enjoyed Williams, a great storyteller, spinning his yarns about hitting and more hitting. Williams dropped his chin and peered at me over his glasses after a few minutes, saying, You a reporter? You are, huh. Well, these are great stories. Im even being nice to reporters today. Yaz, Morgan and Williams laughed, and I hesitated before joining in. What a Field of Dreams cornfield moment that was. One of the reasons Yaz's Triple Crown didn't bring much fanfare was because the Orioles' Robinson had won it the year before. Yaz won the crown for the fifth time in a 25-year period, also joining Mickey Mantle (1956) and Williams (1942 and 1947). I thought somebody would have won it a long time ago, Yastrzemski said last week. And the surprising thing about it is, when Mantle won it and Williams and Frank, you had a higher mound. "You know, Id like to see what some of the pitchers would throw today, with their speeds if they came off the higher mound. I could see (Justin) Verlander probably throwing 100 miles an hour or more on every pitch. So, like I said, Im surprised its lasted this long. Mounds were lowered after the 1968 season, when Denny McLain won 31 games, Bob Gibson had a 1.12 ERA and pitchers were dominating. Well, Yastrzemski said, somebodys gonna do it. Whether its Cabrera this year or whether its gonna be next year. "Im surprised that its gone this long, to be perfectly honest. And when (Pete) Rose broke (Ty) Cobbs hit record, I never thought that would happen. And then when (Cal) Ripken broke (Lou) Gehrigs consecutive game record, I never thought that would happen either. So its gonna happen. Yaz, Robinson and Mantle -- the last three Triple Crown winners -- also led their teams to the World Series. Cabrera will tell you that getting there is what he plays for, not some glorious string of statistics. But only 13 men have claimed the crown. Coronations like that are special. It would likely stamp Cabrera as the best hitter of his generation.
Original Story:
http://www.foxsportsdetroit.com/10/02...
THE BACKYARD
BEST OF MAXIM
RELATED ARTICLES
Detroit TIgers third baseman Miguel Cabrera was confirmed as baseball's first Triple Crown winner since 1967 Wednesday night with an 0-for-2 performance that dropped his batting average a point to .330 to go with 44 home runs and 139 RBI. He got a standing ovation from the Kansas City crowd and Royals players when he came up to bat in the first inning, and he received a loud...
I have to admit, I never thought I would live to see a Triple Crown winner in Major League Baseball. On this night, Miguel Cabrera becomes the first man in baseball to win it since Carl Yastremski in 1967. Cabrera polished off a .330, 44 home run, 139 RBI season. And I didn't own him on any fantasy teams. What a joy that must have been.
Wednesday night, Detroit Tigers third baseman Miguel Cabrera won Major League Baseball's first Triple Crown since Carl Yastrzemski did it in 1967. After starting the regular season finale against Kansas City, Cabrera was lifted in the fourth inning as he went 0-2 on the night with a strike out. Cabrera though finished the season with 44 home runs, 139 RBIs and a .330 batting average...
Miguel Cabrera wrapped up the American League Triple Crown, becoming the first player to do so since Carl Yastrzemski in 1967. Continue reading →
Miguel Cabrera had four hits, including a homer during a five-run sixth inning, and the Detroit Tigers held off the Kansas City Royals 6-3 Monday night to clinch the AL Central title. Gerald Laird added a bases-loaded double, Rick Porcello (10-12) pitched shutout ball into the sixth inning and Jhonny Peralta went deep off Bruce Chen (11-14) to help Detroit reach the postseason in...
KANSAS CITY, Mo. (AP) -- Miguel Cabrera became the first player in 45 years to achieve the Triple Crown in the AL Central-champion Detroit Tigers' 1-0 victory over the Kansas City Royals on Wednesday night. Cabrera went 0 for 2 with a strikeout, then left in the fourth inning of the regular-season finale. He received a standing ovation from the opposing fans. He finished with...
This is what we know early Wednesday afternoon: The Detroit Tigers have won the American League Central and will open the playoffs at home on Saturday, with Justin Verlander on the mound. Miguel Cabrera is on the verge of winning baseball's first Triple Crown since Carl Yastrzemski accomplished the feat in 1967. The only person really standing in Cabrera's way is Texas...
KANSAS CITY, Mo. (AP) -- Miguel Cabrera had two hits, drove in two runs and pressed ever closer to the first Triple Crown in 45 years Tuesday night. Now, the question facing the Detroit Tigers star is whether to play in the regular-season finale against Kansas City. Cabrera said he'd do what manager Jim Leyland asks of him. Leyland said he'll play Cabrera if he wants. It...
KANSAS CITY, Mo. (AP) -- Miguel Cabrera had four hits, including a homer during a five-run sixth inning, and the Detroit Tigers held off the Kansas City Royals 6-3 Monday night to clinch the AL Central title. Gerald Laird added a bases-loaded double, Rick Porcello (10-12) pitched shutout ball into the sixth inning and Jhonny Peralta went deep off Bruce Chen (11-14) to help Detroit...
KANSAS CITY, Mo. (AP) -- Tigers slugger Miguel Cabrera became the first player in 45 years to win baseball's Triple Crown on Wednesday night, joining an elite list that includes Mickey Mantle, Ted Williams and Lou Gehrig. Cabrera's milestone wasn't official until the Yankees pinch hit for Curtis Granderson in their game against the Boston Red Sox. Granderson had homered...
MLB News

Delivered to your inbox

You'll also receive Yardbarker's daily Top 10, featuring the best sports stories from around the web. Customize your newsletter to get articles on your favorite sports and teams. And the best part? It's free!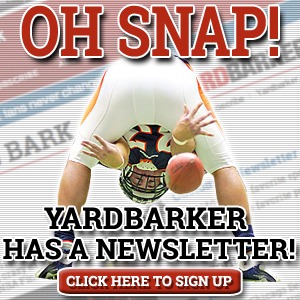 Latest Rumors
The Backyard

Today's Best Stuff

For Bloggers

Join the Yardbarker Network for more promotion, traffic, and money.

Company Info

Help

What is Yardbarker?

Yardbarker is the largest network of sports blogs and pro athlete blogs on the web. This site is the hub of the Yardbarker Network, where our editors and algorithms curate the best sports content from our network and beyond.