Found September 03, 2012 on Ted's Army:
Every morning, we compile the links of the day and dump them here... highlighting the big storyline. Because there's nothing quite as satisfying as a good morning dump. Is Bobby Valentine's time with the Red Sox at an end?
With the team in tatters on the West Coast -- six straight losses, outscored in the six games by an astounding 54-15 -- the Boston Herald's Michael Silverman reported Monday morning that owner John Henry and general manager Ben Cherington have flown to Seattle, where the Sox will begin a three-game series against the Mariners today.  Silverman -- noting that "indications grew [Sunday] night that the owners have become increasingly frustrated with the team's shoddy performance of late and want to try to salvage something positive before the season ends" -- writes that "[anything] is possible [when Henry and Cherington meet with the club], from the dismissal of manager Bobby Valentine to something as simple as just wanting to show support to Valentine and a team that is crumbling before everyone's eyes." CSNNE: Valentine's Day at end? Henry, Cherington fly to Seattle Bobby V may get the axe today and you can already hear the cheers from those that couldn't stand him ever since Larry Lucchino trumped Ben Cherington the front office brought him in to manage the team. This is a team that is 2-6 since the Adrian Gonzalez trade, and the team is looking more and more like the Opening Day roster of the Pawtucket Red Sox. Surely, people who think about it would know that the on the field results would take a hit. The pre-reset Red Sox underperformed what the money that they were shelled out, still could float around .500 because they still were really talented. The team we're seeing being put out there has potential but the growing pains will continue. Also consider the fact that the team is without it's best hitter (Ortiz), best prospect (Middlebrooks) AND THEN the best player left is struggling through a bum wrist (Ellsbury) losing six straight to two hot teams is going to happen.  So if the speculation is true and the front office decides to let Valentine go today because they're not thrilled with how the team has played well... did they expect anything different? After giving Bobby Valentine a chance to do his job, they have to decided that it's not working a week later. How is that fair to him? This isn't just a Bobby Valentine defense but a defense of anyone who hasn't gotten a fair chance to do their job. He's dealt with prima donnas who would mock him and complain to upper management about not being babied for much of the year. This is just another brutal mis-management by the front office. They basically paid Bobby Valentine $4 million to be a place holder. If they want to let him go after the season fine, but let's face reality: who would want to come in and deal with this team? I haven't heard of a name ti replace Valentine that has made any sense. The best person for the job might be the one that is in the dugout now. If they let him do his job, they might actually see it. Rest of the Links: Globe: Sox get swept again | Pedroia not second-rate | Boat of skipper taking water | Herald:Ownership displeased | Tough times for Pedey | Sox bottoming out | Dice-K lets himself, bullpen down | CSNNE: Not pitching in | Sox swept once again | Wrist keeps Ellsbury out, Ciriaco starts in LF | WEEI: Time to make the move | Sox hit new low, complete sweep
Original Story:
http://www.tedsarmy.com/blog/2012/09/...
THE BACKYARD
BEST OF MAXIM
RELATED ARTICLES
Bobby Valentine remains the manager of the Boston Red Sox, and despite what other people may think of that, Valentine is keeping his good humor. On Monday, speculation ran rampant that a visit to Seattle by Red Sox principal owner John Henry and general manager Ben Cherington signalled Valentine's impending dismissal. However, the two member of the Sox front office emphasized...
The Red Sox have used 55 different players at the major league level already this season, and that number will likely continue to grow as more Triple-A players make the trek up to Boston. This is not the way manager Bobby Valentine was expecting to spend his first season with the Red Sox, and the team's performance has certainly suffered from the lack of consistency. All the...
Things aren't going well for the Red Sox this week, but that doesn't mean it's not an exciting time to be a baseball fan. Pennant races are in full swing, and there are plenty of storylines to cover. So many, in fact, that we couldn't even get to all of them across the league in this week's 6-4-3. Which ones did we tackle? Reading the rest of this story will probably...
Bobby Valentine has been the subject of much discussion during his first season at the helm of the Red Sox, and the talk shows no sign of winding down as the Red Sox season does. With Red Sox principal owner John Henry and general manager Ben Cherington in Seattle for the team's three-game series with the Mariners, while the Sox are in the midst of a six-game losing streak, many...
Bobby Valentine wanted to manage again. He so wanted to return to Major League Baseball that he may have agreed to hold the clipboard for a team that resembled a traveling circus or called the shots at a club better fit for a comedy show. He got the Red Sox. Boston's season has been so wild and varied that it's hard to know which parts are true and what just needs to be put...
As soon as the Boston Red Sox came out and said that manager Bobby Valentine would not be fired during this season, everyone more or less knew that was the kiss of death. Any time a team gives a manager a vote of confidence, the real translation is that they will soon relieve that person of their duties, but they just don't feel like doing so right now. Valentine can...
Editor's note: NESN.com is going to tell the story of the 2012 Red Sox in Bobby Valentine's words. Each game day, we will select a Valentine quote that sums up the day for the Red Sox. For the first time in nearly a week, the Red Sox received a strong pitching performance. But it was the offense and the defense behind the pitcher that were lacking in Monday's 4-1 loss...
Alfredo Aceves' role on the pitching staff has been uncertain in recent days. Red Sox manager Bobby Valentine has said he wants to stretch Aceves' outings, but Valentine didn't say whether that would be as a starter or in long relief. On Sunday, though, Valentine said he was leaning toward giving Aceves a start before the end of the season. "The program is for him...
(Eds: With AP Photos.) By JIM LITKE AP Sports Columnist You can never say for certain that a team has given up, but the Red Sox are making it awfully tempting. They've lost the first six games on this latest West Coast swing, which arrived at the tail end of a five week-long skid that saw them plummet from 3 1/2 games out of a potential playoff spot to the depths of the American...
Editor's note: NESN.com is going to tell the story of the 2012 Red Sox in Bobby Valentine's words. Each game day, we will select a Valentine quote that sums up the day for the Red Sox. No one is kidding themselves at this point. There are no playoffs to fight for, so this last month of the Red Sox' season is almost entirely about one thing: player evaluation. For years...
The last time the Boston Red Sox were in the Emerald City things were looking up for them. They were 42-37, 6.5 games out of first place and 1/2 game out of the wild card at the time. In the two months since, they've completely gone downhill. Since the last time they were there, they've gone 20-37, are 15 games out of first place and 14 games out of the wild card. And after...
BRUTAL IN BOSTON
Boston Red Sox general manager Ben Cherington admitted that he is having a tough time watching the team play so poorly this season.
MLB News

Delivered to your inbox

You'll also receive Yardbarker's daily Top 10, featuring the best sports stories from around the web. Customize your newsletter to get articles on your favorite sports and teams. And the best part? It's free!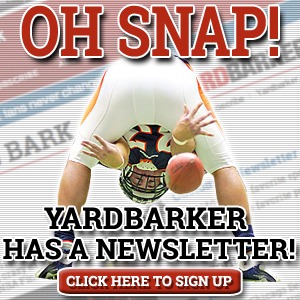 Latest Rumors
Best of Yardbarker

Today's Best Stuff

For Bloggers

Join the Yardbarker Network for more promotion, traffic, and money.

Company Info

Help

What is Yardbarker?

Yardbarker is the largest network of sports blogs and pro athlete blogs on the web. This site is the hub of the Yardbarker Network, where our editors and algorithms curate the best sports content from our network and beyond.