Every morning, we compile the links of the day and dump them here... highlighting the big storyline. Because there's nothing quite as satisfying as a good morning dump. The first official day of full-squad workouts was rather uneventful here on the backfields at JetBlue Park at Fenway South. That just means everything went according to plan for manager John Farrell and bench coach Torey Lovullo. The team held its annual spring training meeting in the morning, and the session lasted 50 minutes before the players took the field. "Jonny looked great," Saltalamacchia said. "This is the second bullpen I've caught him this spring. All fastballs, which is great, and he's working on just keeping the ball down and commanding. I was trying to give him some feedback on how he was doing. You don't want to say 'great job' on every pitch even though every pitch was great." Aceves is being stretched out this spring as a starter because he'll represent Mexico in that role at the upcoming World Baseball Classic. "To represent your country, for me, it's something huge, man," he said. "Not too many people can play baseball, play in the field, can throw a baseball, can hit, can run. Not too many people can do it. I'm excited to take advantage of that." ESPN - Today's takeaways: Camp Farrell kicks off The Lester quote by Saltalamacchia was great and all, but do we really expect him to say anything different?  We're  going to hear nearly all positives coming out of camp, which is fine.  If there's one thing this team could use a heaping dose of, it's positivity.  They're excited.  We're excited.  It's exciting! What I find far more troubling is the news that Aceves is being stretched out simply for the World Baseball Classic.  I know that it's a big deal for a lot of players, and I have no issues with anybody participating.  But I'm not a fan of prepping a player to play a role in the Classic that he won't have with your club. Aceves, and Bard, were awful last year.  The one thing they had in common: Boston tried to stretch them out to be starters in the Spring.  They both had disastrous transitions back to the pen. I'm a big Aceves guy.  There aren't many pitchers like him, who can seemingly throw in any situation with no notice.  I want the Sox to do everything they can to ensure we get the 2011 Aceves, not the 2012 version. Maybe this time will be different.  Last Spring he was actually competing for a starting gig, this time he knows he's going to the pen.  He also shouldn't even come close to sniffing the Closer gig.  So maybe the mental approach won't be the same, and the transition to the pen will be smoother. It just makes me uneasy.  But, in Farrell We Trust. On Page 2, Iglesias Jose Iglesias was taking batting practice the other day when he launched a home run that cleared a Green Monster-sized fence at one of the back fields of the Red Sox' spring training complex. Standing in the outfield, resident wisecracker Dustin Pedroia hollered that he never knew Iglesias could hit a ball so far. "To the moon!" Iglesias yelled back. [...] To that end, Iglesias bulked up this winter, adding about 10 pounds of muscle mass and shedding body fat. And although he spent most of the offseason at his home in Miami, he also traveled to Arizona for a week in December to work out with Pedroia. It was Pedroia's idea. Over the past few years, he has developed a big brother/little brother relationship with Iglesias, challenging the shortstop to make the most of his ability. Herald - Jose Iglesias at croSSroads 95 coming in, 195 going out! Good write up on Iglesias by Scott Lauber, despite the stupid title. I won't ramble on about Jose (again), other than to say that this kid really wants it and I'm pulling for him. #FreeJose Rest of the links: Herald - Larry Lucchino's underdog comment doesn't fly | Globe - Manager John Farrell strikes the right tone with the Red Sox | Why we love Larry Lucchino | WEEI - Red Sox prospect Jackie Bradley Jr. and the art of fielding | Jonny Gomes vs. Cody Ross: A Red Sox free agent decision revisited
Original Story:
http://www.tedsarmy.com/blog/2013/02/...
MORE FROM YARDBARKER
MLB News

Delivered to your inbox

You'll also receive Yardbarker's daily Top 10, featuring the best sports stories from around the web. Customize your newsletter to get articles on your favorite sports and teams. And the best part? It's free!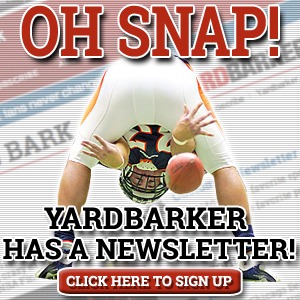 Latest Rumors
Best of Yardbarker

Today's Best Stuff

For Bloggers

Join the Yardbarker Network for more promotion, traffic, and money.

Company Info

Help

What is Yardbarker?

Yardbarker is the largest network of sports blogs and pro athlete blogs on the web. This site is the hub of the Yardbarker Network, where our editors and algorithms curate the best sports content from our network and beyond.