Every morning, we compile the links of the day and dump them here... highlighting the big storyline. Because there's nothing quite as satisfying as a good morning dump. This was seen not as a quick fix, but as a process. Daniel Bard was sent to Double-A Portland to refine his mechanics and regain his confidence, not to demonstrate overnight that he was ready to return to the Red Sox. But that day of return and possible redemption has arrived. According to the Portland Press-Herald, Bard was told by Sea Dogs manager Kevin Boles that he will be returning to the Red Sox on Wednesday. To make room for Bard on the roster, the Sox optioned knuckleballer Steven Wright back to Pawtucket. Wright made his major league debut in Tuesday night's 13-0 loss to Oakland, eating up 3 2/3 innings in a game that was out of hand (8-0) when he entered. He was charged with five runs on six hits and four walks. ESPNBoston | Report -- Daniel Bard to be recalled by Boston Red Sox Well this was unexpected. I thought Bard would be spending most of the year in the minors, especially considering he hasn't pitched perfectly down there: a 4.00 ERA with four strikeouts and four walks in nine innings against AA competition. Nothing special. I'm excited about the move because it basically signals that Alfredo Aceves is gone, and if you read my recap last night, you know I'm ready for us to part ways with the man who has the devil in his eyes. With Lackey, Breslow, Morales, and Hanrahan all on their way back, you're looking at Wilson and Miller as nearly definite demotions, followed by two of Aceves, Bard, and Mortensen as next on the list. Based on the promotion of Bard today, I'm thinking they are ready to leave him up here. And really, this is an ideal situation for Bard. He'll have absolutely no pressure. He's last on the totem pole, no one will expect him to close considering they already have two guys vying for the job, and everyone not named Andrew Miller is pitching well. He can pitch in the majors but not feel like he has to be his old self, so maybe eventually he'll be able to get back to that level. On page 2, Aceves sounds off on the small strike zone last night. "It's hard to explain to you guys," Aceves said. "You guys just see the errors, the runs, the hits, whatever. It's really hard to — how can I explain? — to get through that plate. For whatever reason, the strike zone got small. Obviously you guys don't see it that way. You see the runs. As a pitcher, man, it's not easy. Also, the weather, whatever weather it is, we should be able to play. Also it don't matter what score it is. We've got to have our backs, not because it's 10 or 13, I'm going to sit back and relax for the next game. No, there's no second game. We've got to have our backs. Pretty much that." It should be noted that English is not Aceves' first language, which makes some of his quotes sound worse than he might have intended, like when he was asked why Colon could mow down the Red Sox in the same conditions that caused Aceves so much trouble. "Maybe his strike zone is not that small, for whatever reason," Aceves said. "Also, we got our hacks. Why don't we hit?" Herald | Dreadful outing shows all of Alfredo Aceves' faults I'm actually willing to give Aceves the benefit of the doubt here -- I was thinking the same thing about English not being his first language before I even got through the quote. He's probably just saying that when you don't have it it feels like you'll never throw a strike, something every pitcher in baseball has felt at one point or another (not to mention every shooter in basketball, and a million other examples across sports). So let's not kill him for that quote, let's just say it's time for him to go because he is terrible. ESPNBoston | Bartolo Colon blanks Red Sox as A's roll to rain-shortened win | Rapid Reaction: Athletics 13, Red Sox 0 | Last call for Alfredo Aceves? | Herald | Cold, wet night ends in ugliness for Red Sox | Daniel Bard heads to Fenway | John Lackey arms for weekend | CSNNE | Latest start could finish Aceves with Sox | A's pour it on in rain-soaked Fenway, 13-0 | One-and-done Wright demoted after debut | Globe | Red Sox humbled by Athletics | Knuckleballer Steven Wright sent back to Pawtucket
Original Story:
http://www.tedsarmy.com/blog/2013/04/...
MORE FROM YARDBARKER
MLB News

Delivered to your inbox

You'll also receive Yardbarker's daily Top 10, featuring the best sports stories from around the web. Customize your newsletter to get articles on your favorite sports and teams. And the best part? It's free!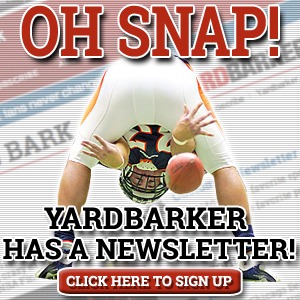 Latest Rumors
Best of Yardbarker

Today's Best Stuff

For Bloggers

Join the Yardbarker Network for more promotion, traffic, and money.

Company Info

Help

What is Yardbarker?

Yardbarker is the largest network of sports blogs and pro athlete blogs on the web. This site is the hub of the Yardbarker Network, where our editors and algorithms curate the best sports content from our network and beyond.