Found April 05, 2013 on Ted's Army:
Every morning, we compile the links of the day and dump them here... highlighting the big storyline. Because there's nothing quite as satisfying as a good morning dump. Following a 4-2 loss in New York last night, John Farrell and the Red Sox head up north to Toronto to face the re-tooled Blue Jays. However, Farrell may not have the most enthusastic crowd waiting for his arrival... Somewhere along the road from Toronto to Boston, John Farrell became a bad guy to Canadians last year. One critic mentioned this spring that the opinion is more of a Canadian habit than based on anything terrible Farrell did in his exit as Blue Jays manager to become the Red Sox boss. Canadians don't like it when anyone leaves Canada. It happens too often and those that stay have a complex about it, according to the one loyalist. So tonight, when Farrell makes his return to Toronto for the first time after two losing seasons at the helm, he is going to hear, almost certainly, a great deal of booing whenever he pokes his head out of the dugout or goes to the mound to make a pitching change. Farrell, well used to the topic after a couple of Blue Jays encounters this spring in Florida, at least is not going to be caught by surprise. "In this case, with how things unfolded, the unique set of circumstances that surround both the change in Toronto and here in Boston, I can fully appreciate that they might have those feelings," said Farrell. "What might come out of it, we'll see starting (tonight)." Herald: John Farrell set for cool Toronto reception So it's early April (or as the Toronto likes to call it, the baseball season) and the Rogers Centre should be rockin' tonight, as the boo-birds are set to take charge against Farrell. Blue Jays fans are laughable. They show up in April all pumped up and ready for baseball, but then slim down the second there's a three-game losing streak. Seriously. My buddies and I went up there in 2011 for a Red Sox vs Blue Jays game and there may have been 15,000 in attendance...and I'm being kind with that number. We were also escorted back to our $16.00 bleacher seats when we tried to get down front to one of the 350 empty field boxes. Makes sense. God forbid it looks like you have a crowd on TV by moving everyone foward, but hey what do I know? Anyways, what are these fans so angry about? First of all, Farrell was traded from the Blue Jays. Sure he may have asked out, but the Blue Jays front office could have easily turned him down. Second of all, what in the hell was so great that Farrell did for the Blue Jays organization? Mediocrity? Continuing their trend of being left off the baseball map? Whatever, boo at Farrell all you want Toronto. Get it out now...have a blast. Might as well, seeing that you'll stop showing up by the end of May. I guarantee you the fans' negative reception is the last concern on the Red Sox or Farrell's mind. Happy Friday everyone! Rest of the Links - Globe: Pettitte, Yankees turn back clock | Globe: Pettitte and Rivera: oldies but goodies | Globe: Catcher David Ross always on defensive | Herald: Andy Pettitte, Yankees avoid Red Sox sweep | Herald: Red Sox suffer power shortage at the Stadium | Herald: For one night, the aged Yankees reign | ESPNBoston.com: Takeaways from Bronx: Canada lies in wait | CSNNE.com: Aggressive Victorino may have cost Red Sox win
Original Story:
http://www.tedsarmy.com/blog/2013/04/...
THE BACKYARD
BEST OF MAXIM
RELATED ARTICLES
Don Cherry is known for his hockey acumen, but the Hockey Night in Canada commentator is also very opinionated when it comes to baseball. Cherry, who is a fan of the Toronto Blue Jays, happened to catch Friday night's game against the Red Sox, and a few things stood out to him. Cherry not only disagreed with how the crowd treated Red Sox manager John Farrell is his return to Toronto...
John Farrell had to fight through a crowd just to get to his own pregame news conference upon his return to Toronto as manager of the Boston Red Sox. Five television cameras and a throng of more than 20 reporters were waiting outside the Red Sox clubhouse to speak to the man who gave up his job as the Blue Jays skipper and bolted to join their division rival. ''Is there...
Apparently the fine people of Toronto didn't take to kindly to the fact that current Red Sox manager John Farrell wanted to reunite with his former organization this past offseason, eh? As a matter of fact things are looking rather bleak for the former Toronto manager as he makes his return to the city he left months ago. If you're watching the game at home don't expect...
John Farrell isn't a very well-liked guy in Toronto these days, and that will be abundantly clear throughout the Red Sox' weekend series with the Blue Jays. Farrell, who spent two seasons as Toronto's skipper before arriving in Boston, is likely to hear boos throughout the series at Rogers Centre, as some Jays fans have gone as far as to label the Red Sox manager a "scoundrel"...
It took about two weeks last season to realize the Red Sox' clubhouse was divided. It took less than that this season to realize everyone is now pulling in the same direction. The Red Sox squeaked out a 6-4 win over the Blue Jays on Friday. The performance was far from perfect, leaving much to be desired from an execution standpoint, but the energy and camaraderie in the Boston...
8 a.m. ET: Now, let's see how the Red Sox respond after a loss. Good teams bounce back and thrive in the face of adversity, and after dropping a 4-2 decision to the Yankees on Thursday, the Sox will be tested for the first time on Friday. Making life more difficult, however, is the fact that they'll be going up against the talent-laden Blue Jays in Toronto. Felix Doubront will...
The welcome (home) party John Farrell has received since leaving the Blue Jays and (re-) joining the Red Sox in the offseason has been an all-out bender, as Red Sox Nation couldn't be happier to have Farrell leading the local nine this summer and beyond. But how are the folks north of the border in Toronto reacting to Farrell fleeing Hogtown after just two seasons? Not good, according...
John Farrell and the Boston Red Sox weren't fazed by a hostile reception from Toronto's fans. Instead, they turned all the boos into a boost of energy. Mike Napoli hit a two-run homer and drove in the go-ahead run in the eighth inning, and the Red Sox beat the Blue Jays 6-4 on Friday night in Farrell's return to Toronto. A packed house of 45,328 let Farrell have it...
Toronto fans came in floods as cheers and boos showered down from all around the stadium in what might be the biggest crowd I have ever seen in the Rogers Centre. Whenever the Red Sox got a run, the Blue Jays responded quickly, all until the Red Sox took the lead for good in the top of the eighth inning. In light of four combined home runs from both teams, here are the four bases...
With a strong series in New York, the Boston Red Sox head to Toronto with a 2-1 record and with the return of John Farrell, this will certainly be an interesting series for both teams.  The most interesting stat for…
On Sunday, Shane Victorino was thrown out trying to score from second on a passed ball. Although it was an aggressive baserunning play by the outfielder that just didn't work it, it might also be a harbinger of what's to come in 2013 for the Red Sox. Manager John Farrell has made it no secret that he likes his teams to be aggressive on the bases when it's the right time. So...
MLB News

Delivered to your inbox

You'll also receive Yardbarker's daily Top 10, featuring the best sports stories from around the web. Customize your newsletter to get articles on your favorite sports and teams. And the best part? It's free!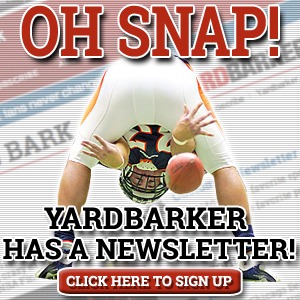 Latest Rumors
The Backyard

Today's Best Stuff

For Bloggers

Join the Yardbarker Network for more promotion, traffic, and money.

Company Info

Help

What is Yardbarker?

Yardbarker is the largest network of sports blogs and pro athlete blogs on the web. This site is the hub of the Yardbarker Network, where our editors and algorithms curate the best sports content from our network and beyond.