Found March 04, 2013 on Ted's Army:
Every morning, we compile the links of the day and dump them here... highlighting the big storyline. Because there's nothing quite as satisfying as a good morning dump. Ortiz said Sunday when he ran the bases the day before, for only the second time this spring, he felt some stiffness in the tendon. "I got a little worried yesterday,'' Ortiz said, "and the doctor told me that's the way it's going to be at the beginning, because that muscle, that foot, I haven't been doing strong activity like that. I didn't run the whole offseason, so they said, 'You're just breaking things down [calcification]. That's why it's sore, but it will go away.'' Ortiz said the foot felt "fine" this morning, but while he hoped to play in a game by the end of this week, it would be his call. "I'm looking forward to [playing],'' he said, "but it's not what they say, it's what it is. I don't want to go out there without being ready and having a setback.''  ESPNBoston | Ortiz: Doc said heel soreness to be expected Later in the piece Ortiz compliments one of the medical staff, which I think is the first positive thing said about them since 2003.  Let's play a little what-if. What if Ortiz has another setback and isn't ready for opening day? Now, most people aren't projecting much for this team anyway, but it seems reasonable to expect them to be around .500. Without Ortiz? We're going to have a middle of the order with Jonny Gomes and Will Middlebrooks and Shane Victorino. Oof. Obviously, the most important thing is to get the most games out of Papi that we can. And if that means slowly bringing him back, even starting the year on the DL for a couple of weeks, then so be it. What we can't afford -- for this team's short-term viability and watchability -- is for Ortiz to be out for a long stretch. On page 2, everybody loves Ryan Dempster. "A good day of pounding the right part of the strike zone," Dempster said. "Got ahead of most of the hitters, and just tied to execute pitches." Catcher David Ross was pleased with Dempster's performance. "He looked good," Ross said. "Fastball was good. Location was really on for this early. He's further along than I would say most guys are for this point. Threw the ball really well. His slider was really sharp, good split-finger changeup. I thought he threw really good. Obviously a lot of first-pitch strikes.  I always judge it on first-pitch strikes. We're trying to get ahead of hitters, and early on in spring training the location's really good but he was pumping in there to a lot. Yeah I thought he threw the ball really well." CSNNE | Dempster lights out in three innings vs. Yankees I'm not expecting anything other than a few laughs from Dempster. It's just hard for me to imagine him being successful at Fenway in the AL East after playing in the NL Central for a hundred years. I hope I'm proven wrong. Also, can we relax on the phrase "lights out"? A) It's spring training, and B) isn't it being used way out of context at this point? Lights out is supposed to mean that somebody is so good that the game is over, turn out the lights. (Right?) To me, it basically applies to elite closers and that's it. #getoffmylawn ESPNBoston | Takeaways: Yanks 5, Sox 2, Dempster on | Napoli says first homer 'feels good' | Yankees 5, Red Sox 2 | CSNNE | Sox cancel Ortiz's baserunning drill due to soreness | Staying loose next on list for Ortiz | Globe | Red Sox make cuts | David Ortiz may run today | Game report: Yankees 5, Red Sox 2 | Herald | Yankees' problems pile up | Ryan Dempster gets 1st taste of Red Sox vs. Yankees | David Ortiz' long layoffs causes big worry
Original Story:
http://www.tedsarmy.com/blog/2013/03/...
THE BACKYARD
BEST OF MAXIM
RELATED ARTICLES
Since 2008, Dustin Pedroia has taken turns with the Yankees' Cano to finish in the top spot as baseball's top second baseman. But a June injury in 2012 and some oddball stats combined with a dismal season for the Red Sox to push Pedroia out of people's minds when considering the great second basemen of this era. That would be a mistake. The expectation here is that he...
Ryan Dempster is taking his coaches' advice and running with it. Dempster, who tossed two perfect innings in his spring training debut against the Cardinals on Tuesday, looked fantastic on Sunday. After giving up a leadoff single to Brett Gardner, Dempster rebounded to retire every other batter he faced in three solid innings. What's most encouraging, though, is that Dempster's...
David Ortiz is continuing to battle his way back from the Achilles injury that ended his 2012 season. And while the slugger hopes to play in spring games soon and be ready for Opening Day, there's no doubt that we're in a critical stage in Ortiz's recovery. Manager John Farrell said prior to Sunday's spring training game against the Yankees that the next three days, in particular...
When Major League Baseball players get nailed for using performance-enhancing drugs, they often have elaborate excuses. But, while their descriptions of why they were using this drug or that may convince some loyal fans, for fellow players — like the Red Sox' Dustin Pedroia — they just don't cut it. "In my opinion, no," Pedroia said, according to The Boston Globe, when...
8 a.m. ET: If you're not yet on board with the World Baseball Classic, well, it's time to hop on. Yes, there are some inherent problems with the tournament's setup, and, as a certain live blogger recently noted, the rosters aren't nearly as exciting as they could be. However, so far the Classic has produced some great moments, namely Team Brazil surprising its way into the...
Boston Red Sox pitching prospect Drake Britton was arrested over the weekend for DUI, reckless driving and property damage- all misdemeanors. At 4:42AM Saturday morning... And what is it the HQ continually says about things happening after 1AM...??? He was released 8 hours later on $2,250 bond and is due in court on the 18th. Michael Silverman of the Boston Herald got to...
The Red Sox do not have a scheduled Grapefruit League game tonight, but they will be playing an exhibition against null Team Puerto Rico at JetBlue Park. This means that old friend Mike Aviles will get to play against his former teammates, and John Farrell, the manager who he was traded for back in October. Aviles and Will Middlebrooks seemed excited for the showdown: @middlebrooks...
After injuring his hamstring early on in camp, Clay Buchholz hadn't made a start in any of the spring training games to date for the Red Sox. But with him being healthy and a longer spring because of the WBC, barring any setbacks, he should be on track to start the season. Buchholz made his spring debut on Saturday in a 2-1 win over the Minnesota Twins to a 1-0 lead in the...
Bobby Valentine endured one of the most painful Red Sox seasons in recent memory, and then soon found himself unemployed. Things are now looking up for the former Boston skipper, though, and he's ready to share his enthusiasm with the world. Valentine made his triumphant return to Twitter this past week after going M.I.A. from the social media scene for nearly seven months. His...
Red Sox News

Delivered to your inbox

You'll also receive Yardbarker's daily Top 10, featuring the best sports stories from around the web. Customize your newsletter to get articles on your favorite sports and teams. And the best part? It's free!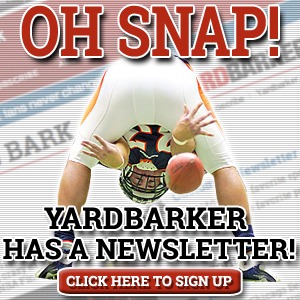 Latest Rumors
Best of Yardbarker

Today's Best Stuff

For Bloggers

Join the Yardbarker Network for more promotion, traffic, and money.

Company Info

Help

What is Yardbarker?

Yardbarker is the largest network of sports blogs and pro athlete blogs on the web. This site is the hub of the Yardbarker Network, where our editors and algorithms curate the best sports content from our network and beyond.