Found November 25, 2012 on Ted's Army:
PLAYERS:
Jonny Gomes
,
Bobby Jenks
,
David Ross
,
Ryan Lavarnway
,
Jarrod Saltalamacchia
,
Mike Napoli
,
Josh Hamilton
,
John Farrell
,
Clay Buchholz
,
Jose Reyes
,
Josh Johnson
,
Mark Buehrle
,
Emilio Bonifacio
,
David Ortiz
,
Alex Rodriguez
TEAMS:
Boston Red Sox
,
Texas Rangers
,
Toronto Blue Jays
,
New York Yankees
Every morning, we compile the links of the day and dump them here... highlighting the big storyline. Because there's nothing quite as satisfying as a good morning dump. Red Sox, oh, Red Sox, please, the suspense is slowly but surely starting to kill us. Could you throw us a bone? Sign a starter? Trade for a first baseman? Pluck an outfielder off waivers? Vice versa? Versa vice? Pretty please? Do something, do almost anything. It's safe to make a move now. The car's been in park, the airbag is deflated, we've all been idling here, still stunned over the skid marks left from the last two seasons, but really, it's time to put the jalopy in drive and get this show on the road again. Conduct a transaction or two that just might set the imagination soaring, get the juices flowing, the sap rising in an offseason that so far feels as if we've been thrown some stray scraps left on the cutting board instead of being served a nice, thick and juicy slice of turkey breast. Now, the imminent signing of Jonny Gomes for two years and $10 million counts as something, but nobody's kidding themselves that this is the game-changer that the Red Sox needed. Nobody thought two years of Bobby Jenks at $12 million was much of a bargain when that went down two years ago, so even at $1 million less a year, the acquisition of an outfielder with one-sided splits and poor defensive ratings is not going to do much to scratch this itch. And signing David Ross for two years as a catcher means we're all waiting for the other shoe to drop on a trade of Ryan Lavarnway or Jarrod Saltalamacchia. Insert here the sound of fingertips tapping on a desk, over and over. Herald: Flush with cash, Sox need to bust a move I am not sure about you, but I am very sick and tired of the Mike Napoli talk and nothing else. Yeah, there is more news about Napoli visiting Boston yesterday, I just couldn't feature it. A deal wasn't done, and it seems as if not much progress was made. Silverman goes on to talk about the question marks surrounding Greinke and Hamilton, then transitions into saying Mike Napoli is perfect for the team. Yeah, another Boston sports writer praising Mike Napoli. I am not saying I would be opposed to the signing of Napoli, but I am opposed to the inflated contract he will likely get from the Red Sox. Many others would be opposed to my desire for the Red Sox to sign Josh Hamilton. I would rather see the Sox overpay for Hamilton than Napoli. I understand we are talking a difference of $10 Million per season between the two, and there is the issue of Hamilton's past drug and alcohol abuse. The Sox don't need any drama to surround the team in 2013, which contradicts my desire of the Red Sox signing him. What I am trying to get at, what Silverman's initial point was, just make some moves! All this talk about potential signings and weeks spent on one, or maybe two hitting coaches is starting to annoy the crap out of me. Stop dragging your feet, while the price tags rise on some free agents, and do something. But, nothing drastic, be responsible. Jonny Gomes isn't enough and I am still trying to figure out if he is a good fit for the team. On Page 2, John Farrell sees things coming into focus All along, John Farrell knew the Toronto Blue Jays were ambitious enough to boost their typically conservative payroll with a franchise-altering trade. But during his two-year tenure as manager, they lacked the audacity to actually do it. Then, less than a month after he left, it finally happened. Bad timing? No doubt. But if you think Farrell has spent two weeks regretting his decision to flee Toronto with one year left on his contract to take his self-described "dream job" in Boston, well, then you don't know much about the Red Sox [team stats]' new manager. Farrell, 50, is a bear of a man, 6-foot-4 with broad shoulders, big hands, a square jaw and a steady gaze. He speaks in thoughtful run-on sentences, not pithy sound bites, and he's a straight-talker, so direct that Red Sox pitcher Clay Buchholz cops to having once been "scared" of him. Mostly, though, Farrell is strong in his convictions. So, while his old team left everyone breathless by adding star shortstop Jose Reyes, potential ace Josh Johnson, dependable lefty Mark Buehrle and speedy infielder Emilio Bonifacio in a 12-player blockbuster with the Miami Marlins, he remains confident his new team is poised for a few meaningful offseason strokes. "I think everyone should trust that there's a lot in the works," Farrell told the Herald by phone from his offseason home near Cleveland, "and how it comes to fruition is, I think, in the near future." Herald: One month in, Farrell sees 'dream job' coming into focus A very clear plan, huh? We understand there is a lot in the works, just no finalizing. JUST GET IT DONE! There is nothing else to say. The rest of the links: Herald: Jonny Gomes gives Sox a facelift | Baby boomers | Be glad to have happy David Ortiz back | ESPN Boston: Report: Mike Napoli visiting Boston | Globe: Report: Red Sox meeting with Mike Napoli | CSNNE: Report: Red Sox meeting with Napoli this weekend | Sox lose minor league free agents, sign one | Brentz eager for shot in Boston | WEEI: Hot Stove: Are Yankees' looking for Alex Rodriguez' replacement at third base?
Original Story:
http://www.tedsarmy.com/blog/2012/11/...
THE BACKYARD
BEST OF MAXIM
RELATED ARTICLES
Mike Napoli is taking the free agent tour around the major leagues. A catcher for the Rangers since 2011, the seven-year veteran has been pursued by several teams this offseason. The Red Sox and Mariners are reportedly the two clubs most interested, with Napoli saying he's willing to make a move to first base if that's what his new team wants. Napoli was reportedly in Boston...
The Red Sox have long been reported to be interested in catcher/first baseman Mike Napoli, and now it sounds like they're ready to show him up close what the team can offer. Napoli is visiting Boston this weekend to meet with the Red Sox, according to Jon Heyman of CBS Sports. Napoli would most likely play first base if he were to sign with Boston, with his catching abilities taking...
The Mike Napoli Victory Tour started in Seattle, moved on to Boston and will continue in Texas and perhaps parts unknown. Pretty impressive for a guy who isn't a regular catcher, appeared in only 108 games last season and batted just .227, albeit with an .812 OPS. Napoli, 31, is an interesting free agent, a catcher for most of his career, a part-time first baseman in the past...
Free-agent catcher Mike Napoli is scheduled to meet with the Red Sox in Boston this weekend, CBSSports.com reported. The Mariners and his 2012 team, the Texas Rangers, are the other teams believed to be interested in signing Napoli. Napoli has already met with the Mariners, according to Sirius/XM, and has a meeting scheduled with the Rangers next week. Napoli hit .227 with 24 homers in 2012.
Every morning, we compile the links of the day and dump them here... highlighting the big storyline. Because there's nothing quite as satisfying as a good morning dump. But here's where Napoli supposedly comes up lacking — according to conventional wisdom, his production merits a big contract if he's catching, but he falls to the middle of the pack when his numbers...
It seems that every MLB team is pining after free agent first baseman/catcher Mike Napoli this offseason, so you have to wonder why the Texas Rangers don't seem to be rushing to re-sign their 2012 All Star. The Rangers didn't offer Napoli a qualifying offer this year after he rejected a three-year, $38 million extension last offseason. Napoli is meeting with the Rangers this...
Have you ever saved up for something for a really long time, only to smash open the piggy bank, run out the door and find out that what you wanted isn't there anymore? That's sort of where the Red Sox are this free agent season, where they've cleared a ton of cap space but don't have much of a market to go spending in. They want to make wise choices, and they want to contend...
The Boston Red Sox have made headlines over their pursuit of Mike Napoli, Nick Swisher and Giancarlo Stanton recently, but that doesn't mean they're only concentrating on offense. The Red Sox have been calling agents about starters they would be able to sign to shorter-term contracts, according to Nick Cafardo of the Boston Globe. The team does not want a pitcher that would be...
By SBRForum.com After losing a great deal of hitting power by trading Adrian Gonzalez this past year, the Boston Red Sox have surely been on the lookout for a great new person to add as a huge hitter for the team.  They have had their eyes on Mike Napoli for quite some time, and this could end up being a reality if the star agrees to start playing first base primarily and not play...
There are free agents whose markets are presently almost complete mysteries. I haven't the foggiest idea which team might be most likely to sign Josh Hamilton, and odds are the same goes for you. Then there are the free agents whose markets seem better known. B.J. Upton appears to be nearing a decision, and we have a pretty good idea of who he's deciding between. And Mike Napoli's...
Catcher/first baseman Mike Napoli appears to be the Boston Red Sox "No. 1 target" over fellow free agents Nick Swisher and Adam LaRoche, reports Ken Rosenthal of FOX Sports. Napoli, at the moment, appears to be the team's No. 1 target over outfielder/first baseman Nick Swisher, a switch-hitter, first baseman Adam LaRoche, a left-handed hitter, and others. ...
MLB News

Delivered to your inbox

You'll also receive Yardbarker's daily Top 10, featuring the best sports stories from around the web. Customize your newsletter to get articles on your favorite sports and teams. And the best part? It's free!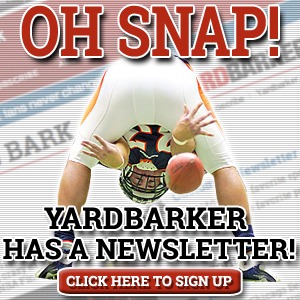 Latest Rumors
Best of Yardbarker

Today's Best Stuff

For Bloggers

Join the Yardbarker Network for more promotion, traffic, and money.

Company Info

Help

What is Yardbarker?

Yardbarker is the largest network of sports blogs and pro athlete blogs on the web. This site is the hub of the Yardbarker Network, where our editors and algorithms curate the best sports content from our network and beyond.