Found July 27, 2013 on My Sports Rumors:
After staying quiet for a few days Los Angeles Dodgers pitcher Zack Greinke finally let the world know what he thought about former Milwaukee Brewers teammate Ryan Braun. Greinke took a few days to gather his thoughts so he could make the appropriate response and also because he was simply nervous talking about it. "The main thing is, yeah, he lied to us," Greinke said. "He forced us to lie for him, threw people under the bus in order to help himself out and didn't care, blamed others for his mistakes and it's just a lot of things you don't expect from people." (LA Times) Greinke said he believed Braun when Braun said he never used performance-enhancing drugs. "Oh, yeah, 100% believed him," Greinke said. "Everything was so convincing. He had people to blame. He seemed like a really good guy. He was a good teammate at the time. You don't know the guys that he was pinning it on. I'm not positive, but I think everyone 100% believed him at the time. Especially the next year, he looked jus
Original Story:
http://mysportsrumors.com/blog/2013/0...
THE BACKYARD
BEST OF MAXIM
RELATED ARTICLES
WHAT A FRAUD
A Brewers fan who wore a modified Ryan Braun shirt critical of the suspended player to Miller Park was asked to either remove the shirt of leave by stadium personnel.
Milwaukee Brewers' fans will stand by their man, even when his own teammates abandon him. The Milwaukee Journal Sentinel reports that sales of Ryan Braun merchandise have increased since Major League Baseball suspended Braun for the rest of the 2013 season for violating the league's Joint Drug Prevention and Treatment Program. In an interview with the Journal Sentinel's Don...
Zack Greinke was a former teammate of Ryan Braun during his time in Milwaukee. Now a pitcher on the Los Angeles Dodgers there was no shortage of slams directed at the Brewers outfielder who has been suspended for the remainder of the 2013 season. Greinke called Braun a liar and a user in an interview with the Los Angeles Times: "The main thing is, yeah, he lied to us," Greinke...
Brewers slugger Ryan Braun as we all know is currently serving a 65-game suspension for his role in the Biogenesis scandal and that suspension came after Braun's stern and repeated denials of ever using PEDs. All of this has caused not-insubstantial levels of outrage among baseball observers and at least one hometown Brewers fan is none too pleased with Braun's deceptions...
In the days following the announcement of Ryan Braun's season-ending suspension, Milwaukee Brewers principal owner Mark Attanasio made it clear he was going to give back to the fans in what has turned into a long season. The first part of a series of special fan appreciation initiatives was announced Monday, as the Brewers will give all fans attending any of the 12 home games...
Milwaukee Brewers outfielder Ryan Braun has let an entire fan base down in 2013, effectively erasing any remaining hope the team may have had of making the playoffs after admitting to using performance-enhancing drugs and accepting a suspension for the rest of the season. But despite losing an endorsement deal and $3.8 million in salary, [...]
  Former teammate of Ryan Braun, and current Dodger, Zack Greinke has broken his silence. Greinke stated his piece to the Los Angeles Times, via NBC Sports : "The main thing is, yeah, he lied to us,…He forced us to lie for him, threw people under the bus in order to help himself out and didn't care, blamed others for his mistakes and it's just a lot of things you don't...
Many Milwaukee Brewers fans are still stunned by Ryan Braun coming out and admitting that he cheated. Braun won an appeal for a positive drug test last year because of an error in the collection process of his urine sample, and many people thought he was out of the woods after that. Now that he [...]
'SHOCKED' AND 'DISAPPOINTED'
Aaron Rodgers, one of Ryan Braun's staunchest supporters during the Brewers player's first PED scandal, spoke about how he feels about his good friend now.
The player reaction to the Ryan Braun's Biogenesis suspension continues to produce astounding levels of both honesty and condemnation around Major League Baseball. We've already heard from rival players—Skip Schumaker Joe Saunders and C.J. Wilson among others—but on Friday a former teammate weighed in with what might be the most pointed comments yet. Zack Greinke a current...
GREEN BAY, Wis. -- Aaron Rodgers was lied to by Ryan Braun and the Green Bay Packers quarterback isn't happy about it. Speaking publicly about Braun's 65-game suspension from Major League Baseball for the first time Friday afternoon, Rodgers was forthright with his feelings about the person he had considered a good friend. "I was shocked, I really was, just like I know...
Green Bay Packers quarterback Aaron Rodgers says he was "shocked" when his friend Ryan Braun admitted he violated baseball's rules against using performance-enhancing substances. Rodgers says the Milwaukee Brewers slugger "looked me in the eye" and it "didn't feel great being lied to like that." He says he's disappointed. Braun has accepted...
MLB News

Delivered to your inbox

You'll also receive Yardbarker's daily Top 10, featuring the best sports stories from around the web. Customize your newsletter to get articles on your favorite sports and teams. And the best part? It's free!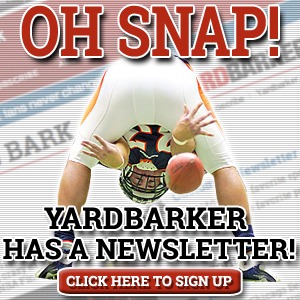 Latest Rumors
Best of Yardbarker

Today's Best Stuff

For Bloggers

Join the Yardbarker Network for more promotion, traffic, and money.

Company Info

Help

What is Yardbarker?

Yardbarker is the largest network of sports blogs and pro athlete blogs on the web. This site is the hub of the Yardbarker Network, where our editors and algorithms curate the best sports content from our network and beyond.