Found March 06, 2012 on Fox Sports North:
PLAYERS:
Joel Zumaya
,
Ron Gardenhire
,
Scott Baker
,
Jeff Salazar
,
Joe Mauer
,
Justin Morneau
,
Nick Blackburn
,
Carl Pavano
,
Jim Thome
TEAMS:
Minnesota Twins
,
Baltimore Orioles
,
Philadelphia Phillies
PORT CHARLOTTE, Fla. While it had already been announced that reliever Joel Zumaya would undergo Tommy John surgery on his injured right elbow, the Twins said Tuesday that the surgery will take place on March 29 in Pensacola. Dr. James Andrews will perform the surgery.The 27-year-old Zumaya has a history of arm problems and missed all of 2011 after injuring his arm during the 2010 season. The Twins signed him as a free agent this past offseason, hoping that he could bounce back from his previous injuries and provide a viable right-handed option out of the bullpen. But Zumaya's season with Minnesota ended before it began as he tore his ulnar collateral ligament on Feb. 25 during a bullpen session."As I told him when it happened, he's going to sit down and talk about it with his family and make a decision on what he wants to do. I support him either way," Twins manager Ron Gardenhire said of Zumaya. "We had an opportunity to meet this young man. He's a nice, young man. It's sad we're not going to have him on our ballclub this year. I was looking forward to that. If he wants to continue to try to play and get this done, I'm all for it. That's great."While Zumaya will miss the entire 2012 season, the Twins still haven't made a corresponding roster move and general manager Terry Ryan said they won't for a while."We probably won't make it until I have to, which isn't now, of course," Ryan said. "Once you have to submit your 25-man roster, if you need space then we'll make a decision."Baker's elbow feels good in start against Rays: Minnesota right-hander Scott Baker threw two scoreless and hitless innings in Tuesday's 3-2 win over Tampa Bay. After missing time last season with an elbow injury, Baker said his elbow felt fine after facing seven Rays batters.Baker missed almost all of August and September during the 2011 season with a right flexor strain but returned to throw three innings in two relief appearances in late September. "I'm just going about my business," Baker said after Tuesday's start. "I obviously make sure that I do all the preventative stuff. So maybe I do little more than I have in the past, but that's not a bad thing. That's actually a good thing. So you just do the best you can. There's peace in the fact I'm doing everything I can to stay healthy."Baker allowed just one base runner, walking Jeff Salazar in the second inning. But Baker induced five fly ball outs and one groundout for a scoreless two innings of work despite swirling winds."I threw a few off-speed pitches, but obviously saw out there that the wind is blowing 100 mph in, and I don't care if it's spring training or not, and you work on things, you'd be crazy not to take advantage of that. So I threw it over," Baker said. "In situations when you've got two strikes, why would you bury a breaking ball and have a guy get a bloop hit instead of throwing a high fastball with a potential of popping it up. There's just not a lot he can do other than pop it up."Jerry White improving: Twins first base coach Jerry White missed Monday night's game against Boston and didn't travel to Port Charlotte on Tuesday as he remained hospitalized with stomach and chest tightness. White had a stress test performed Tuesday, but Minnesota doesn't think it's anything too serious."He wasn't feeling well," Ryan said before Tuesday's game. "The reports coming out of there is that it isn't anything serious, but they're going to give him a stress test just to make sure."Gardenhire said after Tuesday's game that White was likely already back in the team's clubhouse in Fort Myers.Mauer, Morneau to play in "B" game: While most of the Twins will head to Sarasota on Wednesday for a game against the Baltimore Orioles, stars Joe Mauer and Justin Morneau will stay back in Fort Myers to play in a "B" game against the Boston Red Sox.Gardenhire said the plan is to play Mauer at first base while Morneau will be the designated hitter. Right-hander Nick Blackburn will start for Minnesota in the "B" game, which begins at 10 a.m. ET. Carl Pavano will get the start against Baltimore.Gardenhire talks about Thome: Former Twins DH Jim Thome isn't in Minnesota's camp this season, as the 41-year-old slugger signed with Philadelphia in the offseason. The only problem is, Thome can't be used as a designated hitter in the National League, meaning his at-bats with the Phillies could be limited."If they're putting Jim Thome at first, I don't think they're looking for gold. I just think they're looking to survive and get his bat in the lineup," Gardenhire said. " He didn't even have a glove (in Minnesota). I don't think there was one in his locker. He had to borrow mine to play catch."While with the Twins last season, Thome became the eighth player in major league history to hit 600 home runs. He currently sits at 604 homers entering 2012, his 22nd big league season.In two seasons with the Twins, Thome hit 37 homers and drove in 99 runs. He quickly became one of Gardenhire's favorite players, both on and off the field."He's a great guy. As good as they get. Everything everybody says about him, and more," Gardenhire said. "He's a class act. A lot of fun. Fun to be a part of his career."Follow Tyler Mason on Twitter.
Original Story:
http://www.foxsportsnorth.com/03/06/1...
THE BACKYARD
BEST OF MAXIM
RELATED ARTICLES
FORT MYERS, Fla. Glen Perkins just turned 29 years old a few days ago, but the Twins' set-up man already feels like one of the old guys on the team. As Minnesota's spring training clubhouse is filled to the brim with 66 players -- including a set of makeshift lockers to accommodate the overflow -- there are plenty of new faces at the Lee County Sports Complex. But now in...
FORT MYERS, Fla. - This just in: Joe Mauer and Justin Morneau played a baseball game Monday night. I saw them in the flesh at Hammond Stadium. Mauer singled twice and caught five innings. Morneau went 0-for-2. They are preparing for the 2012 season, just like the rest of their Minnesota Twins teammates.To say Mauer and Morneau have returned is accurate. To say the 2009 and 2006 American...
FORT MYERS, Fla. Twins infielder Luke Hughes played Sunday for the first time since straining his right shoulder while playing winter ball in his native Australia. While Hughes went 0-for-3 with a strikeout, he said everything felt good with his shoulder one day later."It was awesome," Hughes said. "A good bit of weight off the shoulders a little bit, to know I can...
FORT MYERS, Fla. Since he was a teenager, Nick Blackburn had thrown from the side of the pitching rubber closest to first base. But the Twins' right-handed sinkerballer made a change this offseason, moving closer to the center of the mound. It's still early in spring, but Blackburn said the change is paying off. "It's been good so far. It's been a great adjustment...
PORT CHARLOTTE, Fla. (AP) -- Scott Baker pitched two hitless innings in his spring debut as the Minnesota Twins beat the Tampa Bay Rays 3-2 on Tuesday. The outing was a good sign for Baker, who went 8-6 with a 3.14 ERA for the Twins before an elbow injury ended his 2011 season. The Rays are winless in their four exhibition games, three of the losses are against Minnesota. Jeff...
FORT MYERS, Fla. Underneath Hammond Stadium, two former baseball players throw batting practice to current ones. The scene isn't that unusual for spring training. In this instance, several Minnesota Twins take their swings before a 10 a.m. "B" game against the Boston Red Sox. At the far end of the cage, however, the two former players aren't just any ex-Major...
The Minnesota Twins have been the darlings of small budget baseball for so long.  They may be the best example of money ball as they have consistently been able to win with a low payroll.  The Twins do have talent on their team though, they have built a lot of it through their farm system though.  Here is a look at their team and who I would say are keepers for fantasy baseball...
The Minnesota Twins organization is no stranger to utilizing clever and offbeat ad campaigns to promote their product. Some of last season's ads included Jim Thome as a Paul Bunyan-esque character and current manager Ron Gardenhire and former skipper Tom Kelly donning wigs are just a sampling of how unique the Twins have been in [...]
Scott Baker pitched two hitless innings in his spring debut as the Minnesota Twins beat the Tamps Bay Rays 3-2 on Tuesday. The outing was a good sign for Baker, who went 8-6 with a 3.14 ERA for the Twins before an elbow injury ended his 2011 season. The Rays are winless in their four exhibition games, three of the losses are against Minnesota. Jeff Niemann made a case to keep...
FORT MYERS, Fla. (AP) Oft-injured reliever Joel Zumaya has told the Minnesota Twins he'll have reconstructive surgery on his right elbow in his latest comeback attempt. Twins general manager Terry Ryan confirmed Sunday that Zumaya made the decision this weekend. Noted orthopedist Dr. James Andrews will perform the Tommy John ligament replacement procedure on Zumaya's throwing...
The Minnesota Twins reliever Joel Zumaya said he plans to resume his career after undergoing Tommy John surgery. Zumaya tore the ulnar collateral ligament in his right elbow during his first bullpen session of spring training camp after throwing only 13 pitches. After learning of the severity of the injury, the 27-year-old Zumaya said he was contemplating retirement. He will have...
The Sox are one game closer to winning the Mayor's Cup with another win over the Twins in Spring Training.  This time the Sox beat the Twins on their field just 5 miles down the road.  Clay Buchholz started the game for the Sox and pitched two scoreless innings, giving up 2 walks and K'ing two batters.  Clay had some command issues, but it still was a productive outing...
MLB News

Delivered to your inbox

You'll also receive Yardbarker's daily Top 10, featuring the best sports stories from around the web. Customize your newsletter to get articles on your favorite sports and teams. And the best part? It's free!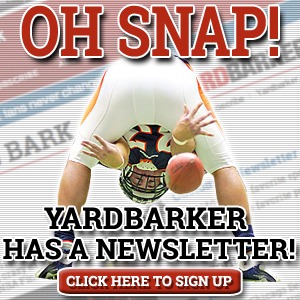 Latest Rumors
The Backyard

Today's Best Stuff

For Bloggers

Join the Yardbarker Network for more promotion, traffic, and money.

Company Info

Help

What is Yardbarker?

Yardbarker is the largest network of sports blogs and pro athlete blogs on the web. This site is the hub of the Yardbarker Network, where our editors and algorithms curate the best sports content from our network and beyond.