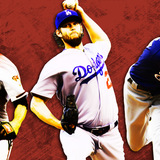 The last time an MLB season did not have at least one pitcher win 20 or more games was 2009. Right now, three pitchers — Clayton Kershaw, Zack Greinke and Zach Davies — lead all of baseball with 16 wins each, while Red Sox ace Chris Sale sits one behind them with 15. With roughly 25 games left in the season, the chances are fairly slim that any pitcher gets to 20 wins this year...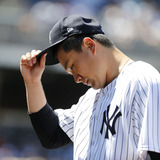 One of the many things non-fans find to complain about the MLB season is its length. For them, 162 games followed by the postseason is too much to follow. That makes sense. If you don't like the game, that is a whole lot of baseball. But if you do, it is not hard to see at least one significant benefit to such a long season.Football teams can struggle for half the season and be...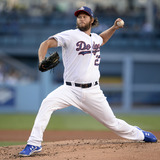 Los Angeles Dodgers ace Clayton Kershaw was recently named to his seventh All-Star team, but he won't actually participate in the Midsummer Classic.An ESPN report cited manager Dave Roberts, who said that Kershaw will start make his scheduled start on Sunday against the Kansas City Royals. Pitchers who throw in that Sunday game are automatically replaced on the All-Star team.Kershaw's...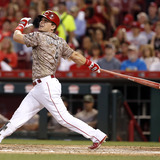 Cincinnati Reds utility man Scooter Gennett had an absolutely stunning night at the plate on Tuesday against the St. Louis Cardinals, going 5-for-5, with four (!) home runs and 10 (!) runs batted in. Yes, Scooter Gennett. The same Scooter Gennett that the Milwaukee Brewers waived in May. The same Scooter Gennett who entered play on Tuesday with 38 home runs in 1,754 plate appearances...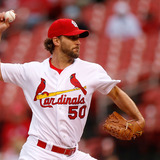 After a slow start the St. Louis Cardinals have been able to start winning ballgames more often. Players such as Mike Leake and Jedd Gyorko have had red hot starts to their seasons, but there are some players who have struggled. Long time Cardinals ace Adam Wainwright is unfortunately one of those players.Last season Waino struggled after coming back from a torn Achilles he suffered...
Ever since 2006, St. Louis Cardinals fans have held Adam Wainwright in the most positive of lights. Whether it is him closing out the 2006 World Series, or leading the NL in wins in 2009 or 2013, he has been near and dear to the Cardinals hearts. No one has ever dared try to criticize Adam Wainwright. However, today is the day. It is time Cardinals organization. Wainwright must go...
St. Louis Cardinals pitcher Adam Wainwright is a three-time All Star, two time Gold Glove winner and a Cy Young contender. The 35-year-old has his mistakes and one of them happened against the Cubs. Wainwright was attempting to throw a pitch but it did not come close to home plate which is why this pitch is the leading contender for "Worst Pitch of 2017." #SCNotTop10 pic.twitter...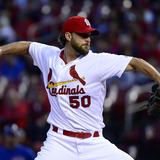 During Tuesday night's Cubs-Cardinals game, Adam Wainwright threw a pitch that can only be described as 50 Cent-level bad. The pitch bounced maybe halfway to the plate and far enough up the first-base line that catcher Yadier Molina had no prayer of stopping it. There were two runners on base at the time, and obviously both of them moved up as a result of the wild pitch.So what...
Adam Wainwright is 35 years old and one of the elder statesmen in the St. Louis Cardinals clubhouse this season. He also happens to be one good human being as well. We can say that thanks to his effort with minor-league spring training invitee Ryan Sheriff, who is also vying for a role on the pitching staff this upcoming season. You see, Sheriff has been walking to the Cardinals...
Ryan Sherriff is a 26-year-old lefty in St. Louis Cardinals camp. He's not only a longshot to make the Cardinals, but is a longshot to ever pitch in the majors. Still, Sherriff and Adam Wainwright combined for what will be one of Spring Training's nicest stories.Wainwright had spotted Sherriff walking 10-15 minutes to the team's facility to his condo. He'd also seen Sherriff...
MORE STORIES >>
Cardinals News

Delivered to your inbox

You'll also receive Yardbarker's daily Top 10, featuring the best sports stories from around the web. Customize your newsletter to get articles on your favorite sports and teams. And the best part? It's free!