Notebook: Toles update, NRI standouts, Stripling strong, Seager sick The Dodgers dropped their Saturday split-squad games to the Giants at home, 9–3, and on the road against the Royals, 8–4. Of course, the scores won't matter as much as the performances and health of the players they're evaluating, and seeing Andrew Toles running around again in the road game against Kansas City...
Spring Training: Giants at Dodgers, 12:05 p.m. Chase Utley 2BJoc Pederson CFCody Bellinger 1BYasiel Puig RFHenry Ramos DHAlex Verdugo LFKyle Farmer CMax Muncy 3BDonovan Solano SS Ross Stripling RHP Spring Training: Dodgers at Royals in Surprise, 12:05 p.m. Chris Taylor CFLogan Forsythe 2BAustin Barnes DHKiké Hernández SSAndrew Toles LFTrayce Thompson RFDrew Jackson 3BWill Smith CMatt...
Notebook: Toles playing Saturday, Kershaw pitching Sunday, Barnes update by Rowan Kavner The last time Andrew Toles played in a game for the Dodgers on May 10, he was tracking down a hard-hit fly ball to left field from Andrew McCutchen, attempting to preserve a Julio Urías no-hitter as he barreled toward the wall at Dodger Stadium. Nine months later, after rehabbing from a torn...
In what was supposed to be his first full Major League season, Los Angeles Dodgers outfielder Andrew Toles was...
One of the biggest surprises for the Los Angeles Dodgers in 2016 was the emergence of Andrew Toles...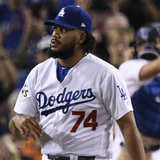 In the latest example of player frustration over the stagnant free-agent market, Dodgers closer Kenley Jansen illustrated that it's not only unsigned players that are unhappy with how the offseason has played out. "Maybe we have to go on strike, to be honest with you," Jansen told reporters at the team's Fan Fest over the weekend (link via Bill Shaikin of the L.A. Times). "…That...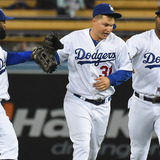 Friday was a busy day for the Los Angeles Dodgers. The club claimed infielder Mike Freeman and pitcher Chris Heston from the Seattle Mariners. To make room, Andrew Toles and Scott Kazmir were moved to the 60-day disabled list. Kazmir started the season on the disabled list and has yet to pitch at all in 2017. Still, since the date can be retroactive to the beginning of the season...
A day after he was removed from a game with a knee injury, Los Angeles Dodgers outfielder Andrew Toles got some bad news.As MLB.com's Ken Gurnick reported, Toles tore his ACL and will have surgery. The injury almost certainly ends his season. Given Toles' age (nearly 25), Los Angeles will likely be extra careful in bringing him back.Toles was having a fairly successful rookie season...
Part of this job is writing about players who've put together interesting performances in small sample sizes. Really, at this point of the season, that describes basically every player. With Andrew Toles, though, it's even harder: his whole career is a small sample size. And now, depending on the severity of his current knee injury, we might be forced to continue trying to evaluate...
I'll be honest: three months ago, I had never heard of Andrew Toles. I first became aware of the 24-year-old's existence back in July when I was finalizing my latest KATOH model, and Toles projected favorably. Even then, I didn't give him much thought. Sure, his performance was encouraging, but he was hardly the only obscure player with a great projection. While I'd contend that...
MORE STORIES >>
Dodgers News

Delivered to your inbox

You'll also receive Yardbarker's daily Top 10, featuring the best sports stories from around the web. Customize your newsletter to get articles on your favorite sports and teams. And the best part? It's free!