The Minnesota Twins have finalized their low-risk contract with right-hander Anibal Sanchez, securing another experienced candidate for their rotation.
Anibal Sanchez officially joined the Twins on Tuesday, as the veteran right-hander passed his physical and signed a $2.5 million non-guaranteed contract that will see him earn $500,000 if he doesn't make the roster. It also includes $2.5 million in incentives.
The Minnesota Twins have finally added a starting pitcher, signing Anibal Sanchez to a one-year deal worth $2.5 million. Sanchez has the potential to make up to $2.5 million more with incentives. However, the contract is non-guaranteed. It will only become guaranteed if Sanchez makes the Twins out of spring training. This signing comes after the Twins missed out on top free agent...
As Tigers pitchers digested the idea of Anibal Sanchez as a division opponent, having just signed with the Twins, the prevailing sentiment was appreciation for what he meant to them as a teammate. Tigers players have gotten used to goodbyes over the past year, and they knew Sanchez wouldn't be back, but many remain thankful for what he did for them and their careers despite his own challenges.
The Twins added to their starting-rotation depth, agreeing to terms with veteran right-hander Anibal Sanchez on a one-year deal worth $2.5 million with up to $2.5 million in incentives, Major League sources confirmed on Friday.
The Minnesota Twins have added another possible piece for the starting rotation. It's not the big name addition fans are hoping to see but it is something at least. The Minnesota Twins have signed former Detroit Tigers right-handed pitcher Anibal Sanchez. He is a former All-Star who...
The Minnesota Twins surprised many on Friday by reportedly adding right-hander Anibal Sanchez to a growing list of options to fill out the starting rotation early in the season. The deal is almost entirely incentive based, meaning that Sanchez will only receive the reported agreement of $2.5 million if he makes the big league roster out of spring training, with other incentives in...
The one-year deal is worth $2.5 million with another $2.5 million in incentives, according to MLB reporter Jon Heyman.
Righthander Anibal Sanchez will join the Minnesota Twins on a one-year deal, according to multiple reports.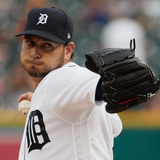 The Twins have reached agreement on a contract with veteran righty Anibal Sanchez, per Jon Heyman of Fan Rag (Twitter links). Darren Wolfson of 1500 ESPN noted the connection on Twitter earlier this afternoon.Sanchez will receive a $2.5MM guarantee in the arrangement, per Heyman. He'll also have the ability to double his salary through incentives. The Twins have reached agreement...
MORE STORIES >>
Tigers News

Delivered to your inbox

You'll also receive Yardbarker's daily Top 10, featuring the best sports stories from around the web. Customize your newsletter to get articles on your favorite sports and teams. And the best part? It's free!