ARLINGTON, Texas (AP) Seattle reliever Arquimedes Caminero has been ejected after hitting Texas' Elvis Andrus with a pitch. Caminero hit Andrus in the ribs with a high 98 mph fastball two batters after allowing a two-run homer to Rougned Odor on Wednesday. It was the third homer of the game for the Rangers. In the second inning, Andrus ran into Mariners first baseman Dae-Ho Lee...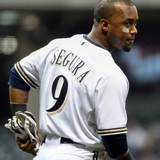 Arizona Diamondbacks second baseman Jean Segura has forgiven Pittsburgh Pirates reliever Arquimedes Caminero for hitting him and another teammate in the head during Tuesday's game. Caminero drilled Segura in the head in the seventh, leading Segura to be taken to the hospital for examination. Then in the eighth, Caminero was ejected after plunking Nick Ahmed. Caminero has walked...
The hardest fastball throwers in MLB during the 2015 regular season according to the MLB.com Statcast Average Pitch Velocity leaderboard. (at least 25 innings pitched)
First, Jeff Sullivan on Arquimedes Caminero: If you just look at the .gifs quickly, they look similar. They are similar — nothing here was overhauled. But, in 2015, Caminero has a higher leg lift, and as his leg comes up, he's more vertical, eliminating last year's slight hunch. It also appears he's reduced his drop […]
You had, probably, heard of Arquimedes Caminero before. This is because his full name is Arquimedes Euclides Caminero, and that speaks for itself. His existence as a baseballer was something of a curiosity, but that was more or less the extent of it. However much you knew about Caminero, you probably knew next to nothing […]
The Pittsburgh Pirates recently acquired right-handed reliever  Arquimedes Caminero from the Miami Marlins for cash considerations. The deal, which was announced last Wednesday, adds more depth to a bullpen that currently boats all-stars Mark Melancon and Tony Watson. Caminero, who has no remaining minor league options left on his contract, has an "inside track" to be on the Major...
PITTSBURGH (AP) The Pittsburgh Pirates have acquired right-handed reliever Arquimedes Caminero from the Miami Marlins for cash. The deal was announced Wednesday. The 27-year-old Caminero is 0-1 with a 5.49 ERA in 19 career appearances with the Marlins. He allowed eight runs in 6 2-3 innings with Miami last season. The 6-foot-4, 250-pound Caminero went 4-1 with 10 saves, a 4.86 ERA...
MORE STORIES >>
Marlins News

Delivered to your inbox

You'll also receive Yardbarker's daily Top 10, featuring the best sports stories from around the web. Customize your newsletter to get articles on your favorite sports and teams. And the best part? It's free!