New year, same question: Will Billy Hamilton figure it out at the plate? Fast Facts: Born on September 9, 1990 in Collins, MS. Always the athlete: He earned all-state honors in football, basketball, and baseball. Earned a scholarship to play wide receiver (football) at Mississippi State University. Set the minor-league record for stolen bases at 155 (total, plus 10 in the...
It's exciting, isn't it? Just a month ago, the San Francisco Giants were top names in the contest for Giancarlo Stanton and Shohei Ohtani. As the calendar brings 2017 to a close, the Giants are out on both. Giants fans, meanwhile, something else to cheer about. San Francisco has made some acquisitions, and looks to keep going. The current focus of transaction rumors in San Francisco...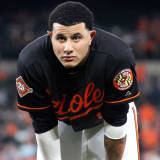 In a dramatic and suspenseful article, Ken Rosenthal of The Athletic (subscription required and recommended) chronicles the recent harrowing life-or-death race to get Astros first base coach Rich Dauer to Houston Methodist Hospital. On the day of the Astros' championship parade, Dauer was present at the official ceremony to honor the team. He began to stagger as if drunk and stepped...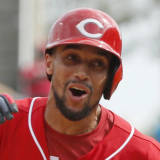 The Giants and Reds are reportedly continuing to discuss a trade centered around speedy outfielder Billy Hamilton.Last month, MLB Network's Jon Morosi reported that the Giants had interest in acquiring Hamilton to bolster their outfield. It appears that is still the case as Morosi followed up on his initial report by saying discussions between the two teams are still ongoing. Hamilton...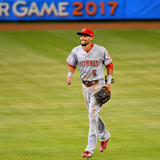 Billy Hamilton added to his career highlight reel by making a ridiculous catch as he crashed into the outfield wall.In the top of the third inning, Carlos Asuaje hit a shot to center field that looked destined to result in extra bases for the Padres second baseman. Hamilton had other ideas, though. Hamilton tracked the ball as he raced towards the outfield wall and actually overran...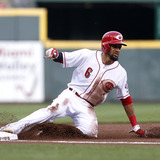 Cincinnati is home to two of the fastest men in America. Wouldn't it be fun to see them face off to see who truly is the fastest?During this year's NFL Combine, John Ross set a new record for the event by running the 40-yard dash in a blistering 4.22 seconds. If you didn't see it (or want to again) you can here, just don't blink.During last week's NFL Draft, the speedy wide receiver...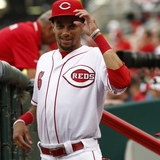 Some people track the passing of time through watching their children. Other people track the passing of time by looking at what time it is, and comparing that to a previous time, from back in the past. I tend to track the passing of time by thinking in baseball terms. I can't really help it, and sometimes it takes me by surprise. It feels like just yesterday that Billy Hamilton...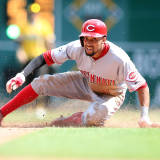 Tickets to see Hamilton are probably already off the market. But the same apparently can't be said of Cincinnati Reds center fielder Billy Hamilton. According to a report by Buster Olney of ESPN on Tuesday, the Reds are open to offers for all of their players, including Hamilton. The speedy 26-year-old batted .260/.321/.343 with three home runs, 17 RBIs, and 58 stolen bases in...
Exit velocity! We love it! Sorry for shouting. But we do! We love to sort the leaderboards, and we love to write articles using the information gleaned from those leaderboards. This is one right here! Beat writers love to tweet the exit velocity when a player they cover dongs a dinger, and even the folks who don't always love the application of exit velocity in the public sphere...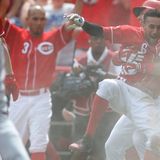 Cincinnati Reds outfielder Billy Hamilton might not be the most feared hitter, but when he does reach base the slender speedster can cause absolute havoc. He gave us another reminder of that Sunday against the Brewers.With two out in the ninth in a scoreless game, Hamilton was on second base, representing the winning run. Hamilton took off for third and stole it without a throw....
MORE STORIES >>
Reds News

Delivered to your inbox

You'll also receive Yardbarker's daily Top 10, featuring the best sports stories from around the web. Customize your newsletter to get articles on your favorite sports and teams. And the best part? It's free!