Injuries have left a mark on the Cincinnati Reds pitching staff. If they hope to start consistently winning again; they'll need to get pitchers injuries under control. Bronson Arroyo might be on his last stand as a Cincinnati Red; if he comes back to the mound at all. Following injury issues arising after his last appearance on Father's Day. The injury prompted questions over whether...
I've always loved Bronson Arroyo's leg kick. There's some whimsy in it, is maybe why. At the very least, it represents a different mechanical approach than one finds elsewhere in the league. Turns out, there are reasons against flinging the lead leg out into space like Arroyo does — and yet, his reasons for doing it make some sort of sense, as well. And in between the two, there...
Bronson Arroyo's return to the Cincinnati Reds had some scratching their heads. However, despite not having the pitching strength he once had. Arroyo could serve a truly worthwhile purpose for the Reds. Arroyo could be a veteran mentor giving guidance to the litnay of rookies on the Reds pitching staff. A role Scott Rolen unofficially had on offense while with the Reds. One the Reds...
After not throwing in the Majors since June 2014, Bronson Arroyo is back. The onetime (and possibly future?) Redleg isn't the only relic in Peoria, Arizona for Spring Training. Turns out, Arroyo brought some vintage gear with him as he guns for a gig with the Cincinnati Reds. So, if you're keeping track at home, Arroyo hit camp with some 1999 Kenny Lofton cleats and the same mitt...
GOODYEAR, Ariz. (AP) Cincinnati Reds pitcher Bronson Arroyo was hit in the face by a catcher's throw on a stolen base attempt and exited a spring training game against Texas. Arroyo was struck Saturday. He was checked by a trainer, went to another field and threw for a while. Arroyo said he didn't expect to miss a start. Arroyo was hit when Reds catcher Devin Mesoraco was trying...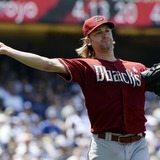 Anthony Acosta, who is Bronson Arroyo's former assistant, was arrested Monday and charged for allegedly selling the pitcher's boat illegally. Acosta, 38, is accused of selling a yacht in 2013 that belonged to the now-retired pitcher, The Tampa Bay Times reports. Acosta, who was fired by Arroyo in 2012, allegedly told Arroyo the yacht sank in Tampa. The former assistant then allegedly...
by Dave Cameron On late Saturday night, the Diamondbacks and Braves made a trade, but while players were sent in both directions, this was really more of just a sale. Sure, the Braves did give up a player — replacement-level utility guy Phil Gosselin, currently on the DL — in the swap, but they traded Gosselin for a legitimate prospect and a Major League pitcher, which only makes...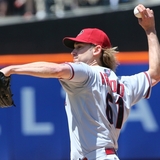 Bronson Arroyo is still recovering from Tommy John surgery, but that doesn't mean he can't still go out there and carry a tune. Monday, during the Arizona Diamondbacks Opening Day street festival outside Chase Field, the injured pitcher (and part-time crooner) took the stage to show that while his season is still on hold, his karaoke game is strong. Bronson Arroyo of the @dbacks...
Bronson Arroyo has a love-hate relationship with vacation mode. He loves to chill out and enjoy life – often with guitar in hand — but that all-too-familiar mound of dirt constantly beckons. The idea of not returning to it leaves him cold. Arroyo was a paragon of health and reliability from 2004-2013. The tall righthander […]
MORE STORIES >>
Reds News

Delivered to your inbox

You'll also receive Yardbarker's daily Top 10, featuring the best sports stories from around the web. Customize your newsletter to get articles on your favorite sports and teams. And the best part? It's free!