Bryce Harper does love hitting in Philadelphias Citizens Bank Park. Will he be back in the Washingtons Nationals lineup for the three-game set with the Phillies? Bryce Harper shagged fly balls in Atlanta, before the finale of the Nationals three-game set with the Braves, and according to reports on Thursday he could return to Washingtons lineup early next week in Philadelphia.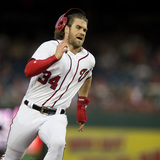 Bryce Harper continues to get closer to a return to action for the Washington Nationals. Harper began doing some light running last week and was seen taking batting practice over the weekend. He shagged some fly balls in the outfield during batting practice on Thursday, according to MASN's Mark Zuckerman. Zuckerman also says Harper will travel with the team to New York and will...
Catch up on the last 24 hours in Nationals news before the start of tonights series finale with the Braves. Alright, so that was okay until the eighth inning, where it got really fun. Super fun. Crazy fun! Heres the scoop from Suntrust.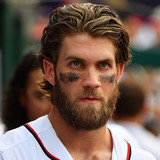 Bryce Harper continues to make significant progress in rehab and reportedly is "likely" to return to the Washington Nationals in time for postseason play.Harper on Tuesday took part in a simulated game in Atlanta that included facing live pitching, which came two days after taking batting practice for the first time since his Aug. 12 knee injury. Harper also did some running...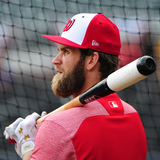 Bryce Harper on Sunday took batting practice for the first time since hurting his knee last month.The Washington Nationals outfielder was seen taking swings at Nationals Park before his team's game against the Dodgers later that night. The Washington Post's Jorge Castillo says Harper looked good and showed some of his typical power. Harper seems to be getting closer to making...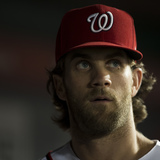 Bryce Harper has not played since injuring his knee on Aug. 12, and there has been very little information about his timetable for a return. However, the Nationals are optimistic he will be ready for the playoffs.Washington GM Mike Rizzo talked on Sirius/XM MLB Network Radio Friday about Harper's progress and availability."(Harper) has been doing some baseball activities,"...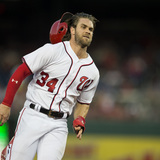 Rather than growing a playoff beard — which he's done before — Bryce Harper has elected to try a playoff haircut instead, it seems.But it's not a traditional haircut you'd normally see from a guy like Harper. Instead, it's one that was popular in the '90s.Without further ado, we present to you Harper's cornrows. In case you don't remember, here are some of his previous...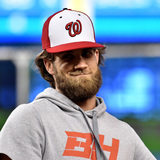 Twitter is firing up the grill to barbecue themselves some Bryce Harper.On Tuesday, the Washington Nationals outfielder showed off a rather interesting new hairstyle on his Instagram Story: cornrows. Let's just say that the 'do wasn't exactly the biggest hit with the good folks of the Twitterverse, who promptly showered Harper with relentless ridicule. Harper, who remains sidelined...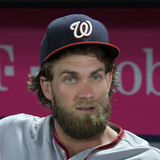 Washington Nationals manager Dusty Baker on Wednesday provided an update on the status of Bryce Harper. From the sound of it, the slugger won't be back in the lineup anytime soon.Harper has been out with a hyperextended left knee suffered in an Aug. 12 game when he slipped on first base. Subsequent reports indicated the outfielder also suffered a "significant bone bruise" in...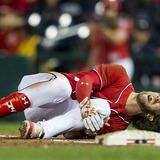 The Washington Nationals' organization went to bed Saturday night fearing some bad news. Early in the team's game against the San Francisco Giants that evening, All-Star outfielder Bryce Harper suffered what appeared to be a serious injury.The ugly-looking scene itself unfolded when Harper attempted to leg out a ground ball in the first inning. The MVP candidate toppled to the...
MORE STORIES >>
Nationals News

Delivered to your inbox

You'll also receive Yardbarker's daily Top 10, featuring the best sports stories from around the web. Customize your newsletter to get articles on your favorite sports and teams. And the best part? It's free!