By Tim Kelly, Sports Talk Philly editor  As I wrote late in December, 2018 will be the most important calendar year for the Philadelphia Phillies in some time. It will be the first season in the managerial tenure of Gabe Kapler, who the Phillies hope will lead the next great era in franchise history. It will be the first full season at the major league level for Rhys Hoskins, J.P...
 MLB insider Jon Heyman thinks there are seven teams with a real chance of breaking the bank for Bryce Harper next offseason. He puts the Washington Nationals at number seven on the list. The full article on FanRagSports.com is worth a read, but the bad news for Nats fans is that is may not really matter what the Nats put together as an offer if it plays out under Heyman's scenario...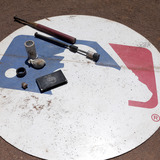 The Major League Baseball Players Association issued a statement on Tuesday ripping teams for their supposed concerted effort to drive down the price of free agents, and the league returned fire shortly thereafter.After MLBPA executive director Tony Clark accused MLB teams of engaging in a "race to the bottom," the league responded that clubs are only concerned with winning and should...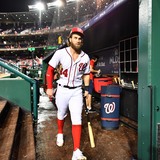 The San Francisco Giants have been one of baseball's more aggressive teams this offseason, but this may only serve as a prelude to an even bigger splash a year from now.A source told Jon Heyman of FanRag Sports that the Giants are expected to be a part of the Harper sweepstakes if and when he hits the open market next winter. The Dodgers, Yankees, Phillies, and his current team,...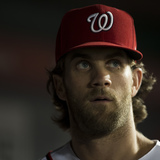 Nationals slugger Bryce Harper appears to be taking his offseason training regimen very seriously.Harper posted a photo on Wednesday to his Snapchat account, and it's generated quite a bit of reaction on social media. In it, Harper is seen laying face down, with his entire back covered in suction cups. It's not the first time Harper has undergone cupping therapy. He used cupping...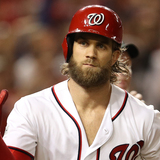 If any word could be used to describe the front end of Major League Baseball's offseason, "plodding" would be the most accurate term to sum it up. Those who entered the winter anticipating excitement along the waves of winter free agency and trade bustle have instead been met by a confusing mixture of seeming indifference and/or stunning patience regarding any substantial moves coming...
Christmas is done and over with, but that doesn't mean the gifts don't keep coming for some lucky fans. The Potomac Nationals announced Tuesday that they'll be holding a Bryce Harper bobblehead night in July. But this isn't any ordinary bobblehead night, those in attendance will be receiving a Bryce Harper "Real Slicked Back Hair" bobblehead…whatever that is. And in case you were...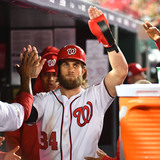 The Nationals will likely be in "win-now" mode this season, as they'll have some contracts expiring in the future, one of which is very important.Star slugger Bryce Harper, who signed a one-year deal to remain with the team, will be on the market after the 2018 season is in the books. Given that he's likely to command $350-400 million, it's hard to visualize him staying in Washington...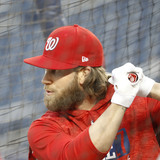 The Washington Nationals still see an opening in their championship window. But they know they're going to need Bryce Harper to stand any sort of a chance. Problem is, that's far from a guarantee. Then again, that's typically the case when someone is a Scott Boras client.Still, Harper is a special case. He's still just 25 years old and is an MVP. And, after a down season in 2016...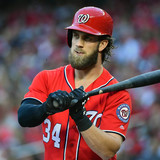 Super agent Scott Boras continues to be the talk of the baseball world as teams take up residence in Orlando for the Winter Meetings.His top client, Bryce Harper of the Washington Nationals, is now also becoming the talk of the meetings.No, Washington isn't looking to move the former NL MVP. Instead, the talk is all about Harper and the Nationals engaging in discussions about a potential...
MORE STORIES >>
Nationals News

Delivered to your inbox

You'll also receive Yardbarker's daily Top 10, featuring the best sports stories from around the web. Customize your newsletter to get articles on your favorite sports and teams. And the best part? It's free!