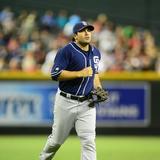 Carlos Quentin San Diego Padres manager Bud Black and General Manager A.J. Preller each brought up the possibility this week of outfielder/walking corpse Carlos Quentin potentially getting some reps at first base in an effort to get his bat in the lineup. This all feels like a massive farce and a way for the Padres to showcase Quentin's bat for the rest of the league. I've long...
Yesterday we examined the trade for OF Carlos Quentin and whether or not the Friars received good value. After determining the trade was a good one for the Padres, it's time to analyze the extension and try to project if the Padres will end up with surplus value for their investment. The simplest way to look at that question is through the prism of WAR and the calculated value of...
The Padres put outfielder Carlos Quentin on the 15-day disabled list with a strained knee before the second game of their series against the Cincinnati Reds on Saturday night. It's the second significant setback to San Diego's lineup this week. All-Star shortstop Everth Cabrera was suspended for 50 games for taking a banned substance. The switch-hitting leadoff hitter leads the...
As we count down the last few days to non-waiver trade deadline, Carlos Quentin's name has come up quite a bit as a desirable right-handed power bat amongst contenders, specifically Baltimore. However, each rumor has come with the caveat that Quentin has a no-trade clause and that Padres General Manager Josh Byrnes isn't motivated to trade Quentin. Basically, Carlos Quentin isn't...
This post is going to be short and sweet, but given what transpired last night and David Temple's plea to Quentin on Tuesday, I got curious about where the pitch locations of Carlos Quentin's HBPs actually have been. We all know he hangs over the plate, and that he gets hit by a lot of pitches, so I asked Jeff Zimmerman to query out PITCHF/x data and create a plot of where Quentin...
MORE STORIES >>
MLB News

Delivered to your inbox

You'll also receive Yardbarker's daily Top 10, featuring the best sports stories from around the web. Customize your newsletter to get articles on your favorite sports and teams. And the best part? It's free!