Thanks to the designated hitter and specialty skills in high demand, baseball players can have long careers. However, MLB has also become a young man's game with many prospects getting their opportunities earlier and earlier in their careers. That means older players have to remain sharp to continue getting at-bats or their turns on the mound.Of course, Father Time catches up with...
Almost midway through their calisthenics before Monday's opening full-squad workout, the Giants suddenly broke into rhythmic clapping. As left fielder Hunter Pence revealed, the moment was indeed planned. But the feeling behind it was spontaneous. It also was welcome, coming from a team that made little noise last year.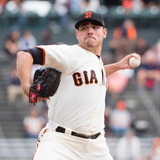 The San Francisco Giants are reportedly on the verge of trading pitcher Matt Moore and/or right fielder Hunter Pence to clear payroll space. John Shea of the San Francisco Chronicle dropped this bit of catnip in our laps on Friday evening, signalling the Giants could have designs on something big.Per Shea, the "deal is done pending a physical," so we should hear more about this soon...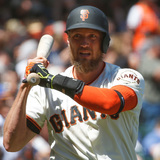 During his down time, San Francisco Giants outfielder Hunter Pence is involved with training Little Leaguers through his Hunter Pence Baseball Academy.On Tuesday, he posted the cutest picture of him with nine young players, with an equally adorable caption. Pence started the academy with his brother and childhood friend. Per the academy's Facebook page, the mission statement reads...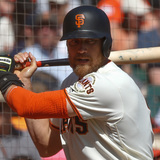 Hunter Pence admits he "got wrecked" by Alex Trebek with the "Jeopardy!" host's savage slam on the San Francisco Giants during a recent episode of the iconic game show.Tim Aten, a contestant in the show's "Tournament of Champions" this week, mentioned how he had received a tweet of support from "World Series champion" Hunter Pence. Trebek replied, "for the Giants?" After Aten replied...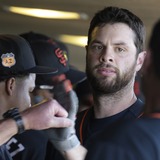 Social media has its frustrating moments. But on occasion, it can come through and help produce a nice story. San Francisco Giants first baseman Brandon Belt produced one of those moments on Wednesday.It started with Darren Brazil, brother of Brodie Brazil, an on-air personality for NBC Sports Bay Area, the station that covers the Giants. Alexis Pence, wife of Giants outfielder Hunter...
Hunter Pence showed great closing speed and concentration while also flashing the leather during Monday night's game against the Pirates. Pence made a spectacular catch on a ball that Josh Harrison popped up into foul territory. He followed the ball, but ran so fast he slipped and fell down. No problem, he slid underneath where the ball was set to land and made the catch on his back...
It is safe to say Hunter Pence is a gamer. If you need further evidence of that, his response to taking a foul ball off the face should convince you. In Saturday's game against the Washington Nationals, the Giants outfielder fouled off a pitch that bounced up and hit him just below the right eye. In fact, he got drilled so hard you could immediately see the seams of the baseball...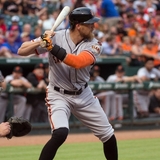 The San Francisco Giants are probably used to all the breaks falling their way in even years. That's not quite the case this time around. According to a report by Henry Schulman of the San Francisco Chronicle on Friday, Giants outfielder Hunter Pence is expected to undergo surgery on a fully torn hamstring tendon and miss eight weeks of action. #sfgiants leaning toward surgery...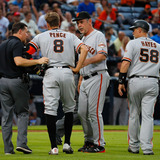 The San Francisco Giants may be in first place in the National League West, but the team is going to be without star outfielder Hunter Pence for the next two months. According to a report from Henry Schulman of the San Francisco Chronicle, San Francisco is leaning towards having Pence undergo surgery on a torn hamstring. #sfgiants leaning toward surgery for Pence. Out 8 weeks...
MORE STORIES >>
Giants News

Delivered to your inbox

You'll also receive Yardbarker's daily Top 10, featuring the best sports stories from around the web. Customize your newsletter to get articles on your favorite sports and teams. And the best part? It's free!