As the Red Sox look to rebound from their third last-place finish in their last four years, there are going to be a lot of story lines around the team. None will come close to the impending retirement of David Ortiz. He is one of the true legends in the franchise's history, and his announcement that 2016 will be his final season changed everything about the year to come. He'll likely...
Red Sox closer Koji Uehara is out for the year. Back on August 7th, he was nailed by a line drive to his pitching arm—and was eventually diagnosed with a broken right wrist. But, maybe the 40-year old doesn't have to worry about his next contract—considering what's on his injured arm. The bright yellow cast is adorned by autographs by every player on the 2015 Red Sox squad. Now,...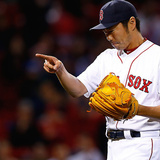 By Shaun Ranft  The Boston Red Sox have made several moves during our most recent edition of MLB's offseason. Adding infielders Hanley Ramirez and Pablo Sandoval was big, but they've also beefed up their starting rotation with the acquisitions of Rick Porcello, Wade Miley, and Justin Masterson. Yet, one of their earliest moves might just end up proving to be the strangest: re...
2014 was not kind to the Boston Red Sox. They floated at under .500 for most of the season and ended up 25 games out of first place in a surprisingly mediocre American League East that saw just two teams — the Baltimore Orioles and the New York Yankees — finish with more than 83 wins. The good news is that with around $50 million in payroll available to spend this winter, Boston...
MORE STORIES >>
Cubs News

Delivered to your inbox

You'll also receive Yardbarker's daily Top 10, featuring the best sports stories from around the web. Customize your newsletter to get articles on your favorite sports and teams. And the best part? It's free!