PHOENIX -- Matt Garza stuck with the game plan Thursday, which meant the Brewers right-hander fed the Arizona Diamondbacks a steady diet of offspeed pitches. It was a practice in patience for the fiery starter. Garza allowed four runs on five hits, including a homer, over 3 1/3 innings in Milwaukee's 8-5 win. Not his most flattering line. "It's frustrating because I want the results...
The Brewers are about to enter spring training in a couple weeks with a rather remarkable salary situation: Just eight players on their 40-man roster will be making more than Major League Baseball's minimum salary, by far the lowest in the league. Cincinnati features the next-lowest total at 11, and all but six squads carry at least 15 players beyond the pre-arbitration phases of...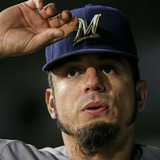 Milwaukee Brewers pitcher Matt Garza decided to share some of his thoughts about birth control on social media, and he did it by unloading on an actress who had just done the same. Jessica Chastain, who is known for her roles in popular films like "The Martian" and "Zero Dark Thirty," tweeted on Thursday about birth control no longer needing to be covered by health insurance companies...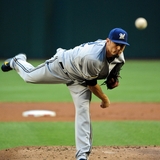 The continued presence of Matt Garza in the Brewers rotation seems to defy explanation. The club needs to pay him this year and next, but they have no playing-time obligation. He clearly has no trade value at this point — his ERA and DRA sit at 5.03 and 5.36, respectively — so why continue to start him when Josh Hader, Brent Suter, and a host of others sit in the minors? Shouldn...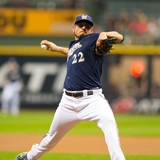 When Matt Garza signed with the Brewers before the 2014 season, the Brewers had to have been hoping that he would be a veteran anchor for a young and developing group of starting pitchers. Both Wily Peralta and Jimmy Nelson were already in the rotation, and Taylor Jungmann would join them the next year. In an ideal world, Garza would be providing solid, approximately league-average...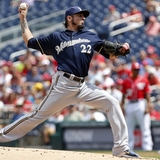 The Boston Red Sox are in trouble. They can't just keep pedaling Clay Buchholz out to the mound every fifth day and cross their fingers. Boston dropped two of three in Texas after losing three out of four at home against Chicago. Their bench is weak due to injuries, especially in left field. The bullpen is a question mark at best and outside of their first three starters, the rotation...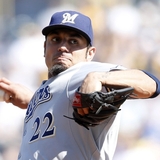 Matt Garza pitched like a man on a mission Sunday against the Dodgers, his second time out since returning from the disabled list from the lat strain that sidelined him to open the season. Garza pounded the strike zone, induced eight ground ball outs and needed just 70 pitches to get through six shutout innings. Garza was electric and efficient — basically the opposite of the Garza...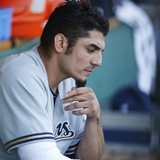 Starting pitcher Matt Garza has been placed on the 15-day disabled list by the Milwaukee Brewers with a strained muscle in his back. Right-handed pitcher Tyler Cravy was recalled from Triple-A Colorado Springs on Tuesday to replace Garza. The Brewers say the move placing him on the DL was made retroactive to Saturday. The veteran right-hander departed an exhibition game start...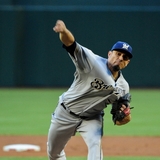 The Milwaukee Brewers are amidst a rebuild, and muddled in for the long haul are a cast of a few veterans including 32-year-old starter Matt Garza. Garza has two guaranteed years left on his four-year, $50 million deal that includes a vesting option for the 2018 season. Garza is coming off what is no doubt the worst season of his career, so brutal that he was forced to take the...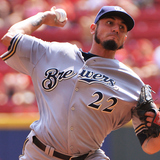 The Milwaukee Brewers recently decided to remove Matt Garza from their starting rotation for the remainder of the season, and the veteran right-hander is furious about it. After Garza allowed four earned runs and seven hits in just 4 2/3 innings of work on Saturday (a no-decision that the Brewers won 8-6), manager Craig Counsell revealed that the start would be the 31-year-old's...
MORE STORIES >>
Brewers News

Delivered to your inbox

You'll also receive Yardbarker's daily Top 10, featuring the best sports stories from around the web. Customize your newsletter to get articles on your favorite sports and teams. And the best part? It's free!