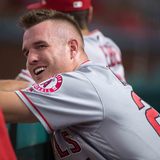 The Los Angeles Angels have had an interesting offseason, but landing Shohei Ohtani probably takes the cake. Adding both Zack Cozart and Ian Kinsler counts for a lot. But with the Angels, it's always going to come back to Mike Trout–the best player in baseball. Right now, Trout is under contract through the 2020 season. But after that, he'll hit free agency at 28 years old. That...
Los Angeles Angels owner Arte Moreno is not in a rush to extend Mike Trout, but he says the subject is on his mind.Trout signed a six-year, $144.5 million contract with the Angels in 2014 that carried him through 2020 and bought out some of his free agency years. Though he will still be with the Angels for a few more seasons, Trout is not the kind of player you want to let go. That...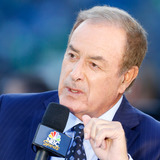 Al Michaels doesn't appear to have watched much baseball in the last 20 years.During the second quarter of Super Bowl LII, NBC showed some of the celebrities who were in attendance in Minneapolis for the big game. One person they showed was two-time AL MVP Mike Trout, who is a huge Philadelphia Eagles fan.When NBC showed Trout, Michaels said that the outfielder played for the "California...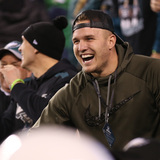 Tom Brady is arguably the most clutch player in the history of professional sports, and his fourth quarter performances in the Patriots' last two Super Bowl wins were two of the best of his Hall of Fame career. This time around, MLB superstar Mike Trout expects things to be different.Trout, a lifelong Eagles fan who grew up in New Jersey, has a bold prediction for the Super Bowl...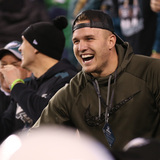 The Philadelphia Eagles will upset the New England Patriots in Super Bowl LII. That's at least the opinion of Los Angeles Angels centerfielder Mike Trout, a New Jersey native and noted Philadelphia sports fan.The two-time American League MVP went a little beyond just predicting a win. He actually gave a score and even noted how the game will be sealed. Well, we can't say that Trout...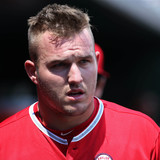 It is no secret that Mike Trout is a Philadelphia Eagles super-fan, and he proved his credentials again at the NFC Championship on Sunday.The Eagles and their fans, inspired by Lane Johnson, have been embracing dog masks during the week in response to the fact that they were underdogs against the Atlanta Falcons despite being the NFC's No. 1 seed. The Eagles were underdogs against...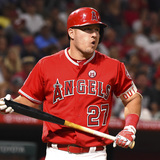 Mike Trout, a self-described "weather geek" who has not hidden his arguably nerdy fascination with meteorology in the past, is now on the outs with his wife, albeit in a joking manner. Why? Because of his apparently annoying infatuation with a storm currently wreaking havoc upon the Northeastern United States.Let's just say it certainly sounds as if Trout's wife is running out of...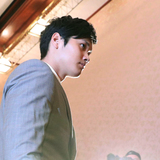 After multiple meetings and presentations, Japanese superstar Shohei Ohtani has come to a decision. After weeks of waiting for the bigger dominoes to fall, that wait is over. And, it even came as a surprise. A few things here. One, the Angels have arguably the best player in all of baseball in Mike Trout. And two, they were not too bad last season en route to an 80-win campaign.And...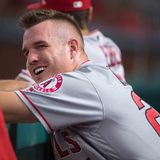 The Philadelphia Eagles are practicing at Angel Stadium this week ahead of Week 14 road showdown with Los Angeles Rams. And Los Angeles Angels superstar Mike Trout welcomed Eagles players to his ballpark by leaving bobbleheads and a welcome note in their lockers. The Eagles elected to remain on the West Coast following last week's setback against the Seahawks at CenturyLink Field...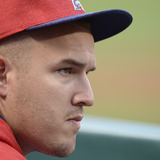 From batters getting their 3000th hit (Wade Boggs in 1999, Ichiro Suzuki in 2016), pitchers getting their 300th win (Greg Maddux in 2004) to Barry Bonds surpassing Hank Aaron (2007), Aug. 7 has become a pretty special day in baseball history.In the not so distant future, it'll likely be remembered as a the birthdate of the greatest player of the 21st century … Michael Nelson Trout...
MORE STORIES >>
Angels News

Delivered to your inbox

You'll also receive Yardbarker's daily Top 10, featuring the best sports stories from around the web. Customize your newsletter to get articles on your favorite sports and teams. And the best part? It's free!