Switch-pitcher Pat Venditte addresses the team and shows off his unique glove. Photoblog: Thursday on the Ranch was originally published in Dodger Insider on Medium, where people are continuing the conversation by highlighting and responding to this story.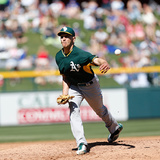 By David Kenyon Be prepared to drop everything and run to a computer or television when the Oakland Athletics are playing, because you might witness a rare event. Pat Venditte, a relief pitcher, holds a tremendously unique talent: He can pitch with either arm. Venditte has been called up from the Nashville Sounds to the big-league club, according to Gary Sharp of Omaha radio station...
Bill Veeck would have loved him: The lone pitcher of his - or any - generation to throw from both the left and right sides. You better believe, Veeck would never let two crappy seasons end without bringing this guy up, at least in September, to sell a few tickets.Well, for better or worse, Brian Cashman is not Bill Veeck. (Though Veeck would have appreciated the Yankees' "farewell...
29-year-old New York Yankees minor leaguer Pat Venditte normally wouldn't be a player worth noticing. He's been in the minors for the past seven seasons after the Yankees selected him in the 45th round of the 2007 amateur draft.  On the surface, Venditte is nothing more than your non-prospect who has bounced around in small towns in an attempt to make it to the Majors. That's just...
And five strike outs.Will the switcher-pitcher ever see Yankee Stadium?
At age 28, Pat Venditte - the only switch-pitcher in modern baseball history - was promoted to Scranton yesterday, putting him a heartbeat away from the big time.This comes as the Yankees are ripping through bullpen arms the way Khloe Kardashian goes through home pregnancy tests. Today, the team faces an old-fashioned double-header, and it's not hard to imagine the final innings...
I've never seen Pat Venditte pitch. Frankly, it's bucket list material. But I'm starting to lose hope that he'll ever do it for the Yankees. Venditte is the only pitcher in pro baseball who can throw with both hands. That, in itself, makes him arguably the greatest athlete in the game, if not the most coordinated and sophisticated person in professional sports. He must have the mind...
I was happy to hear that switch pitcher Pat Venditte finally got to show the Yankees what he's got yesterday.  When I heard he was going to be in the game I remembered the interview that I conducted with him almost a year ago on my radio show, LATB Radio. He is such a nice guy! Click the link below to hear the interview:Pat Venditte On LATB RadioDue to my housing situation, I still...
MORE STORIES >>
Phillies News

Delivered to your inbox

You'll also receive Yardbarker's daily Top 10, featuring the best sports stories from around the web. Customize your newsletter to get articles on your favorite sports and teams. And the best part? It's free!