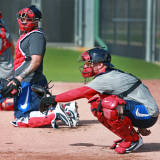 If you've noticed some extra pep in the step of your extremely online baseball fan friend over the last couple of days, it's no coincidence. Pitchers and catchers reported to spring training this week, meaning the MLB season is officially here. Like most sports fans, your last few months were likely occupied by keeping up with either the Winter Olympics, the Josh McDaniels saga or...
In the timeless words of Bob Dylan, the times they are a-changin'. And nowhere in baseball is that more evident in the new year than behind the plate, of course with the notable exception of one particular Bay Area stalwart that is in the midst of morphing his posture from simply being the best of his time to arguably the best of all-time before our eyes.But (spoiler alert) we will...
Russell Martin Stating the obvious here, but normally you'd like to be seeing your starting players play as often as possible.  This concept however doesn't exactly ring true for the 2018 Blue Jays, given their age and injury concerns of several prominent players. I know it must sound strange to want to give Troy Tulowitzki and Russell Martin plenty of time off when they're making...
Russell Martin spoke about new additions to the Blue Jays roster like Randal Grichuk and Curtis Granderson, excited for what they bring to the table.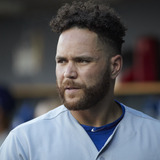 Russell Martin made sure to put umpire Angel Hernandez in his place during a recent game.Hernandez, who has been known for trying to take over games in the past, tried to do exactly that.Martin, however, wasn't having it."Put your mask back on," Martin said to Hernandez. That was Martin's way of basically saying, "Do your job."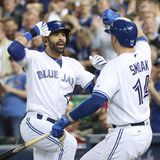 It was not too long ago that the obituary for the 2017 Toronto Blue Jays was all but written: "The Blue Jays, recent champions of the American League East division, died suddenly in May of 2017, following a sudden and brutal April debut. Major League Baseball's last remain Canadian outpost was celebrating its 40th season and hopeful for a continued run of excellence, having just...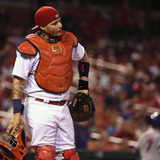 The St. Louis Cardinals heard Yadier Molina say he was intrigued by the possibility of becoming a free agent, and they apparently didn't like it.Just on Saturday, Molina said he would not negotiate a contract extension during the season and that he was intrigued by the possibility of becoming a free agent.Two days later, FanRag Sports' Jon Heyman reports that the sides are making...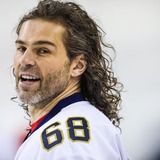 Want more news first thing in the day? Sign up for the Yardbarker Morning Bark newsletter here.Good morning and welcome to the YB Box Score, what we're reading while we wait for Valentine's Day chocolate to go on sale. Happy birthday to Ken Anderson, Darrell Green, Craig Simpson, Mark Price, Amy Van Dyken, Russell Martin and yes, Jaromir Jagr.  And on this date in 1996 Bill Belichick...
During the celebration after Tuesday's wildcard game, a member of the Blue Jays injured himself while giving a high five. The Blue Jays defeated the Orioles in dramatic fashion, thanks to a walk-off home run in the bottom of the 11th inning off the bat of Edwin Encarnacion. Not only did fans at Rogers Centre go crazy, but the Blue Jays did as well, understandably so. Sometime...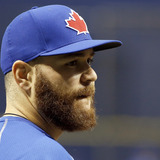 When Edwin Encarnacion struck the winning home run in Tuesday's Wild Card Game, the Toronto Blue Jays were understandably excited. According to Arden Zwelling of Sportsnet Magazine, catcher Russell Martin was maybe too excited. Martin high-fived someone so hard that he later required stitches. Russ Martin split open the pinky finger on his left hand giving a high five after the...
MORE STORIES >>
Blue Jays News

Delivered to your inbox

You'll also receive Yardbarker's daily Top 10, featuring the best sports stories from around the web. Customize your newsletter to get articles on your favorite sports and teams. And the best part? It's free!