BOSTON (AP) Hanley Ramirez and Sandy Leon hit two-run doubles as Boston scored seven runs with two outs in the fifth inning, and the Red Sox rebounded from a drubbing by beating the Los Angeles Angels 10-5 Sunday. A day after Boston lost 21-2 and allowed 22 hits, Sean O'Sullivan (2-0) held the Angels scoreless into the sixth and allowed two runs and four hits in five innings. Signed...
NEW YORK (AP) The Red Sox have brought up right-hander Sean O'Sullivan from Pawtucket and optioned left-hander Henry Owens to the Triple-A farm team. The 28-year-old O'Sullivan was 2-2 with a 3.00 ERA in five starts at Pawtucket. He has an 11-23 record with a 5.95 ERA in 52 starts and 14 relief appearances for the Los Angeles Angels (2009-10), Kansas City (2010-11), San Diego...
After yet another disappointing start, Henry Owens was sent back down to Pawtucket. In a corresponding move, Boston recalled relief pitcher Sean O'Sullivan from AAA to join a somewhat over-used bullpen. The 28-year old O'Sullivan fared well in his Spring Training work for The Carmine Hose this year. His stay in The Show may be short-lived as Boston is looking to cut its pitchers...
View image | gettyimages.com According to Jim Salisbury of CSNPhilly.com, the Philadelphia Phillies have outrighted right hander Sean O'Sullivan off of their 40-man roster. O'Sullivan, 27, will report to the Triple-A Lehigh Valley Iron Pigs. A corresponding addition to the 40-man roster, who presumably will replace O'Sullivan in the starting...
After two solid outings in a row, Philadelphia Phillies righty Sean O'Sullivan lapsed on Wednesday, serving up his worst performance in four years in a 7-0 loss to the New York Mets in which he was tagged for all of the Mets' runs. O'Sullivan approached Wednesday afternoon surrendering a total of two earned runs in his last two starts, winning his first game of the season with a...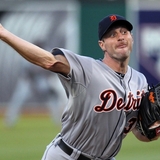 View image | gettyimages.com Sean O'Sullivan was the heavy underdog last night. Facing Nationals starter Max Scherzer, who has been near dominant in 2015, the Phillies did not seem to have a chance. Yet, O'Sullivan allowed just two earned runs in his six innings of work. Unfortunately for O'Sullivan, the...
  Sean O'Sullivan won a big league game for the first time in more than four years, staying in after he was hit on the throat by a throw from his own catcher, and the Philadelphia Phillies beat the Arizona Diamondbacks 6-0 Sunday for their first five-game winning streak since last summer. O'Sullivan (1-2) allowed five hits in six innings, struck out four and walked two. He turned...
Sean O'Sullivan and the Phillies look to build on their best run of baseball in a long time and for their first sweep of the season. Starting Pitching Matchup: Arizona Diamondbacks (15-20)Philadelphia Phillies (15-23) RHP Josh Collmenter RHP Sean O'Sullivan (3-4, 5.27 ERA) (0-2, 5.06 ERA) Sean O'Sullivan is coming...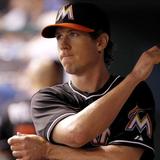 View image | gettyimages.com The Philadelphia Phillies have signed RHP Sean O'Sullivan (27), RHP Kevin Slowey (30), and first-baseman Chris McGuiness (26) to minor-league contracts with invitations to Spring Training. O'Sullivan started two games for the Phillies last season, and appeared in three overall. In total, he allowed nine earned...
MORE STORIES >>
MLB News

Delivered to your inbox

You'll also receive Yardbarker's daily Top 10, featuring the best sports stories from around the web. Customize your newsletter to get articles on your favorite sports and teams. And the best part? It's free!