Steven Souza Jr. wasn't in the starting lineup Saturday night against the Red Sox due to his bruised left knee, but the news was good following his MRI and X-rays on Saturday.
Steven Souza Jr. had to leave Friday night's Rays-Red Sox contest due to a bruised left knee. He sustained the injury in the fourth inning when he ran into the side wall in right field while trying to catch a bloop single by Christian Vazquez.
BOSTON (AP) — Tampa Bay Rays outfielder Steven Souza Jr. left a game Friday night after colliding with the right-field wall at Fenway Park. Souza was tracking a fly ball hit by Boston's Christian Vazquez in the fourth inning. The ball dropped just out of Souza's grasp, and he slammed into the wall as he fielded the hop. Souza managed to throw the ball back to the infield before...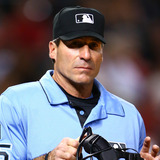 Welcome to this week's edition of Three Up, Three Down — your weekly catch-up of the three best highlights (and lowlights) from around the league. We're here for all of the cheers and the jeers, because it's baseball. You can't have a winner without someone losing along the way.This week we have the game's biggest rivals going in opposite directions in the American League East...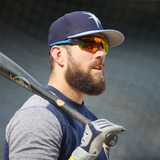 Tampa Bay Rays outfielder Steven Souza Jr. has struck out 97 times this season, which is the sixth-highest total in the American League. But if you're going to call him out about it on social media, you better be ready for a response.A fan who tweeted at Souza on Wednesday accusing him of "swinging at everything" was surprised when Souza fired back. It's so much easier to...
Generally you applaud a baseball player diving for a ball and going all-out to make a play. Seeing that kind of hustle and effort is nice. But there are times when diving for a ball isn't the best idea. On a play that is no more 50/50 for an outfielder, it's frequently not worth it. Whiffing with a dive can turn a single into extra bases (this is probably the most common way...
Steven Souza, Jr. is showing signs he might be ready to break out. Fourteen games are far too few to make any determinations, but the numbers are promising. The Tampa Bay Rays slugger is slashing .320/.424/.520, and six of his 16 safeties have gone for extra bases. Every bit as notable is the fact that he's drawn nine free passes, and fanned just 13 times, in 59 plate appearances...
At 27 years old, Steven Souza Jr. has shaken his prospect status. Still, who he is as a player is largely a mystery at this point; he's off to an undeniably hot start in 2016, but is it sustainable for the long haul? In determining whether or not Souza can continue on his torrid pace moving forward (.8 WAR and five home runs so far), we have to understand who he was and what he...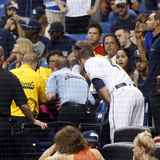 A fan seriously injured after being hit by a foul ball off the bat of Tampa Bay Rays designated hitter Steve Souza Jr. during a game last week at Tropicana Field was released from the hospital on Monday night, per a Tampa Bay Times report. The incident occurred during the seventh inning of Friday's game against the Chicago White Sox. The woman, reportedly a White Sox fan in...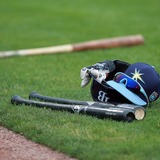 Baseball has often been criticized for not utilizing technology, mostly when it comes to instant replay. Tony Gwynn was one of the first players to really make use of videotape in improving his swing, but it appears the Tampa Bay Rays might have topped that. The team has added a virtual reality system that allows their batters to experience the pitchers that they are about to face...
MORE STORIES >>
Rays News

Delivered to your inbox

You'll also receive Yardbarker's daily Top 10, featuring the best sports stories from around the web. Customize your newsletter to get articles on your favorite sports and teams. And the best part? It's free!