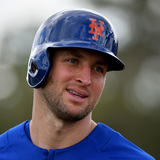 Tim Tebow showed that he has some serious pop during batting practice on Thursday.Double-A ball might be in his future, judging by the manner in which he destroyed a baseball while in the cage.Tebow hit the ball so far over the the fence that it actually clanked off a storage shed which was located well beyond there. You can see it in the photo below. He may strike out fairly often...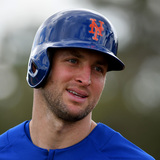 Tim Tebow can hit the ball a long way. His power is one of the biggest reasons why New York Mets general manager Sandy Alderson thinks the former NFL quarterback will play in the majors one day.On Thursday morning, Tebow once again showed off that power during batting practice.Anthony DiComo, a Mets beat writer for MLB.com, posted a tweet to let people know Tebow hit a shed beyond...
New York Mets General Manager Sandy Alderson raised some eyebrows recently when he said Tim Tebow's foray into baseball is a lot more than just a gimmick. Alderson rebuffed those who think Tebow has no business on a baseball field by saying, "I think he will play in the major leagues." The odds say otherwise. [more]
Tim Tebow meets the media at Mets Spring Training on 2/18
Tim Tebow is back with the New York Mets for spring training, and team general manager Sandy Alderson has high hopes for his charismatic ace in the hole. Many will undoubtedly scoff at this statement, thinking it's nothing more than a publicity ploy. After all, Tebow is a huge draw, even at the minor league levels, where he pulled in record crowds last year.That said, we can't ignore...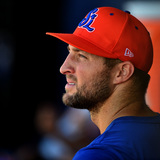 Most people laughed when Tim Tebow announced that he is trying his hand at professional baseball, but the former NFL quarterback will once again be playing in the minor leagues with the New York Mets this season. In fact, the team is hoping he does enough in spring training to get him one step closer to the majors.Jon Heyman of FanRag Sports is reporting that the Mets would "love...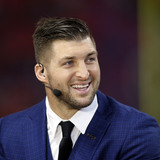 New York Mets outfielder and former NFL quarterback Tim Tebow is making dreams come true at his foundation's "Night to Shine" event. Tebow is sponsoring over 500 proms nationwide for teenagers with special needs. This is pretty amazing. Here are some fantastic photos and videos that capture Tebow literally putting smiles on faces. From crowns to decor to red carpets, Tebow and his...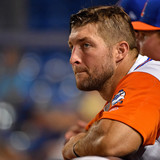 Tim Tebow is getting another shot with the big-league team. The New York Mets have invited the former NFL quarterback to spring training.The team announced the decision Friday, and Tebow will join eight other non-roster players with the Mets. Four others were announced previously, according to Adam Rubin of the New York Post.Although some are certain to suggest this is simply a publicity...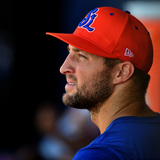 Tim Tebow hit up a Sam Hunt concert in Nashville on Satruday, and he was spotted with a famous reality TV star while there as well.Savannah Chrisley, who is the focal point of Chrisley Knows Best, dated basketball player Luke Kennard for awhile, which makes sense, since they're within one year of the same age.Tebow, who is 30, was seen hanging out with Chrisley at the concert. Here...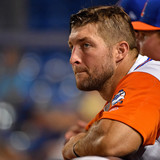 Tim Tebow was doing his thing on the set of "College Gameday" as ESPN's college football analyst, when a fan who was positioned behind him savagely trolled him with a sign.Tebow, who plays Single-A ball in the Mets system, has a batting average of .226 from his time with the low-A Columbia Fireflies and high-A Port St. Lucie.And a fan made sure to remind him of it. Hey, .226 is better...
MORE STORIES >>
Mets News

Delivered to your inbox

You'll also receive Yardbarker's daily Top 10, featuring the best sports stories from around the web. Customize your newsletter to get articles on your favorite sports and teams. And the best part? It's free!