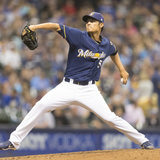 The Brewers have cleared a spot on the 40-man roster by granting left-hander Wei-Chung Wang his release, tweets Adam McCalvy of MLB.com. The move also creates a roster spot for Lorenzo Cain, who was re-introduced to Milwaukee at a press conference earlier today.Wang will be pursuing an opportunity with a team in the Korea Baseball Organization. Sung Min Kim of River Ave. Blues recently...
Wei-Chung Wang isn't a prospect in the typical sense – he's already accrued a year of major league service time after the Milwaukee Brewers chose him in the 2013 Rule 5 Draft. At this point, however, he's probably more well-remembered by the casual fan for his contributions on the dance floor than his contributions on the mound for the 2014 Brewers: 17.1 IP, 10.90 ERA, 10.61 DRA...
  The Brewers designated Wei-Chung Wang for assignment Tuesday in order to make room for Matt Dominguez. There is still a chance the 23-year old could remain in the Brewers organization and it appears the Brewers hope that is the case, because they still see talent in him despite the fact that he posted a 10.90 ERA in 17 1/3 innings this season. "Development of players is not always...
Look, I love the kid.  I love everything about "#WCWW" and the fact that he's the first player ever to make the MLB team from a rookie team in major league history, but facts are facts. Wei-Chung Wang is absolutely killing the Milwaukee Brewers right now. The Brewer's bullpen is pitching a lot due lately due to Ron Roenicke's hesitance to use Wei-Chung Wang It isn't immediately obvious...
Wei-Chung Wang pitches for the Milwaukee Brewers. Wang Chung is a New Wave band from the '80s. And it's about time someone made the connection between the two. Bullpen catcher Marcus Hamel posted this video of a group of Brewers players, including Wei-Chung himself, dancing to the band's hit party song 'Everybody Have Fun Tonight!'Wang even has a little Flock of Seagulls haircut...
MORE STORIES >>
MLB News

Delivered to your inbox

You'll also receive Yardbarker's daily Top 10, featuring the best sports stories from around the web. Customize your newsletter to get articles on your favorite sports and teams. And the best part? It's free!