While the Los Angeles Dodgers were quiet at the Winter Meetings, president of baseball operations Andrew Friedman...
LOS ANGELES (AP) Los Angeles Dodgers reliever Yimi Garcia is unlikely to pitch next season after undergoing Tommy John surgery on his right elbow on Oct. 25. The team confirmed the surgery this week after not saying why it wasn't disclosed at the time. The 26-year-old pitcher was limited to nine relief appearances last season because of arm problems. Garcia pitched in 59 games...
Yimi Garcia is an extremely interesting pitcher. As a result, we write about him a lot. Early last year, he looked like one of the very best relievers in baseball. He has the highest spin rate on his fastball (despite having below-average fastball movement). As the bullpen is currently constructed, he will be slotted in as a high-leverage reliever, as well he should be. However,...
You probably know that I write for MLB.com and specifically about Statcast, and so earlier this month I put together some visuals about how spin and velocity correlate. For the most part, they don't; Chris Young & Dellin Betances have the same spin rate on their fastballs, but there's a velocity difference of about a dozen miles per hour. Still, I thought the images were cool...
The Los Angeles Dodgers have confirmed that reliever Yimi Garcia was involved in an automobile accident on Monday.According to MLB.com, the 25-year-old right-hander and his family were uninjured when they were involved in a one-car accident in their native Dominican Republic.The Curioso Digital reports that the car, a Honda Accord, veered off the road and fell into a gutter on the...
LOS ANGELES (AP) The Dodgers have optioned right-handed reliever Yimi Garcia to Triple-A Oklahoma City in anticipation of pitcher Juan Nicasio's return from the 15-day disabled list. Garcia was sent down Monday, an off day for the team before it opens a three-game series at Cincinnati on Tuesday. That's when Nicasio is expected to be reinstated. The right-hander has been on the...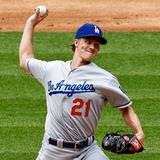 NEW YORK (AP) The Los Angeles Dodgers have recalled reliever Yimi Garcia from Triple-A Oklahoma City, giving them a fresh arm in the bullpen. The team also activated All-Star ace Zack Greinke from the paternity list to start Sunday against the New York Mets. Greinke entered with a scoreless streak of 43 2-3 innings, longest in the majors since Orel Hershiser set the major league...
LOS ANGELES (AP) The Los Angeles Dodgers have sent reliever Yimi Garcia to Triple-A Oklahoma City to get in extra work around the All-Star break. Garcia was sent down Wednesday, two days after making his first start since 2011 when he was in the minors. He replaced Carlos Frias, who went on the disabled list last week, in the rotation against Philadelphia, and gave up two runs and...
When Yimi Garcia was a prospect, his standout pitch was a "high spin" fastball. In December of 2013, Chad noted a public Trackman report on the pitch. Trackman is a radar-based system used to measure pitch spins more accurately than Pitch FX can, but it is generally unavailable to the public. Chad notes Garcia's numbers: Koji Uehara is cited as a prime example of a high-spin fastball...
G IP K% BB% ERA FIP xFIP WAR AAA 47 61.0 26.6% 7.0% 3.10 3.63 N/A N/A MLB 8 10 25.0% 2.8% 1.80 4.23 3.24 0.1 What Happened In 2014: Yimi Garcia has been one of my favorite sleeper prospects for a couple years now, and he ended up a sleeper mainly because his solid-average stuff and role were never enough to generate any significant heat. Still, I thought he could become an MLB middle...
MORE STORIES >>
Dodgers News

Delivered to your inbox

You'll also receive Yardbarker's daily Top 10, featuring the best sports stories from around the web. Customize your newsletter to get articles on your favorite sports and teams. And the best part? It's free!