Kristie Ackert of the New York Daily News reports that the Mets are likely to use Zack Wheeler out of the bullpen this season after signing Jason Vargas last week. With Vargas in the rotation, the Mets currently have him, Jacob deGrom, Noah Syndergaard, Matt Harvey, and Steven Matz set to open the season as the starting five. That leaves Wheeler, Robert Gsellman, and Seth Lugo in...
SNY.tv delivers the sights and sounds of Tuesday's New York Mets workout in Port St. Lucie, with up close looks at Zack Wheeler, AJ Ramos, Jose Reyes, Wilmer Flores, and more.
PORT ST. LUCIE — Zack Wheeler used a mulligan Saturday in explaining his feelings on the Mets' decision to add veteran lefty Jason Vargas. A day earlier, the right-hander was short in his responses to reporters' questions on the subject, and says he was misconstrued as angry. With Vargas on board, the Mets will have...
Accountability and caring have been the defining words of the spring for the New York Mets. Redemption should be a word that is also included, as they are a team seeking redemption from a lost season. 2017 saw the World Series hopefuls finish with a record of 70-92, wasting a year of their control over their young, talented roster. What is going to be the key to their success in...
On Friday, Mets pitcher Zack Wheeler wasn't necessarily thrilled about the Mets bringing in Jason Vargas as a starter, but has since regretted his initial reaction. "I shouldn't have been short about it," Wheeler said. "Anybody who comes and helps out or team is always a plus. I barely pitched in two and a half years. I totally understand it." Wheeler went 3-7 with a 5.21 ERA, 5...
New York Mets right-hander Zack Wheeler spoke with the media Friday from Port St. Lucie, FL. In his first comments to the media since disclosing that he had been receiving bone-strengthening injections throughout the offseason, the 27-year-old made his point very clear to the surrounding members of the Mets press corps. When asked if anyone from the Mets' organization had spoken...
SNY.tv captures the sights and sounds of Wednesday's New York Mets workout in Port St. Lucie, with up close looks at Noah Syndergaard, Zack Wheeler, Steven Matz, and more.
After undergoing Tommy John surgery in early 2015 that kept him sidelined until Spring Training last season, New York Mets right-hander Zack Wheeler is finally healthy again. Wheeler wants to make himself a reliable starter for the Mets and Kevin Kernan of the New York Post details Wheeler's preparation for the 2018 season. The 27-year old had this to say about how his offseason...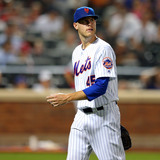 Zack Wheeler has dealt with a number of injuries in his career. In a way to try to get healthy, the New York Mets starting pitcher is undergoing an uncommon rehab procedure.Per Kevin Kurtan of the New York Post, Wheeler detailed the procedure"It needed two full months of rest. I got that, and then I've been taking these shots every day for the past six months. The medicine is called...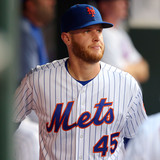 Mets righty Zack Wheeler has won his arbitration case against the team, according to Jerry Crasnick of ESPN.com (via Twitter). Wheeler, a client of Jet Sports Management, will earn the $1.9MM he requested rather than the $1.5MM figure the team sought.Obviously, the arbitration panel's decision won't have a drastic impact on the New York balance sheet for the coming season. And it...
MORE STORIES >>
Mets News

Delivered to your inbox

You'll also receive Yardbarker's daily Top 10, featuring the best sports stories from around the web. Customize your newsletter to get articles on your favorite sports and teams. And the best part? It's free!