Everyone knows you have to fight your way up the ranks to get to the bigger cards and the bigger promotions. The thought never crossed my mind that there was an all female MMA circuit. The next Cyborg or Ronda Rousey doesnt just fall into Strikeforce or the UFC with a 6-0 record and ready to throw. There are a number of quality women fighters out there and obviously they had to come from somewhere. That somewhere turns out to be places like Invicta Fighting Championships. On Saturday January 5th, InvictaFC held their fourth pay per view event of their short existence. Invicta aired their prelims on Facebook, similar to UFC, and partnered with Ustream to televise the event. Troubles with using the paypal feature, quality of feeds, and other negative factors resulted in Invicta offering a full refund to those who paid for the PPV event. Where they struggled with broadcasting, Invicta excelled in promotion, fights and an overall quality product. The show Invicta put on was well done. They had taped interview packages of the fighters that seemed to run long to fill time between fights. In one of these segments, Leslie Smith had a quote that still lingers: "I just want to hurt something (on Raquel Pennington) that takes a long time to heal". Besides a complaint about length of interviews, the show moved into the cage where the real fireworks happened. Carla Esparza won the first ever Strawweight Championship Fight against Bec Hyatt. The Australian born Hyatt stepped in at the last moment, after an injury sidelined Claudia Gadelha, to save the main event for Invicta FC 4. Gadelha was injured during camp and suffered a broken nose while training. Hyatt did well as a last minute replacement, even posting "I'm sorry. I'll be back" to her facebook page. Esparza proved to be too much with a dominating ground game and took the title to become the first ever Strawweight Champion in Invicta. Carla Esparza, arms raised, as she becomes first Strawweight Champion (photo via invictafc.com) The fight of the night went to Alexis Davis against Shayna Baszler. This was a rematch from Freestyle Cage Fighting event in 2010 where Baszler defeated Davis. Davis showcased a strong striking ability and showed a ground game that would be tough to defend against. Baszler did steal the second round on many scorecards, so it was anyone's fight heading into the final round. Davis removed any doubt with a rear naked choke for the submission victory. Alexis Davis celebrates her submission victory over Shayna Baszler at Invicta FC4(photo via invictafc.com) Hailed as a knockout artist, Leslie Smith showed off some heavy hands and crisp combo strikes as she defeated Raquel Pennington. Smith was very technical and proficient with her striking. Pennington was unable to do much damage or get the fight to the ground. Smith controlled the pace and followed her around the cage. The fights provided a good show and the commentary was a welcome compliment to the action. Bas Rutten, former UFC fighter and current co-host of Inside MMA on AXS TV, carried the color commentary and part of the play by play. Rutten is very knowledgeable but also does a great job connecting with the audience in explanations and personality. Julie Kedzie was the main play by play commentator, and "King Mo" Lawal provided an added bit of color to compliment Rutten. Had Invicta FC 4 not had so many troubles with paypal and Ustream, I might not have been lucky enough to watch. Their troubles indirectly lead to more viewers, and having more eyes on a product is never a bad thing. It was a great night of fights. Invicta Fighting Championships put on a great show and provided hours of quality entertainment, while showcasing some up and coming talent in the female divisions of the sport. I'll be sure to tune in for Invicta FC 5. Fight Poster (via invictafc.com) Full fight card results Main Card: Carla Esparza Defeats Bec Hyatt, unanimous decision, Strawweight Championship Alexis Davis Defeats Shayna Baszler, technical submission (rear naked choke) Leslie Smith Defeats Raquel Pennington, unanimous decision Sarah D'Alelio Defeats Amanda Nunes, unanimous decision Ediane Gomes Defeats Hiroko Yamanaka, unanimous decision Joanne Calderwood Defeats Livia von Plettenberg, unanimous decision Preliminaries: Cassie Rodish Defeats Stephanie Frausto, TKO (strikes) Tamikka Brents Defeats Amanda Bell, unanimous decision Jodie Esquibel Defeats Liz McCarthy, split decision Rose Namajunas Defeats Emily Kagan, submission (rear naked choke) Tecia Torres Defeats Paige Van Zant, unanimous decision Veronica Rothenhausler Defeats Katalina Malungahu, KO (punch) Laura Marcusse-Sanko Defeats Cassie Robb, submission (rear naked choke) This has been read 5 times
Original Story:
http://illegalelbows.com/?p=568
MORE FROM YARDBARKER
MMA News

Delivered to your inbox

You'll also receive Yardbarker's daily Top 10, featuring the best sports stories from around the web. Customize your newsletter to get articles on your favorite sports and teams. And the best part? It's free!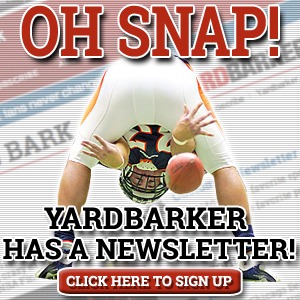 Latest Rumors
Best of Yardbarker

Today's Best Stuff

For Bloggers

Join the Yardbarker Network for more promotion, traffic, and money.

Company Info

Help

What is Yardbarker?

Yardbarker is the largest network of sports blogs and pro athlete blogs on the web. This site is the hub of the Yardbarker Network, where our editors and algorithms curate the best sports content from our network and beyond.