Does anyone other than recent UFC 221 main-event winner Yoel Romero deserve the next shot at middleweight champion Robert Whittaker? That was the question for MMAjunkie Radio's new daily debate feature. We polled MMAjunkie readers and MMAjunkie Radio listeners to see who should be next for Whittaker (19-4 MMA, 10-2 UFC), who was supposed to fight Romero (13-2 MMA, 9-1 UFC) at UFC...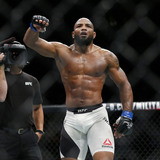 As it turns out, it appears that missing weight over the weekend won't come back to haunt Yoel Romero. That's because UFC president Dana White says there's going to be a middleweight title bout, and that Romero will face off against Robert Whittaker for it sometime in the future."Asked Dana White if plan is to have Yoel Romero fight Robert Whittaker next, despite the fact he didn...
Robert Whittaker was understandably devastated when he had to withdraw from his first scheduled title defense on home soil at UFC 221. Now that fight week is here, though, not competing has proven to be a positive. Whittaker (19-4 MMA, 10-2 UFC) had a milestone occur today when he announced the birth of his daughter. His wife, Sofia Maree Whittaker, was induced into labor, something...
UFC middleweight champion Robert Whittaker shared a promising update after concerns about his health became public earlier this month. UFC President Dana White said Whittaker (19-4 MMA, 10-2 UFC) was in "serious condition" and that the 185-pound titleholder has been dealing with a serious case of staph infection in his stomach. White said the fighter was originally mistreated and...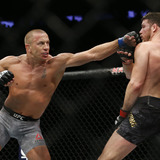 Georges St-Pierre's victory during UFC 217 came with an injury that resulted in a trip to a local hospital afterward.St-Pierre and Michael Bisping went to battle in the main event of last weekend's event at Madison Square Garden. St-Pierre claimed the win via a rear-naked choke in the third round.After the bout, St-Pierre was noticeably absent from the post-fight press conference...
After losing the first two rounds, Whittaker began to find his rhythm on his feet. Connecting on a few strikes seemed to make his leg feel a little better. It also helped that despite Romero's freakish muscular figure, the Cuban-born fighter tired out as the fight went on, getting clipped more and more often. Whittaker also displayed great takedown defense, a staple of Romero's attack...
Robert Whittaker had to battle middleweight veteran Rafael Natal over three, hard fought rounds to earn a unanimous decision win at UFC 197.Whittaker has been one of the fastest rising stars in the middleweight division, but Natal gave him everything he could handle through 15 minutes in the Octagon together.It appeared both fighters were ready for a striking battle with Natal focusing...
Robert Whittaker has found new life at 185-pounds where he's now 3-0 after defeating Uriah Hall in an exciting throw down in the middleweight division at UFC 193.Whittaker was originally expected to face Michael Bisping on the card, but when injury forced the switch, the New Zealand born knockout artist never blinked and still put on a solid performance over three rounds.Ultra aggressive...
Australia's own Robert Whittaker outfought Uriah Hall tonight at UFC 193 in Melbourne en-route to a unanimous decision victory. Round One: Whittaker with an early kick and then charges forward with a short flurry of strikes. Another kick from him. He lands hard to the leg with a kick. Hall pressing forward, but no offense […]
  TUF Smashes welterweight champion, Robert Whittaker (14-4), has quickly climbed the ladder at middleweight, earning himself a bout against Michael Bisping (27-7) on the main card of UFC 193 inside of Ethiad Stadium. Unfortunately, Bisping will no longer be a part of what should be a record-setting night as far as attendance goes come November 15th in Melbourne (on the 14th in...
MORE STORIES >>
MMA News

Delivered to your inbox

You'll also receive Yardbarker's daily Top 10, featuring the best sports stories from around the web. Customize your newsletter to get articles on your favorite sports and teams. And the best part? It's free!