Found July 08, 2013 on Fox Sports:
PLAYERS:
Anderson Silva
,
Forrest Griffin
,
Stephan Bonnar
,
Yushin Okami
,
Dana White
,
Chael Sonnen
,
Thales Leites
,
Demian Maia
,
Frankie Edgar
,
Cub Swanson
,
Charles Oliveira
,
Dennis Siver
,
Jose Aldo
,
Anthony Pettis
We may have witnessed a passing of the torch on Saturday night following one of the most stunning finishes in UFC history. Let's take a closer look at some of the storylines coming out of UFC 162 in Las Vegas. More to Taunting Than Meets the Eye Some observers called it a fix. Others called it a fluke. In reality, perennial pound-for-pound king Anderson Silva committed the cardinal sin and left his guard down in a prizefight, ultimately resulting in a brutal second-round knockout at the hands of four-time NCAA Division I All-American Chris Weidman. However, Silva's clowning was actually a tactical defensive adjustment, as far-fetched as the notion may seem. Following an early takedown, ground-and-pound barrage and submission attempt from the challenger, Silva defended well and returned to a vertical base. A proficient counterstriker, Silva's decision to drop his hands was a ploy to make Weidman overcommit to his combinations. It's important to note Silva's conduct was nothing new. He did the same thing against Forrest Griffin, Stephan Bonnar and Yushin Okami, creating opportunities to counter and subsequently ending the fight with a dazzling offensive display. This time, Silva may have pushed it a little too far, Weidman did his scouting and the strategy ultimately backfired. What may have come across as cocky showboating to the uneducated eye was actually a calculated move. By keeping his hands by his waists, Silva was prepared to sprawl, thus preventing Weidman from shooting in. The undefeated New York native recognized Silva's strategy, so he was hesitant to throw any meaningful strikes in the first round. After all, there was no urgency to play right into the hands of a lethal counterstriker. Silva continued to lure Weidman in during the second round before a picture-perfect left hook knocked him unconscious, ending the most impressive reign in UFC history. Weidman was hardly surprised by Silva's behavior in the octagon, recognizing it had more to do with strategy than demeaning his opponent. "We expected him to do things like that," said Weidman. "He's done it in plenty of fights." Honorable in defeat, even Silva admitted his taunting was well-scouted. "I tried to induce Chris into playing my game and that didn't work," said Silva. "He threw some shots that landed, I got caught, so obviously my game plan didn't work tonight. And I can't make any excuses. It is what happened." UFC president Dana White dismissed allegations of a fix at the post-fight press conference, while defending Silva's seemingly lackadaisical performance. "That's the stupidest [expletive] thing I've ever heard in my life," said White. "I don't think anyone got robbed of anything. It was a great fight." "Weidman kept his composure, didn't freak out or panic," he continued. "He stayed focused, kept moving forward and kept trying to finish, which he did." Silva seldom attempted any combinations of his own, but the scheme didn't take anything away from his performance, according to White. "The greatest fighter of all time was out there doing his thing and his thing didn't work tonight," he said. "Pretty [expletive] exciting." Bad Karma for Anderson Silva Spawns New Middleweight Era Although his taunting during the fight can be linked to a strategical adjustment, Silva's actions before the showdown and between rounds were utterly classless. It all started at Friday's weigh-ins with Silva walking forward in an attempt to intimidate Weidman, and their lips actually touching. Weidman was a class act during all the promotion for the fight, giving Silva his due and complimenting the former champion's long list of accolades. Unlike Chael Sonnen, who repeatedly insulted the Brazilian legend, Weidman's confidence didn't overshadow his respect. Meanwhile, Silva seemed to channel his inner Sonnen, refusing to touch gloves with Weidman before the championship clash. Things got worse during the fight itself. We'll give Silva the benefit of the doubt for trying to goad Weidman into fighting his style of fight, but he continued to ridicule Weidman in between rounds, to the point that his corner needed to tell him to calm down. Weidman didn't take Silva's actions personally, but the fact remains he may have crossed the line of unsportsmanlike conduct with a large portion of the crowd in attendance, including the vocal Brazilian contingent, feeling he got what he deserved. "I don't see him being cocky," said Weidman. "I see him trying to mentally defeat you in there. It's part of his style." White was especially critical of Silva in the aftermath of his wins over Thales Leites and Demian Maia, but he didn't read too much into Silva's puzzling performance on Saturday night. "Is it disrespectful? I don't know," he said. "This is fighting. How the hell do you disrespect someone in a fight?" Silva is unenthusiastic about fighting Weidman again. A reign of 2,458 days as champion takes its toll, so he plans to rest with his family for at least four months. The burden of defending the sport's top prize for seven years comes with plenty of pressure, so the 38-year-old Silva may have his sights set on other challenges upon his return. But White sees things differently. "I guarantee you there is nothing he wants more than that rematch with Chris Weidman," he said. Still, it's too soon to accurately assess Silva's next move. Weidman now assumes the role of middleweight king, and he deserves credit for executing brilliantly against the best fighter in the sport. Sadly, his accomplishment will always be overshadowed by Silva's antics leading to the finish. The final sequence was spectacular, but Weidman's standup appeared stiff throughout the fight. Silva's brief spurts of offense were effective, yet he repeatedly dropped his hands and gave Weidman one too many opportunities to land. Silva kept daring the challenger to take a chance, and Weidman took his bluff. Weidman is still evolving and he's sure to learn from this experience. He certainly has the potential to become the face of the division for years to come, but only time will tell, particularly with White guaranteeing that a rematch is on the horizon. Swanson vs. Edgar, Anyone? In a pair of "Fight of the Night" performances, former UFC lightweight champion Frankie Edgar and red-hot featherweight contender Cub Swanson notched competitive and highly entertaining decision wins over Charles Oliveira and Dennis Siver, respectively. Swanson overcame a game Siver by surviving some early adversity to rally for a third-round knockout, while Edgar's quick footwork and steadier output carried him to a grueling decision victory over a noticeably improved Oliveira. Committed to earning a rematch against featherweight torchbearer Jose Aldo, Swanson has campaigned for a title shot for months. "I'm just trying to get the fans to back me on it and let them decide," said Swanson. "Dana does a good job of listening to the fans and if they speak up and want me to be the next one in line, then yeah, make it happen." White fell short of guaranteeing an immediate title shot, citing Anthony Pettis as another possible contender. Let's not forget Ricardo Lamas' impressive four-fight winning streak, including a submission over Swanson in November 2011. "I think Cub looked awesome tonight," said White. "I think Cub deserves many things other than $50,000. I'm always telling them to be the guy to get noticed. Well, he got noticed tonight." Edgar, meanwhile, seems to understand his place in his newfound weight class, having just fought Aldo in a close five-rounder this past February. He's content with working his way back up and it should be a matter of time until he's the frontrunner for another title shot. The abundance of featherweight contenders is a positive, reflective of the increasingly competitive nature of the division. But there could only be one champion, so matching up fan favorites Swanson and Edgar in the aftermath of UFC 162 is a no-brainer.
Original Story:
http://msn.foxsports.com/ufc/story/3-...
THE BACKYARD
BEST OF MAXIM
RELATED ARTICLES
CAUGHT HIM
Today's lesson of the day - Nobody is invincible. Not even longtime pound-for-pound kingpin Anderson 'The Spider' Silva. After years of dominating middleweights and light heavyweights inside of the world famous octagon, Silva got just a wee bit too cocky against someone that wasn't about to get mesmerized by his antics.  The way this fight finished guys, you&...
NEW CHAMP IN THE HOUSE
Chris Weidman claimed the UFC middleweight title by knocking out Anderson Silva at UFC 162. Read about the upset win.
Chris Weidman knocked out a very talkative Anderson Silva at UFC 162, and no one will say that Silva didn't deserve it. Silva, for some reason, took to jawing at his opponent for no reason after the first round. And as Karma would have it, the below happened. We collected some of the best reactions from Twitter following the surprise knock out. WHERE IS YOUR BRAZILIAN GOD NOW...
Anderson Silva has been getting away with this crap for years, and now he's finally paid for it with his title. Somebody other than Anderson Silva possesses the UFC middleweight belt for the first time since 2006. And Silva has only himself to blame. Chris Weidman took advantage of some of Silva's usual showboating early in the second round to knock out the longtime champ. A...
What we all thought was damn near impossible has finally happened. After a dominant opening round, longtime middleweight champ Anderson Silva let down his guard and was knocked out in spectacular fashion by the undefeated challenger. The historic loss is Anderson's first in the UFC and ends a long era of dominance over the middleweight division that saw him defend his title 10...
The Nevada State Athletic Commission has medically suspended nine athletes who competed in Saturday's "UFC 162: Silva vs. Weidman" event in Las Vegas. Former UFC middleweight king Anderson Silva (pictured) will be forced to ride the pine for 45 days following his knockout loss to Chris Weidman in the show's featured attraction. If Silva opts to accept a rematch against Weidman...
UFC 162: Silva vs. Weidman Player Username: ref1mind Event Title: UFC 162: Silva vs. Weidman Points Awarded: 68 Event Rank: #484 out of 1987 Bout My Pick Result Points Anderson Silva Chris Weidman Chris Weidman Judge's decision Split decision Chris Weidman Fight ends in round 2 KO / TKO +2 points (underdog bonus) 7 Mark Munoz […] 66 total views, no views today
(via Getty Image)I won't speak for anyone else who was watching UFC 162 with us tonight – or anyone that will eventually watch it, for that matter – but I am still genuinely shocked with the result of the main event at UFC 162 at the MGM Grand in Las Vegas. If you haven't watched yet, then what the hell are you even doing here? Go watch the entire PPV – it was actually...
Ever since I started this little blog in a Mississauga basement back in 2010 there has been one constant. Anderson Silva was the best pound for pound mixed martial artist on the planet. Over the past three years we've seen a handful of the all-time greats like Silva get humbled. Fedor, Penn, and Fujii are the top names that come to mind. Over the past three years more people...
New middleweight king Chris Weidman is making his media rounds as he visits FOX 5 News New York and is sure to bring his shiny new belt with him.  If he thinks he's gotten a lot of media attention these last few weeks, the rematch will be on a whole other level. Anderson Silva wants A rematch? Watch all fighter video blogs at Intravid.com
Dana White has a strong message for anyone who believes Saturday's UFC bout between Anderson Silva and Chris Weidman was fixed. And the message includes a few expletives, too.The social media world lit up immediately following Silva's second-round TKO loss to new middleweight champion Chris Weidman with some alleging the fight was fixed. White, the UFC President, adamantly...
What we all thought was damn near impossible has finally happened. After a dominant opening round, longtime middleweight champ Anderson Silva let down his guard and was knocked out in spectacular fashion by the undefeated challenger. The historic loss is Anderson's first in the UFC and ends a long era of dominance over the middleweight division that saw him defend his title 10...
MMA News

Delivered to your inbox

You'll also receive Yardbarker's daily Top 10, featuring the best sports stories from around the web. Customize your newsletter to get articles on your favorite sports and teams. And the best part? It's free!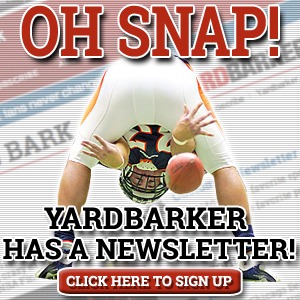 Latest Rumors
The Backyard

Today's Best Stuff

For Bloggers

Join the Yardbarker Network for more promotion, traffic, and money.

Company Info

Help

What is Yardbarker?

Yardbarker is the largest network of sports blogs and pro athlete blogs on the web. This site is the hub of the Yardbarker Network, where our editors and algorithms curate the best sports content from our network and beyond.