Found September 29, 2012 on Fox Sports:
PLAYERS:
Stefan Struve
,
Semmy Schilt
,
John Hathaway
,
Mike Pyle
,
Diego Sanchez
,
Brad Pickett
,
Yves Jabouin
,
Renan Barao
,
Damacio Page
,
Dan Hardy
,
Amir Sadollah
,
Randy Couture
,
Tim Sylvia
,
Michael Bisping
,
Carlos Condit
High expectations. Everytime the UFC puts on a heavyweight fight, the bar is raised. The fans want knockouts, and with the UFC traveling to Nottingham, England, for the first time, disappointment was not an option. Pleasing the crowds would be a tall task indeed, but the UFC found the right man to stand up to the task. At 7 feet tall, Stefan Struve emphatically knocked out Stipe Miocic in a battle that more than merited main event status. His victory will go a long way in answering the doubts that have surrounded the young fighter's career inside the Octagon. With Struve pitted against the former Golden Gloves champion Miocic, many were confidently predicting that Struve would fail to use his kickboxing and gigantic proportions to properly meter the distance and control the fight. In the first round, it seemed that we naysayers were right, with Struve allowing Miocic to tag him in a way that should simply not have been possible. But in the second round, something strange happened. While the technical lapses that stop Struve from being MMA's Semmy Schilt were still much in evidence, Struve managed to rise above them. As he acknowledged himself, his chin has long been a question mark, but he was able to stand up to Miocic's bombs, and as the round went on, the "Skyscraper" began punishing the undefeated fighter. Before long, Miocic crumpled under the Dutchman's onslaught, securing Struve the most impressive victory of his 12-fight UFC career. With Struve referencing that this victory makes him a top five heavyweight, bigger challenges await the UFC's only 7-foot phenom. Struve's victory only highlighted this gift of a fight card that graced Great Britain, as the UFC's first trip to Nottingham had a rowdy crowd enthralled from beginning to end. Despite the fact that the overall results for British fighters were mixed, the three biggest home superstars on the card managed to avenge previous defeats on home soil and put down important markers for the future. In the only "Battle of Britain" fight on the card, John Hathaway continued to rebuild his career after his momentum-derailing defeat at the hands of Mike Pyle at UFC 120 by comfortably defeating John Maguire. While Hathaway is not the most charismatic fighter who ever existed, many British fight fans have a soft spot for him after his most un-British demolition of Diego Sanchez at UFC 114. Though Brits endure much mockery for their fighters' lack of wrestling, it was positively thrilling to see the former rugby player outwrestle the first-ever winner of "The Ultimate Fighter." Two years later, his career has been much interrupted by injuries and time spent retooling his game. Hathaway's two recent victories were too low profile to recover all the ground lost in London's O2 Arena. However, on this night, Hathaway triumphed in dominating fashion over Maguire. By alternating between "lay and pray" wrestling and "duck and run" striking, he tested the patience of the fans in attendance. But it did show that Hathaway has the skills to be the type of technical fighter that Britain hasn't quite produced yet. The fans acknowledged this by discontinuing their earlier boos of him to politely cheer his victory. The dream survives for another day, but Maguire's weak opposition leaves Hathaway's win slightly diminished. There was no such ambivalence surrounding Brad Pickett's knockout of Yves Jabouin. It's been just under a year since Renan Barao knocked out Pickett in the first round after landing the telling punch of a frenetic scrap in what was the former WEC standout's introduction to his home fans due to his WEC fights having never been broadcast in the UK. This time, it was the same story with a different ending for Pickett on his return to the Midlands, as he cut short what was building into an all-out brawl with a nasty uppercut. Jabouin who had been standing toe-to-toe with a tight, determined Pickett, collapsed in a heap and was powerless to defend against two exclamatory (and unnecessary) follow-up punches on the ground. With this knockout following a submission victory over Damacio Page, Pickett's resume is becoming more impressive. Pickett is surely moving back into championship contention in a relatively shallow division. And finally, in what was to the fans in attendance the true main event of the day, there was Dan Hardy vs. Amir Sadollah. Maybe not since Randy Couture challenged Tim Sylvia in 2007 has a crowd so actively lived and died with its favorite. Alongside Michael Bisping, Hardy is by far the most popular fighter Britain has ever produced, but in his hometown, emotions were running at a fever pitch. A thunderous reception greeted his entry, as the crowd in Nottingham made a noise that echoed twice its actual size. When the fight began, the fans would cheer Hardy's every move, often erupting into loud soccer-style chants of "Hardy" and "In-Ger-Land." The last time Hardy was in the UK, he was quickly knocked out by Carlos Condit in the second of what would become four successive defeats. Luckily for Hardy and all his fans, his recent upturn in performances continued as he secured a crucial victory in a venue literally just walking distance from his house. The striking exchanges were fairly even, with Hardy's leaky defense seeing him take plenty of hits on the chin. Perhaps conscious of how his chin gave way against Condit, Hardy made the wise decision to mix things up. While "The Outlaw" will never be a natural wrestler, indeed his takedowns look strikingly unnatural, he managed to take Sadollah off his feet in both the second and third rounds. Hardy did manage to cut Sadollah with elbows in the second, yet it was essentially a man often inaccurately billed as a knockout artist playing the points and percentages game. He used the takedowns to run down the clock from top position. Whereas the fans' patience was tested when Hathaway tried this tactic, they all could see the bigger picture when it came to Hardy. When the result was announced, the crowd erupted into cheers with an emotional Hardy summing it up best. "I always dreamed of fighting for the UFC in Nottingham. ... The only thing that could be better than this would be to bring to the title back to you guys."
Original Story:
http://msn.foxsports.com/ufc/story/co...
THE BACKYARD
BEST OF MAXIM
RELATED ARTICLES
Plenty of fans complained all the livelong day about the lack of star power Saturday's UFC on FUEL TV 5 roster packed. However, the freebie fight card turned out to be action packed with several thrilling finishes – including the show's featured attraction between Stefan Struve (Pictured) and Stipe Miocic. It took Struve a round to find his range, but once he did it was a...
Watch the post-fight press conference video live for UFC on FUEL TV Stefan Struve vs. Stipe Miocic following the fights in Nottingham, England. Struve took another step up the heavyweight ladder with a second round technical knockout of the previously undefeated Miocic in the main event. In the co-main event Dan Hardy displayed an improved ground game as he earned a unanimous decision...
The Capital FM Arena in Nottingham, England plays host to UFC on FUEL TV 5 on Saturday, September 29th. Stefan Struve battles Stipe Miocic in the main event with the winner taking another step up the heavyweight ladder. The preliminary card for UFC on FUEL TV 5 will be streamed free on the UFC's Facebook page beginning at 1:30pm ET. The six fight main card will be televised live...
Stefan Struve's brother Nick got him into mixed martial arts at age 15. The 6-foot-11 Dutchman also credits Nick for keeping him in the sport after he mangled an eye in his first pro fight two years later. "I know my parents probably wouldn't have been OK with me turning pro at 17," Stefan Struve told FOXSports.com in advance of Saturday's UFC on Fuel TV 5...
Tune in to view the official weigh-in video live for UFC on FUEL TV 5 at approximately 11:00am ET on Friday, September 28th. UFC on FUEL TV 5 (aka UFC Nottingham) features a heavyweight showdown between Stefan Struve and Stipe Miocic. Preliminary Card Weigh-in Results Jason Young vs. Robert Peralta DaMarques Johnson vs. Gunnar Nelson Tom Watson vs. Brad Tavares Andy Ogle vs. Akira...
After a night of freebie MMA action, UFC president Dana White awarded Matt Wiman (Pictured), Drew Pickett, Stefan Struve and Stipe Miocic each an additional $40,000 for their special performances Saturday night at "UFC on FUEL TV: Struve vs. Miocic." Wiman ended his year-long hiatus in style by tapping out Brazilian jiu jitsu ace Paul Sass. "Handsome's" opening round...
"UFC on FUEL TV: Struve vs. Miocic" will be jumping off Saturday inside Capital FM Arena in Nottingham, England. Facebook kicks off tonight's festivities by streaming five preliminary bouts at approximately 1:45PM ET/10:45AM PT. Fans simply have to "Like" the UFC's Facebook page in order to watch the scraps live. FUEL TV will then broadcast the main card starting at...
All the fighters slated to participate in tomorrow's "UFC on FUEL TV: Struve vs. Miocic" event will be tipping the scale today inside Capital FM Arena in Nottingham, England. The first athlete is scheduled to weigh-in at approximately 11AM ET/8AM PT. Please click HERE if you would like to stream today's weight competition. A heavyweight shootout between Stefan Struve and...
Main Card (Fuel TV)• Heavyweight Bout: Stefan Struve (251) vs. Stipe Miocic (239) • Welterweight Bout: Dan Hardy (169) vs. Amir Sadollah (169) • Bantamweight Bout: Brad Pickett (135) vs. Yves Jabouin (136) • Lightweight Bout: Paul Sass (156) vs. Matt Wiman (156) • Welterweight Bout: John Hathaway (169) vs. John Maguire (169) • Welterweight Bout: Che Mills...
An additional $40,000 was awarded to each of the following fighters for their refusal to underachieve during tonight's fights in Nottingham, England. Fight of the Night: Stefan Struve vs. Stipe Miocic Knockout of the Night: Brad Pickett Submission of the Night: Matt Wiman
MMA News

Delivered to your inbox

You'll also receive Yardbarker's daily Top 10, featuring the best sports stories from around the web. Customize your newsletter to get articles on your favorite sports and teams. And the best part? It's free!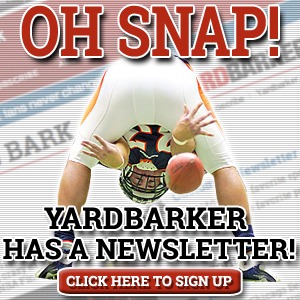 Latest Rumors
The Backyard

Today's Best Stuff

For Bloggers

Join the Yardbarker Network for more promotion, traffic, and money.

Company Info

Help

What is Yardbarker?

Yardbarker is the largest network of sports blogs and pro athlete blogs on the web. This site is the hub of the Yardbarker Network, where our editors and algorithms curate the best sports content from our network and beyond.