Found March 19, 2012 on Illegal Elbows:
The headline from a popular Mixed Martial Arts Message board recently stated that Bob Sapp is working on his ground game? Really working on his ground game, did he have a ground game? Now a lot of people are saying who the hell is Bob Sapp. Bob Sapp is getting into Mixed Martial Arts and coming from a background into the world of MMA. Sapp helped pave the way for people like Brock and others to come into the sport. Bob Sapp is now working on his ground game and what is next for Sapp? Sapp never got over and he is basically now trying to get back on track? My view on Bob Sapp is I loved Sapp but he really was all hype.
Who the hell is Bob Sapp? A lot of people say that now a days because Sapp was around back with MMA in the beginning of getting into the public eye. Bob Sapp has done everything from a music CD to MMA to having figures and more, Sapp was an NFL guy who suspended after roids and he signed with the Vikings and spent 2 seasons only playing 1 NFL game. Sapp went into Pro wrestling and eventually made his way to WCW and when WWE bought WCW, they sent Sapp packing. Sapp went to Japan and competed in Pro wrestling and eventually becoming a legend over there with New Japan pro wrestling, pride FC, K-1 and others and signed with Strike force and recently lost to Rolles Gracie on something called One Fighting Championship.
Bob Sapp got into MMA after he was in Tough man championship on FX. Sapp went on to becoming a very good Kick boxer and MMA guy. Sapp went on and did a bunch of good MMA and kickboxing matches. Sapp went on to get beat by the best of the best, Sapp was a Beast on the level of being very characteristic of size and power. Problem that Sapp had was he was not a good fighter and he got exposed rather quick with matches against people like Lashley, Cro Cop,etc. Sapp 's MMA record was 11 and 11. Yes his record is 11-11 with 8 Knockouts.
Bob Sapp did well in Kickboxing with 11-14 record but he did manage to win matches against K-1 superstars such as Ernesto Hoost,Cyril Abidi,etc. However he has suffered some losses to people like Peter Aerts,Cro Cop, Rey Sefo,etc. Sapp did pave the way for people like Brock Lesner and others to come into MMA and Kickboxing to compete and not be their first sport. A lot of people thought people like Brock would not do well because of his size and others. Sapp proved that you could do Pro wrestling and Football and make it in MMA and kickboxing. Sapp proved that marketing is great and many other things would fill up for the fact, dude can not fight. Sapp took over Japan and could not fight a damn lick.
Bob Sapp working on his ground game means….Yes what the hell does this mean? Sapp has competed in MMA. Sapp fought his last match that he got a win in March 11,2011 with a win over Stav Econmou in ADFC. Sapp then went onto 5 straight loses he keeps getting beat by punches and such. However Sapp is now working on his ground game, what the hell does this mean? Dude is by MMA standards Super old. Sapp is never going to break into the UFC and become their next big star. Sapp is also never going to go over Fedor in any matches. Sapp working on his ground game means basically zero for MMA.
Bob Sapp never got over with the American Public. However recently saw the Bleacher report making a report that seems to be more and more the case these days. Pay check fighters and by the standards of poor pay in MMA. Sapp, Dan Severn,etc. Have all realized that they can come to these matches and know the winner will not make as much money as they will getting their ass kicked. It's not like the days of boxing where people took dives. These guys go out and fight but they know, they will be getting their ass kicked before jumping into the ring/cage.
My view on Bob Sapp was the perfect example of hype and others coming into the scene. Bob Sapp accomplished something the Japanese loved which was to be a giant American and could entertain those guys. Sapp did well in Pro wrestling and did well in Kickboxing but once happens is what you got better, well we need to put better people in their. So that's when Kickboxing and MMA got hard and continues to get hard for Sapp. I like to see Sapp come into Pro wrestling and give up the real fighting.
Finally lets look at Sapp, Bob Sapp was the great thing with Hype and skill and not much of skill. Sapp got over huge in Japan and could have been their version of Hulk Hogan if he would have stayed in Pro wrestling. However he got stuck in real fighting and that did not bode well for his signature style of all out Kaos. Sapp never got over with the American Public because he did not have the skill of Brock and did not have the backup to all his talk that he did in press and on TV Sapp working on his ground game does not change anything and will never change anything in the world of MMA. Sapp did not do well in NFL and he did well in MMA and K-1 but he would never become the best in either sport because of his cardio issues and then his MMA ground skills were not the best and if you do not have ground skills, just get the hell out of MMA. Sapp used to always say "It's Sapp time." My answer is I do not get it and prob. Never will, I am a Bob Sapp fan, but I am real and know it will never be SAP time!
Original Story:
http://illegalelbows.com/?p=445
THE BACKYARD
BEST OF MAXIM
MMA News

Delivered to your inbox

You'll also receive Yardbarker's daily Top 10, featuring the best sports stories from around the web. Customize your newsletter to get articles on your favorite sports and teams. And the best part? It's free!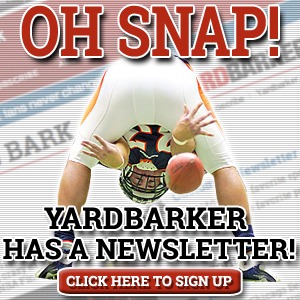 Latest Rumors
Best of Yardbarker

Today's Best Stuff

For Bloggers

Join the Yardbarker Network for more promotion, traffic, and money.

Company Info

Help

What is Yardbarker?

Yardbarker is the largest network of sports blogs and pro athlete blogs on the web. This site is the hub of the Yardbarker Network, where our editors and algorithms curate the best sports content from our network and beyond.