James Krause was swollen and bloodied after three rounds with Alex White. But thanks to his grappling, he came away with a win. Krause (25-7 MMA, 6-3 UFC) avoided the worst of White's (12-4 MMA, 3-4 UFC) heavy hands by repeatedly taking their fight to the mat, earning a unanimous decision. The lightweight bout closed out the preliminary card of today's UFC Fight Night 124 event...
ST. LOUIS – The timing of Alex White's matchup with James Krause at UFC Fight Night 124 was rather bizarre. Just when White thought about strengthening a friendship, he was forced to turn Krause into a foe. White (12-3 MMA, 3-3 UFC), who meets Krause (24-7 MMA, 5-3 UFC) in a lightweight bout on Sunday at UFC Fight Night 124, recently spent time searching for a gym where he could...
ST. LOUIS – UFC lightweight James Krause had to cross state lines while in training camp for his meeting with Alex White. Of course, it was for a good reason. His longtime training partner, Tim Elliott, needed help after suffering a devastating setback when his coach, Robert Follis, died. Krause, who also runs a gym and manages fighters, doesn't have a lot of free moments. But...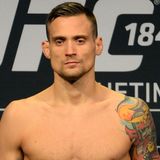 "Ultimate Fighter" season 25 competitor James Krause will finally leave the hospital after a series of surgeries to fend off a staph infection in his leg. Krause documented his time in the hospital via a series of Instagram posts that showed him enduring a series of surgeries that ended with the UFC lightweight showing off a gruesome scar down the shin on his leg. "Going home today...
The new cast for "The Ultimate Fighter: Redemption" has been revealed with a slew of familiar faces decorating the 25th edition of the long running reality series.The new season will be coached by bantamweight champion Cody Garbrandt and his former teammate T.J. Dillashaw as they lead two teams of welterweights made up of former "Ultimate Fighter" contestants including one fighter...
James Krause had a strong start in his fight against Shane Campbell, nearly wrapping up the win in the opening round but had to survive a late onslaught from his opponent to slip away with a decision victory.Krause showed off some impressive striking and ground-work through the first two rounds, but his constant effort to drag the fight to the mat nearly backfired late.A back and...
In July, James Krause snapped a two-fight losing streak with an impressive submission win over Daron Cruickshank. A third-straight loss could have put Krause at risk for being released from the UFC, limited drastically how much he made in 2015, and just generally felt bad.Despite that, the Kansas fighter insists that what he felt after getting his hand raised, once again, was not...
MORE STORIES >>
MMA News

Delivered to your inbox

You'll also receive Yardbarker's daily Top 10, featuring the best sports stories from around the web. Customize your newsletter to get articles on your favorite sports and teams. And the best part? It's free!