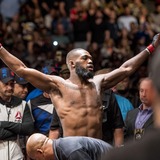 The time of smack talk between Daniel Cormier and Jon Jones is nearly over. Saturday night at UFC 214, these two light heavyweights will settle their qualms once and for.The title belt that Cormier holds and Jones once held is on the line, and each fighter goes into this fight with just a single loss on their record. Just when you thought the UFC was running out of solid fight cards...
Jimi Manuwa sent a huge statement to the light heavyweight division with a jaw dropping knockout to finish Corey Anderson the first round in their main event fight from London.Manuwa stepped into the Octagon off another eye-opening knockout against former title contender Ovince Saint-Preux in his last fight, but the London native had something to prove after he says several opponents...
Jimi Manuwa is sick and tired of hearing how top ranked fighters aren't interested in facing him.The No. 4 ranked contender at 205 pounds had been asking for several possible opponents before finally being booked for a matchup with Corey Anderson this weekend, but seemingly no one seemed all that enthusiastic once his name was attached to the contract.Manuwa was on the hunt for a...
A light-heavyweight bout between Jimi Manuwa and Nikita Krylov has been announced for UFC Fight Night 83 in London on February 27th. The UK's Manuwa tasted defeat last time out in the Octagon, suffering a first round knockout courtesy of the the heavy handed Anthony 'Rumble' Johnson at UFC 191 in September. The 35 year-old […]
UFC officials have added another key bout to the upcoming UFC Fight Night 83 card. That new bout will come from the light heavyweight division when Jimi Manuwa and Nikita Krylov battle it out. Manuwa (15-2) holds a 4-1 UFC record and is coming off a loss to Anthony Johnson in September, which broke his winning streak. Krylov (19-4) is on a roll since dropping to light heavyweight...
On Saturday night at UFC 191, Anthony Johnson (pictured) beat Jimi Manuwa as if he was stretching in the wrong section of the gym.Johnson had to make no apologies this time, unlike he was forced to do last month after berating a female at his gym for stretching on her yoga mat where people were lifting weights."Rumble" proved once again that he is perhaps the most powerful puncher...
After the last Ronda Rousey fight I can vaguely remember someone trying to say fans were getting tired of Rousey because she finishes fights too fast (or something like that). Maybe for some fans that is true, but I find it hard to believe more fans would rather see every fight go the distance than see guys like Anthony Johnson knock fools out when he can.Screw decisions! Give me...
After a rough title loss earlier this year, Anthony "Rumble" Johnson got back on track with a TKO win Saturday night. Johnson wasted little time scoring with his powerful right punch against Jimi Manuwa in their light heavyweight bout. The British striker fell after a big overhand right, but survived and returned to his feet. From there, Johnson scored a takedown and controlled Manuwa...
Anthony Johnson once again displayed his fearsome punching power as he stopped Jimi Manuwa tonight at UFC 191 by KO early in the second round. Round One: Manuwa with a leg kick to start. Punches in close and then a kick upstairs. Johnson with a big kick of his own and punches. Manuwa looks a little staggered already from a right hand to the temple. Manuwa quickly regains his...
On Episode 4 of UFC 191 Embedded, UFC flyweight champion Demetrious Johnson reflects on the motivators behind his championship reign. Strawweight Paige VanZant hits the Quan, light heavyweight Anthony Johnson talks about the excitement factor in his upcoming matchup, and his opponent Jimi Manuwa seeks healthy food on a Southern BBQ menu. Local heavyweight Frank Mir ventures outside...
MORE STORIES >>
MMA News

Delivered to your inbox

You'll also receive Yardbarker's daily Top 10, featuring the best sports stories from around the web. Customize your newsletter to get articles on your favorite sports and teams. And the best part? It's free!