Even with a rematch booked, Joanna Jedrzejczyk continues to brood over her first fight with Rose Namajunas. And for the woman formerly known as "Joanna Champion," that brooding apparently involves an awful lot of excuses. In yet another interview, Jedrzejczyk can be seen shifting the blame for her loss at UFC 217 squarely onto the shoulders of her team, who she says "failed" her...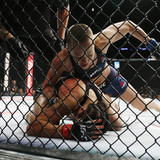 At UFC 217 back on Nov. 4, Rose Namajunas upset then-current strawweight champion Joanna Jedrzejczyk. But at UFC 223 on April 7, they may finally have their rematch. Of course, that's not the only big news ahead of UFC 223. On Thursday, UFC president Dana White would confirm Tony Ferguson versus Khabib Nurmagomedov. But at this time, we don't know if it's for the interim lightweight...
On Monday, the Nevada Athletic Commission released the disclosed fighter salaries for International Fight Week, which included UFC 200, TUF 23 Finale and UFC Fight Night: dos Anjos vs. Alvarez. For the TUF 23 Finale, it was UFC strawweight champion Joanna Jedrzejczyk who led the way with $210,000, topping the $1,020,000 payroll. Jedrzejczyk's challenger, Claudia Gadelha, received...
While Ronda Rousey and Conor McGregor have undoubtedly taken much of the spotlight in what's been a banner year for the UFC, woman's strawweight champion Joanna Jedrzejczyk has steadily been growing in popularity and it looks like she'll now get a chance to shine on The Ultimate Fighter reality show. Speaking during a fan Q&A […]
Getting hit in the face can be a traumatic experience. Or it can be a transformative one. Joanna Jedrzejczyk remembers her first-ever sparring session at the age of 16, just a few months into her Muay Thai kickboxing training. She also remembers exactly what went through her mind when she was tagged for the first time: I need to hit her back. Harder."It was like a small show. Our...
Though considered by some to be a "weak" card, this weekend's UFC 193 offers the paying customer an awful lot of bang for their buck, though in completely different ways. The spectrum of violence that champions Ronda Rousey and Joanna Jedrzejczyk (from here on referred to as "JJ" because I'm lazy) encompass is massive. Olympic level Judo on one end, world-class Muay Thai on the...
Joanna Jedrzejczyk was a Muay Thai champion before she entered MMA a few years ago, but despite being a vaunted kickboxer, she's also got the best boxing in the UFC, according to coach and former boxer Jason Parillo. "Joanna's MMA boxing is remarkable. It's second to none, if you ask me," he says of the UFC 193 star. Our resident MMA Bread 'N' Butter expert says that Joanna keeps...
On Saturday, Joanna Jedrzejczyk will defend her world strawweight championship in front of as many as over 70,000 people in Melbourne's Etihad Stadium as a part of the UFC 193 co-main event. As recently as a year and a half ago, however, she was fighting with much humbler surroundings, in her native Poland.Back in May of 2014, the striker fought Karla Benitez of Venezuela in Warsaw...
The UFC has another budding star on its hands in Joanna Jedrzejczyk (pictured), so who better to show her the ropes than their biggest superstar? The UFC is hoping some of Ronda Rousey's mojo will rub off on the up-and-comer. Jedrzejczyk and Rousey were initially paired together at UFC 195, then various injuries forced a reshuffle, but they were ultimately reunited at UFC 193. Don...
Joanna Jedrzejczyk has gone from being relatively unknown and underestimated to an undisputed world champion who is heavily favored in her next title defense. Perhaps because she personally knows what it feels like to be discounted, Joanna Champion isn't overlooking her Nov. 15 UFC 193 challenger Valerie Letourneau. The Canadian challenger has won her last four fights and is coming...
MORE STORIES >>
MMA News

Delivered to your inbox

You'll also receive Yardbarker's daily Top 10, featuring the best sports stories from around the web. Customize your newsletter to get articles on your favorite sports and teams. And the best part? It's free!