Found February 27, 2013 on Fox Sports Arizona:
By Jeff Hammond FOXSports.com Regardless of the fact that she is a female and that she is a rookie, when it comes to analyzing Danica Patricks Daytona 500 performance, you grade her by the same criteria you would Denny Hamlin, Dale Earnhardt Jr., Carl Edwards and the other Sprint Cup drivers. Lets be clear, Danica did a good job. She came to Daytona and took advantage of a very fast race car that her Sprint Cup team had prepared for her. She didnt waste the opportunity. She took advantage of the opportunity. Even going back to January when we had the three-day test at Daytona International Speedway, Danica has been showing everyone what she is capable of. She did everything that was asked of her and she did it correctly. I know there were a lot of people that were shocked she won the pole position for the Daytona 500. I really wasnt. We had watched her be fast in testing. We had watched her be fast in practice when we came back for Speedweeks. Winning the pole position really was just a continuation and confirmation of what Danica had been showing all of us since early January. You go talk to the veteran drivers in the NASCAR Sprint Cup Series and they will tell you that the key to Daytona is a fast car. Danica had that and maximized the potential of it. She had excellent communication with her new crew chief Tony Gibson, as well as with her spotter and the rest of the team. She listened and, just like last year, she asked lots of questions. I dont care what she did in IndyCar, over here she is a rookie and she will have a lot of questions. The thing I really like about Danica is she is not afraid to ask them. She wants to learn and improve her craft. The other thing I thought was really impressive was that during the Daytona 500, she wasnt intimidated. She started up front and stayed there all day long. I give her an A." The only thing she didnt do was win the Daytona 500 and obviously if she had done that, I would have given her an A-plus. An old saying is what a difference a year can make, and that applies to Danica. I spent time with her in the garage and at the gym working out. She was more open and relaxed than I have ever seen her. We had a great conversation about strategy. She asked me my opinion and then she shared with me her plan. I really enjoyed that. Theres just a completely different mindset this year, and I think it could be a very special year for Danica in her rookie season of Sprint Cup racing. You have to think that being in NASCARs premier series is where she always wanted to be. Having great chemistry immediately with her new crew chief is a huge factor. She has to be more confident in going back to these tracks this year after gaining much-needed experience at them in the Nationwide Series in 2012. She and her boss Tony Stewart have a great relationship. Plus, as its been well-documented, her personal life has taken a turn for the better. So I think all those factors, when combined, have made the transition to the NASCAR Sprint Cup Series a much easier task for her. I honestly see a different race car driver than the one I saw in IndyCar and even last year in her Nationwide and Sprint Cup schedule. She is very comfortable in her environment and in her own skin. So whats the next hurdle for her? She has to be consistent. Shes up there in the points, and she has to go out there weekend after weekend and back it up. Will there be peaks and valleys? Absolutely there will be because, again, she is a rookie. Rookies make mistakes, and it doesnt matter if you are a male or female rookie. Its all part of the learning curve. She has to feel comfortable going to Phoenix this weekend immediately after her great run at Daytona. She has experience at Phoenix from her days in IndyCar, Nationwide and now Cup. If she can come out of Phoenix with another great run, her confidence is only going to grow. I am not looking for or expecting her to win the pole position out there, but I do expect her to be consistent and competitive. Dont expect the media machine to lighten up where Danica is concerned. She set NASCAR records in her performance in Daytona in qualifying and by leading laps in the race. Now she is headed out West on the heels of that and the media there are going to want to talk to her. The key to all this as she heads to these big-market towns on the schedule after her record-setting performance at Daytona is focus. She cant be distracted by all the media requests and everyone else pulling at her. Sure, she knows she has to dedicate a certain amount of time to the media, but her true focus is that race car and that race team. Finding that right balance between media darling and race car driver is going to be the initial challenge as we head to some of these tracks for the first time in the early season schedule. Look no further than Carl Edwards two years ago and last year. Again, what a difference a year can make. Two years ago, Carl was the fair-haired boy about to break through, win his first championship and become the top cat in NASCAR. Guess what? It didnt happen. You all know the story. He and Tony Stewart tied in the 2011 NASCAR Sprint Cup standings and Tony was the champion based on the tiebreaking procedure. Then last year it seemed Carl fell off the face of the Earth. It just seemed like his team couldnt get out of its own way in 2012. He literally went from the tiebreaker in the race to be the NASCAR Sprint Cup Series champion in 2011 to not even making the 2012 NASCAR Sprint Cup Chase. Its not like he did anything wrong, but many times he was just caught up in the wrong place at the wrong time. Its a tough world we live in. Some of the same people who were rooting for Carl to win the championship two years ago were the same ones trying to kick him when he was down last year. Those same kinds of people are around when it comes to Danica. Some are out there ready to jump for joy if she falls on her face this year. The way she ruins their day is simply to go out there and be competitive. Go out there and back up what she showed everyone at Daytona. I am not saying this first full-time year in Cup that she needs to win more poles and races. Thats great if it happens, but the immediate goal needs to be focusing on being competitive and being consistent. Thats the goal for any rookie in the NASCAR Sprint Cup Series, not just because this rookie is Danica Patrick.
Original Story:
http://www.foxsportsarizona.com/02/27...
THE BACKYARD
BEST OF MAXIM
RELATED ARTICLES
KANNAPOLIS, N.C. – "We have a lot more history to make." Those were the words of Danica Patrick just two Sundays ago following her history-making pole run for the 55th Daytona 500 as she became the first woman to ever earn a NASCAR Sprint Cup Series pole position. But those were more than just words for Patrick, the driver of the No. 10 GoDaddy.com Chevrolet SS for Stewart...
Danica Patrick had a difficult finish to the Daytona 500, falling from third to eighth on the final lap. Some kind words from her owner and the race winner made her feel a little better. Patrick became the first woman to sit on the pole at the Daytona 500 and raced near the front all day, leading five laps. She only had Jimmie Johnson and Dale Earnhardt Jr. in front of her on the...
Danica Patrick racing along to history has given NASCAR a big publicity bump. The driver of the No. 10 GoDaddy.com Chevrolet SS for Stewart-Haas Racing (SHR) gave us the highest finish ever by a woman at the Daytona 500 and the highest finish ever by a woman at Daytona 500. Danica Patrick racing is revving up for her first season of Sprint Cup. The 30-year-old Sprint Cup Rookie of...
Last week's Daytona 500 marked the start of the thirty-six race season that makes up the 2013 Sprint Cup Series season, and now NASCAR's most talented drivers leave the Sunshine state and head west for Arizona, where the drivers will battle on the 1.5 track that is Phoenix International Raceway. Before we break down the race itself, let's take a look at some of the stories...
Daytona 500 Recap: Denny Hamlin led three times for 33 laps and was third for the final restart in Sunday's 55th running of the Daytona 500, but the inside line never gained momentum in the final five-lap shootout to the checkered flag and the #11 FedEx Express Toyota Camry crossed the finish line in 14th-place. Hamlin restarted on the inside line following the race's final caution...
CHARLOTTE, N.C. – Fans of Dale Earnhardt Jr. will try to defend a 10-year win streak as voting opens today for the NASCAR National Motorsports Press Association (NMPA) Most Popular Driver Award.  Fans can vote online once a day throughout the 2013 Sprint Cup Series season to earn their driver the coveted "most popular" trophy.  This year marks the first year of eligibility...
Danica Patrick boosted the Daytona 500 to a five-year high, but the numbers fell well short of the all-time record. The 2013 Daytona 500, won by Jimmie Johnson, earned a 9.9 rating and 16.7 million [...]
Dale Earnhardt Jr. says he passed a big test by racing in the Daytona 500 after a hard crash during the Nationwide Series race the day before. Earnhardt missed the final two races in 2012 after suffering post-concussion symptoms and had his health tested during a last-lap crash in the Daytona Nationwide race last Saturday. The crash occurred when leader Regan Smith attempted to...
via blog.caranddriver.com The 55th running of the Daytona 500, NASCAR's very own Super Bowl, and the first race with a woman starting at the pole. It should have been a week for NASCAR to bask in the glory of its biggest event. It finally had a driver in Danica Patrick who represents a demographic NASCAR so desperately wishes to reach every race day. It seemed like it was going...
~ 1st woman to win the Pole position for a Sprint Cup Series Race ~ 1st woman to lead laps in the Daytona 500 ~ 2nd woman to lead laps in a Sprint Cup Series Race ~ Highest finish for a woman in a Sprint Cup Series Race at Daytona ~ 13th driver to lead laps in both the Indianapolis 500 and the Daytona 500 Those are all of the records that Danica Patrick either broke or bettered this...
 "FIVE TIME" IN THE GREAT CLIPS NO. 5 - Five-time NASCAR Sprint Cup Series Champion and last week's Daytona 500 winner, Jimmie Johnson, takes the reins of the No. 5 Great Clips Chevrolet Camaro this weekend at Phoenix International Raceway (PIR), marking his sixth race in a JR Motorsports Chevrolet and first NASCAR Nationwide Series (NNS) start since 2011. In his five previous...
NASCAR News

Delivered to your inbox

You'll also receive Yardbarker's daily Top 10, featuring the best sports stories from around the web. Customize your newsletter to get articles on your favorite sports and teams. And the best part? It's free!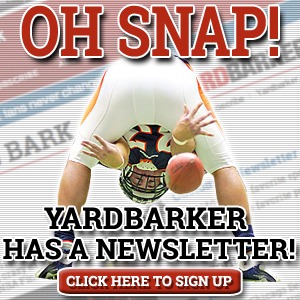 Latest Rumors
The Backyard

Today's Best Stuff

For Bloggers

Join the Yardbarker Network for more promotion, traffic, and money.

Company Info

Help

What is Yardbarker?

Yardbarker is the largest network of sports blogs and pro athlete blogs on the web. This site is the hub of the Yardbarker Network, where our editors and algorithms curate the best sports content from our network and beyond.