New season of "Basketball and Beyond with Coach K" debuts this Thursday at 6:00 pm ET on ESPNU Radio on SiriusXM (channel 84) October 18, 2017 – Duke Men's Basketball coach Mike Krzyzewski will be joined by popular NASCAR driver Dale Earnhardt Jr. and former NBA and Blue Devils star Grant Hill for one-on-one interviews …
In addition to reflecting back on his last start at Talladega, Dale Earnhardt Jr. has high praise for the future stars of the sport like Chase Elliott and Ryan Blaney.
For Dale Earnhardt Jr., it's always been about doing his best for his fans.
Dale Earnhardt Jr. is looking forward to become a father for the first time.
Dale Earnhardt Jr. admits this past weekend at Talladega was very emotional for him.
It was a crazy day at Talladega. Dale Earnhardt Jr., in what is likely his final race at Talladega, started on the pole. Earnhardt also narrowly escaped not one but two late wrecks that decimated the field: That kind of fortune might have had some people expecting Dale Jr. was destined for a win at one of his best tracks. Earnhardt has long been one of the sport's best restrictor...
TALLADEGA, Ala. (AP) — Dale Earnhardt Jr. went out without a big bang at Talladega Superspeedway, and that's more than most of his fellow drivers could say. Earnhardt had hoped to close out his final scheduled race at 'Dega with a seventh victory. Instead, he finished seventh. But, he was one of just 14 drivers still running at the end of Sunday's wreck-filled race on the day the...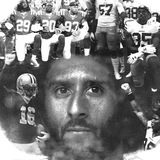 "I don't think there's much to clarify, it's pretty black and white." - Sarah Huckabee Sanders, White House press secretary defending Donald Trump's comments attacking NFL players Last Friday, Donald Trump used a rally in Alabama in support of Luther Strange's now-failed senatorial campaign to attack Colin Kaepernick and other NFL players choosing to kneel during the national anthem...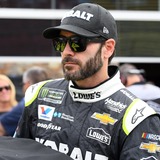 This past week it was announced that Jimmie Johnson and Lowe's signed new deals to remain part of HMS for the next few years. The announcement is the first domino to fall in what could be several for HMS heading into 2018.Johnson, 41, was signed with HMS and Lowe's through the 2018 season. The extension will keep Johnson with HMS and Lowe's on the No. 48 machine through 2020. Lowe...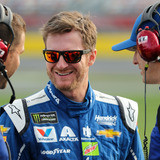 Dale Earnhardt Jr. finished 10th in last week's Coca-Cola 600, and is currently preparing for Sunday's AAA 400 Drive for Autism race—in a different country.Earnhardt and his wife, Amy, traveled to Honduras for a few days, and were seen hanging out with parrots and monkeys.Jr. and Amy posted some photos of the festivities on Instagram, so check them out below. Earnhardt said part...
MORE STORIES >>
NASCAR News

Delivered to your inbox

You'll also receive Yardbarker's daily Top 10, featuring the best sports stories from around the web. Customize your newsletter to get articles on your favorite sports and teams. And the best part? It's free!