Found March 13, 2013 on Fox Sports:
Stewart-Haas Racing and Danica Patrick have had two weeks of struggles following the race at Daytona International Speedway. Everybody has to understand -- and I hate to put it this way -- but this is where the big boys play. Her competitors look at her as a race car driver and not any other way. So there are 42 others who are out to beat her every week. She is going to have to make it happen. I think Tony Gibson and the rest of the Go Daddy crew knew that this rookie season was going to be tough. It's a tough early season schedule. Throw in a brand new car and some tire issues that have crept into the picture and the learning curve is pretty steep for her. Again though, you can't lose sight of the fact that she is a rookie and all rookies go through this. She has limited experience and the only way she can get experience is by seat time. Sure it's a challenge for her, especially going to three different style tracks with three different style cars. We were all so uplifted by Danica's performance at Daytona so our expectations were heightened for the races that followed. She's run into a buzz-saw however these last two weeks and faced a lot of misfortune. I still maintain we all need to give her a chance. If you go back to Jeff Gordon and Kasey Kahne a year ago, their seasons basically started the same way. Here are two race-winning drivers -- one is even a four-time champion of our sport -- and there in the beginning of 2012, they faced issue after issue, week after week. They eventually turned things around, but it just took time. So the same thing applies here. Give her time. She is a rookie and like we always say, there will be highs and lows all season long. I know some of you will quickly point to her boyfriend Ricky Stenhouse Jr. and say he's tenth in points and not having these same issues. You are absolutely correct. The difference there is he is light-years ahead of her in stock car experience. Don't forget, Ricky is a two-time NASCAR Nationwide series champion. Danica's had all of one full year in the Nationwide series before moving to the NASCAR Sprint Cup level. I spoke to Danica at Las Vegas. She gets it. She knows it's a steep learning curve and a development situation. I am going to give her the same leeway I am giving this new Gen-6 car. Once we come back from our off-weekend for Easter, then she should be showing improvement. I think this weekend at Bristol will be a good test for her. She raced here last year. There are no nuances to get used to when it comes to aero-balance at Bristol. Back in August of last year when she was here for the night race, she had a pretty good little run going before being wrecked out. So she should feel comfortable when we take to the track this weekend.
Original Story:
http://msn.foxsports.com/nascar/story...
THE BACKYARD
BEST OF MAXIM
RELATED ARTICLES
In the spirit of St. Patrick's Day, Danica Patrick's No. 10 GoDaddy.com Chevy will sport a special St. Patrick's Day paint job in the Food City 500 on Sunday. Call it Danica Patrick as St. Patrick, or a Shamrock Shake on wheels. It'll "Irish up" your NASCAR. Danica will make her second Sprint Cup start at Bristol after finishing 29th last year. This year, St. Patrick...
Can the luck of the Irish help out Danica Patrick this weekend at Bristol? With the way her last two weeks have gone, I surely hope so. Photo Credit: GoDaddy.com She came off of Daytona with a burst of confidence and a top-10 finish but then it seemed like her luck went sour in Phoenix when she retired from the race thanks to a blown right front tire. Las Vegas, the sight of her...
Some people have a thing for Danica Patrick. I'm not one of them, but I don't think there's any debate over who is the hotter Danica. Danica Thrall is a British model. She first won the UK Derby Model contest a few years ago. If you find those pics, she looks really young and she seems to be missing the huge set of boobs she has now. Hmmmm… Haha, anyway, enjoy.    
Danica Patrick could tell from the drop of the green flag that her car was going to be a handful in the Kobalt Tools 400 NASCAR Sprint Cup Series race Sunday at Las Vegas Motor Speedway. Despite a valiant effort by crew chief Tony Gibson, the No. 10 GoDaddy.com Chevrolet SS for Stewart-Haas Racing (SHR) never came to life, and Patrick finished a disappointing 33rd, six laps behind...
In the spirit of St. Patrick's Day, Danica Patrick's No. 10 GoDaddy.com Chevrolet SS for Stewart-Haas Racing (SHR) will sport a special St. Patrick's Day paint scheme in the Food City 500 on Sunday. This will be unveiled Thursday on GoDaddy's Twitter feed (@GoDaddy). Danica Patrick as St. Patrick, should be interesting. Patrick will make her second Sprint Cup start at Bristol...
For Danica Patrick, you might start to hear the "Anna Kournikova of racing" jokes again soon. After making history and starting the reason off strong, her last two races have been, well not so hot. She was out of the last week's Phoenix race extremely early and Danica also got hit in the read with a rock. Luckily she wasn't hurt too badly. It's an emotional roller coaster...
Formula One chief Bernie Ecclestone says he would like to lure Danica Patrick to the sport but acknowledges she would be unlikely to make the move. As the pre-eminent female driver in motorsports, firstly in Indy Car and now in NASCAR, Patrick attracts a lot of new fans and sponsors. Ecclestone told the F1 website on Wednesday that ''she will hardly want to give up the...
NASCAR News

Delivered to your inbox

You'll also receive Yardbarker's daily Top 10, featuring the best sports stories from around the web. Customize your newsletter to get articles on your favorite sports and teams. And the best part? It's free!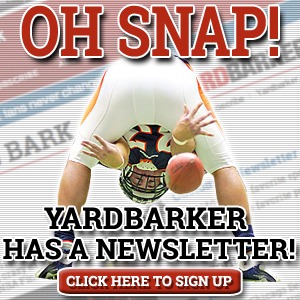 Latest Rumors
The Backyard

Today's Best Stuff

For Bloggers

Join the Yardbarker Network for more promotion, traffic, and money.

Company Info

Help

What is Yardbarker?

Yardbarker is the largest network of sports blogs and pro athlete blogs on the web. This site is the hub of the Yardbarker Network, where our editors and algorithms curate the best sports content from our network and beyond.